Australia is one of the favourite study destinations for students all over the world.
One of the international student's primary concerns after moving to Australia is finding the right accommodation.
Luckily, the country offers different types of accommodation options for international students, ranging from homestay, university accommodations to a self-catered apartments and share houses.
In this article, we are going to help you choose the right student accommodation catering to your needs and budget.
1. Homestay
For your first month after arriving in Australia, homestay can be a great option for you. There are many homestay options to choose from. However, it is important to book your homestay through a provider suggested by your educational institution. This type of accommodation will provide you with valuable cultural experiences in a local host family. Homestay is available for both short-term and long-term.
Homestay includes:
Airport pickup

A furnished room in the home of your host

Properly arranged meals

All utilities

Welcome and orientation

Homestay agent support

Cultural exchange with your host family
Cost
The cost will vary on the basis of the type of homestay you choose. You can expect to pay between AUD $250 and AUD$ 350 per week, depending on the type of meals, rooms, and utilities.
Popular websites for booking Homestay in Australia:
Pros
While living in homestays, you won't miss the creature comforts or family atmosphere, which you might have been accustomed to at home.
Cons
2. Residential Colleges
For international students, living on or near campus in a residential college is a popular choice. This is also one of the easiest and convenient options to stay in Australia.
At a residential college, students will get:
Cost
Popular websites for booking Residential Colleges in Australia:
Pros

Cons
You may have to bear additional expenses like tutoring, meals, and internet access. Besides, you have to organize these facilities yourself.
3. Managed Student Apartments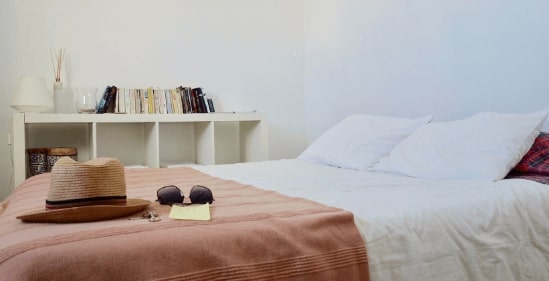 These are purpose built accommodations where the entire block is dedicated to the housing of 100 - 400 students.
There are single or twin rooms with a shared bathroom and kitchen. Sometimes rooms are even shared amongst 4 or 5 students.
Managed student accommodation offers:
All utilities including internet

Furnished bedroom with a wardrobe, chair, study desk, bed and mattresses.

24-hour security and on-site staff support

Studies, social events and activities

Communal laundry facilities

Kitchen and bathroom with major appliances

Air conditioning and heating

Study areas

Recreation areas like cinema rooms, gyms, table tennis, gaming, television, BBQs, etc.
Cost
The cost depends from apartment to apartment. You can expect to pay somewhere between AUD $200 and AUD $500 per week. This includes utilities such as power, gas, water and internet.
Popular websites for booking Managed Students Apartments in Australia:
Pro
Cons
One of the biggest disadvantages of living in a shared house is lack of privacy. You will have to share the kitchen, living room, and bathroom. It can create a difficult situation, especially when both you and your housemate want to use the bathroom at the same time before going to university or work.
4. Private Rental
This is the best accommodation option for International students who want to immerse themselves in the Australian culture. You can live with your friends or alone, according to your preference. These are inexpensive options compared to other forms of accommodations.
Moreover, there is usually no furniture available, so you will have to bring your own furniture. Rental agreements need a payment of rent in advance and the security payment known as a bond. The bond is a payment of one month's rent paid up-front. You have to pay bills for gas, water and electricity separately.
Cost
The cost of a rental apartment varies. You can expect to pay around AUD $100 and AUD $500 per week. However, you will have to pay for food and utilities yourself.
Popular websites for booking Private Rentals in Australia:
Pros
Private rentals offer a lot more independence than other accommodations. It helps you become self-sufficient and responsible when it comes to handling household chores like sharing cleaning duties, paying your bills, and even dealing with property managers or landlords.


Cons
If you are sharing the space with others, it can get a little difficult as they may have a different lifestyle than yours. Moreover, shared house conflicts can get ugly — so be wary!
Living out of your home can be expensive, specifically when you decide to live on your own. You will have to bear additional expenses, such as bills and food.
5. Halls of Residence
These accommodation options are affiliated with or owned by institutions. They are either located on campus or close to it. International students can rent a single bedroom and share facilities such as a kitchen, bathrooms etc.
However, there are also certain institutions that provide apartment-style rooms with private kitchens and bathrooms. The utilities like gas, water, and electricity are included in the fees. Students will also have free internet access in their rooms.
Features:
Cost
The rates of Halls of Residence start from AUD $320 and lead up to AUD $ 1,000/month.
Almost every major college and universitity in Australia offer Halls of Residence particularly catering to international students.
Pros
The halls of residence provide you with the comfort of home, with several institutions offering excellent amenities like swimming pools, gyms, and cinema rooms.
Living in halls of residence enables you to meet new people and socialize. This can be a perfect opportunity if you have moved from a different country and feel out of place. Additionally, various events may take place like weekly parties, formal balls, or karaoke nights, allowing you to initiate a conversation or two.

Cons
Your institution may require you to abide by specific rules. This may include maintaining noise levels, the maximum number of guests allowed in a party, usage of equipment and other facilities, overnight guests, and more.
Halls of residence are usually expensive — the cost may vary between different institutions. Also, it is crucial to note that some services like cleaning may not be included. So to cope up with these expenses, always keep an eye out for bursaries and scholarships.
Even though halls of residence provide an overall positive experience, some students might need their privacy, and some may find social opportunities distracting.
6. Boarding Schools
There are many private secondary schools in Australia that offer complete boarding options to international students. Borading schools include meals, laundry and cleaning services. Boarding costs may also cover social activities and academic tutoring services after school.
Most of the boarding schools offer a supportive family atmosphere. Students can choose from shared or private rooms.
Features:
Cost
Pros
Cons
7. Hostel Accommodation
This is a popular options for students who are either moving overseas or interstate to study. It is a good short-term option for students until they find some permanent place to live. There are 2 types of hostel accommodations to choose from:
Backpacker Hostels
Backpacker hostels are home-away-from-home. This accommodation option offers a relaxed and vibrant party atmosphere for students. There are several categories of backpacker hostels — some offer higher services like free breakfast, freebies and free airport pick-up, whereas some others only offer basic services.
Classic Hostels
In hostels, students will get furnished bedrooms along with access to a shared kitchen, bathroom, laundry, recreation facilities and a lounge area. In these types of accommodations, students need to cook for themselves as compared to on-campus accommodations, and this type of accommodation is much cheaper.
Cost
Popular websites for booking Hostels in Australia:
Pros
Proximity is a definitive advantage if you get a hostel near your campus. There are usually several hostel options in the centre of the city, making it more convenient for students studying in the Central Business District (CBD).

Cons
8. Temporary Accommodations
Before you arrive in Australia, you must make arrangements for temporary accommodation so that once you reach Australia, you can look for a suitable property in person. You can organize temporary or short-term accommodation for at least 3 to 4 weeks while looking for permanent housing options and becoming familiar with the new city.
Do not arrange for private or permanent accommodation without seeing the property. It is vital that you inspect the property from inside before renting it.
Here are some temporary accommodation options you can go for:
Cost
The cost of temporary accommodation in Australia is between AUD 90 - 150 per week.
Note: If your institution offers temporary accommodation, check out its website or contact support staff to get more details.

Popular website for booking temporary accommodation in Australia:
Pros
When renting a temporary accommodation, you may have to sign a short-term lease, which gives you the flexibility to move out as soon as you find permanent accommodation.
Cons
9. Get Free Accommodation as an Au Pair
Working as an au pair (nanny) can be an excellent option for you if you have childcare experience. Many families in Australia require childcare services, and in return, they offer food and accommodation.
This option can work out well for you if the working hours do not clash with your class schedule. You may have to put in extra efforts to meet the working hours, but it will give you free accommodation to live in. Overall, this is a great option, especially if you are on a budget.
Pros
As an au pair, you will get regular meals, accommodation, and some amount of money in exchange for helping with childcare.
Cons

10. Move-in With Family or Someone You Already Know
If you already have reliable contacts, such as family or relatives living in Australia who have a place for you, then it is always a great idea to stay with them. This is a perfect way to build social connections outside the university campus and enjoy an independent life.
However, you may miss the opportunity to experience the fun and social element of living in student accommodation.
Note: In order to be approved to host you, family members or friends will have to undergo a few checks, which may also include a police inspection.
Pros
Moving in with family or someone you know means that you can have all the creature comforts like home-cooked meals, your own space, and more.
Living with family can also be way cheaper, depending on your situation. It also means you will spend less time working, giving you more time to study and spend your money the way you want.
Cons
You may miss the opportunity to participate in on-campus social activities, particularly if you are in a rush to get home early after your class ends. Students living on campus may also form close-knit groups, which leads to off-campus students feeling isolated.
11. How To Find The Best Student Accommodation in Australia?
From on-campus to off-campus, Australia has many student accommodation options. As an international student, you might face difficulty in finding accommodations according to your needs and budget.
So here are a few ways that can help you to make a sound decision:
Different Accommodation Options Within Your Budget
With many student accommodation options available in Australia, the first thing you need to consider is your budget and then look for options that suit your budget. You can choose from on-campus colleges and off-campus options.
Do Precise Research
This is one of the most important things you need to do. Research each accommodation option carefully. Speak to institution housing advisers and visit on-campus accommodations. Conduct accurate research both offline and online. If you are choosing an off-campus location, make sure it is near to your university or institution.
Weigh Up Advantages And Disadvantages
After considering each option, look for the advantages and disadvantages of each accommodation

. For example, you may get a share house with friends, but it may not be good for you in an academic sense. Also, on-campus accommodations can be quite expensive and may not give you a sense of freedom.
Proper Management
Proper management is one thing you need to consider when arranging accommodation. This means you need to submit applications for on-campus accommodations on time. If applying for accommodations with friends, make sure that everything from bond payment to sharing utilities is properly organised and managed.
When it comes to finding accommodations for students in Australia, there are many options available. However, it is important to consider all your needs and budget while choosing a right place to stay in Australia.
Useful Topics to Explore:
Don't forget to share this post!