Australia is one of the favourite study destinations for international students worldwide. Students' primary concern after moving to Australia is finding suitable accommodation.
Luckily, the country offers various university student accommodation and student housing options, ranging from homestay and university accommodations to self-catered apartments and shared houses.
This article will help you choose suitable student accommodation and housing options for your needs and budget.
You will discover some of the cheapest accommodations available for international students in Sydney, Melbourne, Brisbane, Adelaide, Canberra, Perth, Hobart, and the Gold Cost.
In Australia, you will find several student accommodation options that cater to your diverse needs and preferences. These options differ based on cost, amenities, location, and the level of independence they provide.
1. Homestay
In this accommodation type, overseas students can live with their local Australian family and fully integrate into Australian life. It generally includes a private room, meals, cultural immersion experience, the opportunity to practice English language skills, and a nurturing and supportive environment.
Homestay can be an excellent option for your first month after arriving in Australia. There are many homestay options to choose from. However, booking your homestay through a provider suggested by your educational institution is essential.
This type of accommodation will provide you with valuable cultural experiences with a local host family. Homestay is available for both the short-term and long-term.
It is a better option than renting student accommodation for those who seek an authentic Australian experience while studying abroad.
Homestay Includes:
Airport pickup

A furnished room in the home of your host

Properly arranged meals

All utilities

Welcome and orientation

Homestay agent support

Cultural exchange with your host family
Cost
The cost will vary based on the type of homestay you choose. You can expect to pay between AUD $250 and AUD$ 350 per week, depending on the meals, rooms, and utilities.
Popular websites for booking Homestay in Australia:
Pros
Cheaper than other accommodation types and provide only meals and laundry facilities

Living in a family atmosphere gives students a homely feel with all the necessary comforts
Cons
Students can't participate in several cultural and social opportunities

It may sometimes take effort to adjust to a new family, their house rules, and the type of food offered.
2. Residential Colleges
This accommodation provides students with meals, cleaning, housing, and various services for academic and social needs. It offers more benefits to students but is more expensive than halls of residence.
Living on or near campus in a residential college is popular among international students seeking student housing in Australia. This is also one of the most accessible and convenient options to stay in Australia.

At a Residential College, Students Will Get The Following:
Cost
The cost of residential college apartments varies. However, you can expect to pay between AUD $200 and $750, including utilities.
Popular Websites for Booking Residential Colleges in Australia:
Pros
It is the easiest and most convenient accommodation option to stay in Australia. You get the convenience of staying closer to the college campus.

Students get adequate privacy and an opportunity to live more independently in these self-contained living spaces.
Cons
Students may experience a sense of community and belongingness that they may get by living on campus

You must self-organise and pay for different facilities such as tutoring, internet access, and meals.
3. Managed Student Apartments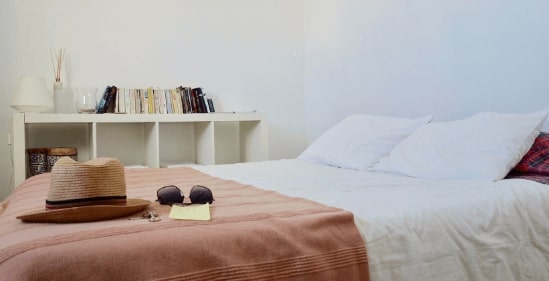 These are purpose-built accommodations where the entire block is dedicated to housing 100 - 400 students.
There are single or twin rooms with a shared bathroom and kitchen. Sometimes rooms are even shared amongst 4 or 5 students.
This student housing option is one of the most accessible and easiest to find.
It is a prevalent student accommodation option for overseas students in Australia.

Built by private developers, PBSAs are located near universities and are an alternative to residence halls.

Each student gets a furnished room and has to share a bathroom and kitchen with other students.

It can be catered or self-catered

Students also get high-end amenities such as a television room, game room, gymnasium, etc.
Managed Student Accommodation Offers:
All utilities, including internet

Furnished bedroom with a wardrobe, chair, study desk, bed and mattresses.

24-hour security and on-site staff support

Studies, social events and activities

Communal laundry facilities

Kitchen and bathroom with appliances

Air conditioning and heating

Study areas

Recreation areas include cinema rooms, gyms, table tennis, gaming, television, and BBQs.
Cost
The cost depends from apartment to apartment. You can expect to pay between AUD $200 and AUD $500 per week. This includes utilities such as power, gas, water and internet.
Popular Websites for Booking Managed Students Apartments in Australia:
Pro
Since more people help cover the bills and rent, managed student apartments have reduced living costs.

Living together with others will help you foster a solid foundation for friendship.
Cons
One of the most significant disadvantages of living in a shared house is the lack of privacy. You will have to share the kitchen, living room, and bathroom. It can create a difficult situation, especially when you and your housemate want to use the bathroom simultaneously before going to university or work.

Your housemate may have all sorts of bad habits, like playing loud music or stealing your food, which can be hard to deal with.
4. Private Rental
This is the best accommodation option for International students who want to immerse themselves in the Australian culture.
You can live with your friends or alone, according to your preference. These are inexpensive options compared to other forms of student housing.
Moreover, furniture is only sometimes available, so you must bring your own table. Rental agreements ask to pay rent in advance and the security payment bond. The bond is a payment of one month's rent paid up-front. You have to pay bills for gas, water and electricity separately.
It is a suitable accommodation option for those seeking higher flexibility, privacy, and independence and comfortable managing their accommodation arrangements.

Rental apartments allow you to select their preferred location, facilities, and privacy level. Still, you must pay rent payments, maintenance, and utilities.

Students can save money by dividing rent and utility expenses between roommates.

The rent and security payment (equal to one month's rent) must be paid upfront.

Such properties can be unfurnished or furnished.

Each student must sign a lease agreement directly with the landlord or a property agent.

If cost isn't your primary concern, private off-campus accommodation can offer you everything you need to feel at home.
Cost
The cost of a rental apartment varies. You can expect to pay around AUD $100 and AUD $500 per week. However, you will have to pay for food and utilities yourself.
Popular Websites for Booking Private Rentals in Australia:
Pros
It is an excellent option for overseas students keen to immerse themselves in the fabulous Australian culture.

Students can choose any residence place, i.e., in the suburbs or city.

You get greater independence living in private rentals over other accommodation types. Unlike on-campus accommodation, students have to share cleaning duties, deal with landlords or real estate agents, pay bills, etc., which makes them responsible and self-sufficient.

You can choose wherever you want to live. It can mean setting up a house further out in the suburbs or somewhere within the city.

Private rentals offer a lot more independence than other accommodations. It helps you become self-sufficient and responsible when handling household chores like sharing cleaning duties, paying your bills, and even dealing with property managers or landlords.

It gives you more freedom to live as you want. However, you may have to sit down with your housemate and set a few basic rules for the house.
Cons
You have to deal with real estate agents and landlords.

Sharing the space with others can get tricky as they may have a different lifestyle than yours. Moreover, shared house conflicts can get ugly — so be wary!

Living out of your home can be expensive, particularly when deciding to live independently. You will have to bear additional expenses, such as bills and food.

Differences in lifestyles among roommates can make living in a shared space challenging.

Dealing with landlords and property agents may not always be a pleasant experience.

Private rentals can be expensive if you decide not to share the accommodation. In that case, you must bear the cost of all required amenities, bills, and food by yourself.
5. Halls of Residence
These student housing options are affiliated with or owned by universities. They are either located on campus or close to it. International students can rent a single bedroom and share facilities such as a kitchen, bathrooms etc.
However, certain institutions provide apartment-style rooms with private kitchens and bathrooms. The fees include utilities like gas, water, and electricity. Students will also have free internet access in their rooms.
Some universities offer rented apartments on or near campus for their students.

Students get the security of university-provided housing and the freedom of fully self-catered living.

Most Australian universities provide on-campus accommodation options.

They lie within or close to the university campus.

They offer easy access to academic facilities.

They feature shared bedrooms and spaces, such as bathrooms, kitchens, study areas, and common rooms.

Most first-year students prefer this structured living experience because of the supportive community environment they provide.
Features
Cost
The rates of Halls of Residence start from AUD $320 and lead up to AUD $ 1,000/month.
Almost every major college and university in Australia offers Halls of Residence, mainly catering to international students.
Pros
Overseas students can get a home-life experience and comfort. They can use high-end amenities, including swimming pools, cinema rooms, and a gymnasium.

You don't need to worry about commutation due to the proximity to the university campus.

Living in residence halls is an excellent opportunity to socialise, network with new people, and attend weekly events such as parties, karaoke nights, and formal balls.
Cons
Your institution may require you to abide by specific rules. This may include maintaining noise levels, the maximum number of guests allowed in a party, usage of equipment and other facilities, overnight guests, and more.

Halls of residence are usually expensive — the cost may vary between different institutions. Also, it is crucial to note that some services like cleaning may not be included in this accommodation. So to cope with these expenses, always keep an eye out for bursaries and scholarships.

Even though residence halls provide an overall positive experience, some students might need their privacy, and some may find social opportunities distracting.
6. Boarding Schools
Many private secondary schools in Australia offer complete boarding options for student housing to international students. Boarding schools include meals, laundry and cleaning services. Boarding costs may also cover social activities and academic tutoring services after school.
Most boarding schools offer a supportive family atmosphere. Students can choose from shared or private rooms.
Several private Australian secondary schools offer overseas students boarding school facilities, meals, cleaning, and laundry services.

The fees may include the costs for academic tutoring services and social activities after school.

Students can choose between shared or private rooms offering a supportive family atmosphere.
Features
Cost
Pros
Boarding schools enable you to build social connections.

You get all the services, including cleaning, food and laundry. You may also get to participate in social activities and get tutoring services.

Boarding schools are an excellent way for overseas students to form new friendships and develop social contacts

The cost includes standard services such as cleaning, laundry, and food

Students may also avail of tutoring services and be a part of social activities
Cons
You will only be allowed to occupy one room, and you might have to share the bathroom and kitchen with other boarders.

The fees for boarding school can be very high.

Students have to share the kitchen and bathroom with other boarders

Considering the convenience offered, boarding schools are costly compared to different accommodation types
7. Hostel Accommodation
This is a popular option for students moving overseas or interstate to study. It is an excellent short-term option for students until they find some permanent place to live. There are two types of hostel accommodations to choose from:
This accommodation type offers a valuable opportunity for social interaction amongst other overseas students.

Bathroom and kitchen amenities are shared, and students must cook for themselves.

Relatively affordable than homestay or university accommodations
Backpacker Hostels
This accommodation optio offers a relaxed and vibrant party atmosphere for students. There are several categories of backpacker hostels — some offer higher services like complimentary breakfast, freebies and free airport pick-up, whereas others only provide essential services.
Classic Hostels
Students will have furnished bedrooms in hostels and access to a shared kitchen, bathroom, laundry, recreation facilities and lounge area. In these types of accommodations, students need to cook for themselves as compared to on-campus accommodations, and this type of accommodation is much cheaper.
Cost
Popular websites for booking Hostels in Australia:
Pros
Proximity is a definitive advantage if you get a hostel near your campus. There are usually several hostel options in the city's centre, making it more convenient for students studying in the Central Business District (CBD).

Living in a hostel allows you to meet new people, mainly when new to the place.
Cons
You may find that the cost only sometimes adds up to what you get, especially when you have to pay extra for food.

You have to share the facilities in a hostel with several other students (it can be 50 or more).
8. Temporary Accommodations
Before you arrive in Australia, you must make arrangements for temporary accommodation so that you can look for a suitable property in person once you reach Australia.
You can organize temporary or short-term accommodation for at least 3 to 4 weeks while looking for permanent housing options and becoming familiar with the new city.
Do not arrange for private or permanent accommodation without seeing the property. You must inspect the property from the inside before renting it.
Here are some temporary accommodation options you can go for:
Cost
The accommodation cost in Australia is between AUD 90 - 150 per week.
Note: If your institution offers temporary accommodation, check out its website or contact support staff for more details.
A Popular Website for Booking Temporary Accommodation in Australia:
Pros
When renting temporary accommodation, you may have to sign a short-term lease, which gives you the flexibility to move out as soon as you find permanent housing.

You do not have to worry about getting your furniture as the short-term properties are fully furnished.
Cons
Short-term rentals can be costlier than long-term rentals in the same accommodation.

The property owner can end the rental lease at any time, which can result in a stressful situation to search a new accommodation within a short time.
9. Free Accommodation - Au Pair
Working as an au pair (nanny) can be an excellent option if you have childcare experience. Many families in Australia require childcare services, and in return, they offer food and accommodation.
This option can work well for you if the working hours are consistent with your class schedule. You may have to put in extra effort to meet the working hours, but it will give you free accommodation to live in. This is a great option, especially if you are on a budget.
In this accommodation type, an AU Pair, i.e., an overseas female, works and lives with a host family.

As an AU Pair, you care for the house and children. In return, you get a monthly stipend, accommodation, and food.

It is an excellent option for those with prior experience in child and house care.

It is generally a free accommodation option that lets you earn while studying in Australia, provided that your working hours don't interfere with your university hours.
Pros
They are suited for nannies or people with prior experience in childcare if the working hours are different from the class timings.

The family you help with childcare provides free accommodation, regular meals, and a certain amount of money.

It is among the most economical options to live in Australia

The relevant work experience you gain by helping an Australian family with their needs can boost your resume.

It could be the perfect way to learn about Australian culture and experiences with other people.
Cons
Working as an au pair will require you to adapt to another family's lifestyle.

You might have to keep your plans aside and prioritise the family's plan.

When you work and live in the same place as your employer, dividing your work time and free time can be challenging.
10. Move-in With Family or Someone You Already Know
If you already have reliable contacts, such as family or relatives living in Australia who have a place for you, then staying with them is always a great idea. This is a perfect way to build social connections outside the university campus and enjoy an independent life.
However, you may miss the opportunity to experience living in student housing which is fun and has a social element.
Note: To be approved to host you, family members or friends must undergo a few checks, including a police inspection.
Pros
Students moving with family or close friends in Australia can enjoy all the comforts of home, like personal space, home-cooked meals, and more.

Living with family or relatives is also relatively cheaper for international students. One can work fewer hours and dedicate the remaining time to their studies.

Students can access their own study space, which is rare to find on-campus or shared accommodation.
Cons
International students may miss out on several on-campus social activities while living with a close relative or family member in Australia. On the other hand, students living on campus enjoy various activities and form close-knit friendships.

Students may have to follow specific house rules and face privacy issues while living with close family members.

Commuting to and from college may be a hassle if one stays far from the campus.
Before arriving in Australia, conduct in-depth research to evaluate each accommodation type based on budget, priorities, location, transportation, closeness to amenities, safety, lifestyle choices, and support services.
Consider visiting properties, seeking advice from student support centres and university housing services, and discussing with other overseas students the cost of living to make an informed decision.
11. How To Find The Best Student Accommodation In Australia?
From on-campus to off-campus, Australia has many student accommodation options. As an international student, you might need help finding accommodations according to your needs and budget.
So here are a few ways that can help you to make a sound decision:
Step 1: Consider Your Budget
With many student accommodation options available in Australia, you first need to consider your budget and then look for options that suit your budget. You can choose from on-campus colleges and off-campus options.
Make sure to research your institution's financial help options, such as bursaries and scholarships and possible government allowances like Relocation Scholarships and Rent Assistance.
Step 2: Do Precise Research
This is one of the most important things you need to do. Research each accommodation option carefully. Speak to institution housing advisers and visit on-campus accommodations.
Conduct proper research both offline and online. If you are choosing an off-campus location, ensure it is near your university or institution.
Step 3: Weigh Up Advantages And Disadvantages
After considering each option, look for the advantages and disadvantages of each accommodation. For example, you may get a shared house with friends, but it may not be suitable for you in an academic sense.
Also, on-campus accommodations can be pretty expensive and may not give you a sense of freedom.
Step 4: Manage Your Applications
Proper management is one thing you need to consider when arranging accommodation. This means you need to submit applications for on-campus accommodations on time. If you apply for accommodations with friends, ensure everything from bond payment to sharing utilities is adequately organised and managed.
There are many options available when it comes to finding accommodations for students in Australia. However, it is essential to consider all your needs and budget while choosing the right place to stay in Australia.
Frequently Asked Questions (FAQs)
How Much Do Student Accommodations Cost in Australia?
Homestays: The average homestay cost ranges between $235 and $325 a week based on the room, meal types, and other facilities.

The cost of on-campus residential accommodation may cost between $110 and $280 a week, including utilities like food, cleaning, and laundry.

The average monthly charge for residence halls is anywhere between $320 and $1000

PBSA accommodation costs between $200 to $500 per week.

A private rental could cost you $165 to $500 a week. Shared rentals are cheaper and range between $95 to $215 a week.

Hostel accommodation can cost you around $90 to $150 a week.

The median weekly cost of staying in a boarding house is between $100 and $250.

If you choose to live in a landlord-owned rooming house, you must pay around $100 to $200 a week. Students have to manage their meals, laundry, and maid services.

Hostel and Guest House Accommodation would cost you AUD 80 to AUD 135 a week.

A homestay in Melbourne through the Homestay Network would cost you approx. AU$300 a week, while you can get accommodation at Homestay.com for as low as AU$32 in Melbourne.

Staying with family and friends or as an AU Pair is usually free.
Can International Students Rent in Australia?
Yes. There are approx. 720,150 overseas students enrolled across several education sectors in Australia. Around 50% of them are private renters.
If a student rents a house, he has to pay a "bond" or security deposit and some rent in advance (to cover the first four weeks of your rental period).
Only the relevant government department should hold the bond money in each Australian state/ territory.
It is to pay for any damages that you, your house guests, or your housemates may cause to the rental property during the rental period. In case of no harm, you will receive the entire bond amount at lease termination.
Check the below website of your state/territory-level Fair Trading government agency to know more about your rights and obligations when renting in Australia.
For more details, check out our post on renting an apartment in Australia for international students here.
What Type of Accommodation is Best for Students?
Often overseas students need clarification when deciding between on-campus or off-campus stay when they arrive in Australia.
Below we have compared both accommodation types and discussed the benefits and drawbacks of individual accommodation types in these categories to help you form the right decision.
On-Campus vs. Off-Campus Accommodation in Australia:
On-Campus
Off-Campus

The cost varies per number of meals, studio, single room, twin sharing, lodges, etc.

It ranges between AUD 160 to 170 per week

The cost varies per city, rent, amenities, the number of people sharing the accommodation, etc.

It ranges between AUD 85 to 440 per week.

Due to high popularity, you will find a limited number of seats with each college. Students should apply early to secure a seat.

Some examples include:

residential colleges, apartments, or halls of residence.
This type of accommodation is readily available. Examples include - Shared houses or rental apartments, homestays, guest house accommodation, etc.
The stay duration is between 4 to 52 weeks based on your course duration.
Students can stay for shorter or longer terms regardless of their course.
Includes pre-arranged amenities like water, electricity, internet, food, etc.
Students get most of the amenities. However, they have to arrange for themselves when living in a rented accommodation.
As on-campus accommodations are near universities, they are relatively convenient stay options due to no traveling involved.
Students may travel from/to universities depending on the accommodation location and could incur money and time in commuting.
Does HECS Cover Student Accommodation?
No. A HECS-HELP loan does not cover costs like accommodation, textbooks, or laptops. Students can only use this loan to pay off their tuition fees.
How Do You Pay For Student Accommodation in Australia?
Most overseas students in Australia rely on their part-time job earnings to pay rent.
In Australia, the Commonwealth and all states and territories conduct programs to grant financial aid to assist students and their families. These could be in the form of monetary accommodation assistance for students and parents.
Financial Accommodation Support
Student Accommodation Allowance
Full-time Year 11 and 12 students receive $1472 financial assistance for up to 2 years who must stay away from their Tasmanian home to attend a registered government or private school.
Living Away From Home Allowance
Secondary school students who stay away from their homes to study may get a higher rate of Youth Allowance if:
The distance between their parents' home and their place of study is over 90 minutes by public transport.

Your parent's house is in an isolated area and 56km or more away from a government school. Your parents' home is isolated due to obstructed roads for 20 school days a year.
Relocation Scholarship – Services Australia
Students who are getting Youth Allowance or ABStudy can get Relocation Scholarship if they:
Are approved to study overseas for their Australian course

Relocate to or from a remote or regional area in Australia for studies

Have an approved regional placement.
Rent Assistance – Services Australia
Students who rent in defence housing/retirement village/ community housing organisation and receive any of the below payments can avail of this financial assistance.
Carer Payment

Disability Support Pension

ABSTUDY Living Allowance

Austudy

Youth Allowance

Special Benefit

Family Tax Benefit

Parenting Payment single and partnered

Farm Household Allowance.
Where Do International Students Live When They Are Staying in Australia?
Most overseas students in Australia live off-campus in hostels, rental properties, or through homestay programs.
Some universities also provide limited housing options allowing overseas students to mingle with local students.
Which City Is The Cheapest for International Students in Australia?
Looking for a budget stay in Australia? Based on the cost of living, here is the list of affordable cities that you can consider:
1. Gold Coast (Cheapest City for Overseas Students in Australia)
The city occupies the 1st place in terms of affordability in Australia (89th globally).

Considerably cheaper than living in capital cities. Weekly costs range between A$350 to A$700 (including utilities, rent, food, and transport)

The rent is approx. 40% lower than Sydney

The average tuition fee for international undergraduates is US$20,600 per year, lower than in all other Australian cities. Study costs at a public university, i.e., Griffith University, will be lower than private universities.

Operating on the Translink transport system, students have to apply for a Go card that offers them specific discounts and offers.
2. Hobart
It is a perfect place for nature lovers with a small-town flair and big-city benefits. Living here will cost you an average of A$280 to A$625.

Overseas students qualify for the same concession rates on transport as local students. The total fare is A$75 a month.

The average tuition fee for international students at Tasmania University is USD 25,000. The university also provides International Scholarships to high-achieving international students to help them transition smoothly to Tasmania and assist them in their careers.
3. Canberra
It is among the most economical and liveable cities for overseas students.

Accommodation costs differ based on the housing type you choose. To rent a room in a shared house will cost you around A$160 a week and between A$400 and A$500 weekly for a home with 2-3 bedrooms.

Tertiary students get concession cards for public transportation at just A$1.61 per trip and up to A$4.80 per day.

Regarding utility payments, you can expect to pay around A$20 to A$55 per week.
4. Adelaide
Adelaide is 14% cheaper than the other major cities.

The weekly expenses are between A$350 and A$700.

14-day or 28-day pass concession cards are available for students with unlimited trips.

The average tuition fee for international undergraduates is USD 24,500 per year.

Students can expect to spend around AUD 135 to 385 a week on rent, with Rostrevor or Brahma Lodge being the most economical suburbs to the north of the city.
5. Brisbane
The city is hugely popular among overseas students, job seekers, and ex-pats.

The average living cost varies from A$556 to A$1,120 monthly, based on location. It includes rent, groceries, utilities, meals, transport, and leisure activities.

Living costs are relatively lower than in major Australian cities, with an average expense of around AU$500 a week.

Overseas undergraduates pay an average tuition fee of US$25,600 annually at the city's top universities.

Students must apply for a Go card for transportation that entitles them to certain offers and rebates.
How Much is 1-Year of Living Expense for an Australia Student Visa?
When applying for a student visa in Australia, you must prove that you have adequate funds to cover your 1-year course, travel, and living costs.
The following determines your 12-month living expense when applying for an Australian student visa in 2023.
For students or guardians – AUD 21,041

For a partner accompanying you – AUD 7,362

For a child accompanying you – AUD 3,152
How Do International Students Get Accommodation in Australia?
Choosing suitable accommodation is essential for a comfortable and fulfilling academic journey. With plenty of options, navigating the housing market may take time and effort.
Here is a systematic approach to help international students secure the perfect home for themselves:
Start your search well in advance to find the best options and avoid last-minute stress.

Determine your accommodation preferences to get clarity on the most suitable type of accommodation for yourself. Some considerations include location, amenities, closeness to your university/college, budget, etc.

Research online platforms for student accommodation to explore available options. These include Gumtree, Flatmates, 2stay, Domain, and Airbnb. If you want budget accommodation, try exploring shared accommodation listings or join roommate matching services to find compatible housemates. Check out the Homestay network and Home Stay if you want a homestay. If you wish to live in Hostels, refer to sites like Travel Australia Centre, Hostel Bookers, and Yha to book hostels in Australia. If you rent Managed Students Apartments, sites like Semester in Australia, Campus Living Villages, UniLodge, and Urbanest are worth exploring.

Contact your educational institution's housing office or student services department for on-campus accommodation options.

Join online communities, dedicated student groups on social media, forums, and other similar places to gain valuable recommendations, insights, and opportunities to find roommates or shared accommodation.

Attend accommodation fairs/events organised by educational institutions or housing organisations. These are the best places to catch up with landlords and real-estate dealers and explore options in person.

Plan a virtual tour to view potential accommodations to assess the property remotely. Nowadays, most agencies offer this service to potential tenants.

Evaluate different accommodation options and shortlist them based on your preference criteria.

Having found an appropriate option, do the necessary paperwork, read the terms and conditions carefully, sign the rental agreement, and make rental payments/required deposits to secure your accommodation.
All these steps increase your chances of finding the perfect student accommodation in Australia.
Tips and Considerations on How To Find Accommodation For Students in Australia:
Budget is the prime thing to consider when choosing student accommodation. Students can consider affordable on-campus and off-campus accommodation options and apply for government-based financial assistance like relocation scholarships and rent assistance to ease their budget.

Costs differ based on your selected state, city, and accommodation type. Cost of living calculators are a great tool to estimate your expenses and how they vary between states.

Always confirm the total accommodation cost and other expenses you may be liable to pay, such as a bond, gas, water, and utility bills.

Consider the distance between your accommodation from your campus and the accessibility of public transport, such as a tram, bus, or train.

Explore amenities, support services, and recreational centres in that area, such as shopping centres, hospitals, emergency services, etc.

Always perform elaborate research when searching for student accommodation. You may need to weigh the pros and cons and compare available options based on your preference criteria, visit the on-campus accommodations in person, and speak to the housing representatives to form an informed decision.

Whether arranging accommodations, submitting applications for on-campus accommodations, or making bond payments and sharing utilities with friends, overseas students should be dedicated, punctual, and disciplined.
Useful Topics to Explore: