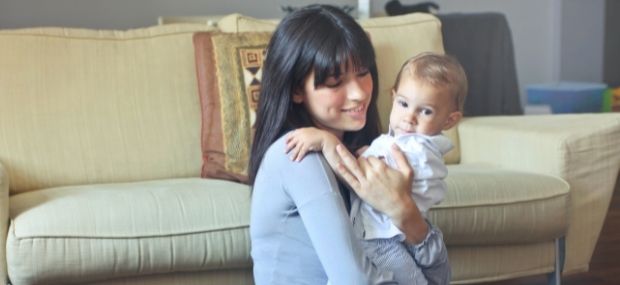 Do you enjoy working with young children and want to embark on a career in the childcare sector? If so, a career as a Nanny might be an ideal job prospect for you.
Nannies provide comfort, ongoing care, and supervision to babies and young children. They perform household duties and take care of the family's needs efficiently.
There are no formal training or education requirements to become a Nanny. However, completing a Certificate III in Early Childhood Education and Care will help you gain a competitive edge. A First Aid certificate, a Police Check, CPR certification, and a Working with Children Check are necessary to work in this role.
You will learn ins this blog about becoming a professional nanny or babysitter, the qualifications required, courses, degrees, future job prospects in childcare, salary, and the steps to enter this role.
1. Who Is A Nanny?
Nannies are highly trained individuals who possess early childhood credentials.
These professional workers provide care, safety, and supervision to infants and young children on a live-in or casual basis. They usually take on roles as a day nanny or a night nanny.
Based on the hours hired, nannies take on various daily childcare tasks and household chores while upholding family rules.
2. What Does A Nanny Do?
Before you start preparing for this role, find out the day-to-day nannying activities:
Learn about the different types of meals that are allowed

Cook nutritious snacks and meals for children and feed babies

Prepare safe meals for people with allergies

Clean dishes and utensils and keep the kitchen in order

Form and maintain appropriate routines

Supervise the daily routine of children, including sleep times, meals, learning, and recreational activities

Manage the behaviour of children and offer guidance on their social development

Arrange materials and equipment to prepare and organize fun, educational, and recreational activities for children

Entertain children through reading and playing games

Bathe and dress babies and children

Coordinates daily work schedule for children and their parents.

Clean and organize the house

Help new parents and families adjust to their new-borns

Shop for groceries, take children to appointments and prepare their travel bag

Assist parents with general housekeeping tasks such as cleaning, meal preparation, or laundry when required

Drop off and collect children from kindergarten or school and assist them with their homework

Ensure hygiene, safety, and care of children at all the times

Communicate with parents from time to time to ensure to meet their childcare requirements.

Take care of children's belongings, play areas, and bedrooms

Supervise children for extended periods when their parents are out of home

Organize and supervise casual outings

Apply first aid and medical care in accidents or illness
3. What Skills Do You Need To Work As A Nanny?
Are you fit for this role? To assist families from all walks of life and offer the best care to children, Nannies should have the following skills:
Like working with children

Helping attitude

Caregiving skills

Good Communication skills

Good Supervision skills

Patience

Responsible

Organization skills

Flexible

Able to work unsupervised

Mature

Awareness

Able to perform household duties

Dependable

Multi-tasking ability

Resourceful

Able to provide first-aid in emergency

Knowledge of safe food handling

Positive Attitude

Professionalism
4. Qualification To Become A Nanny In Australia
Though you don't require specific education, completing a Certificate III in Early Childhood Education and Care through TAFE or an RTO would improve your employability for the role. To undertake the traineeship, you need a Year 10 certificate.
In addition, you need a few mandatory certifications to work as a Nanny.
Having relevant experience in nannying or childcare is appreciated, and joining the Australian Nanny Association can be beneficial.
5. Steps To Become A Nanny In Australia
Do you want to become a professional Nanny in Australia? Here is a step-by-step guide to guide you in accomplishing your objective:
Step 1: Complete Your Year 10 Education
You need to complete at least your year ten education to be eligible to become a nanny in Australia.
Step 2: Gather The Necessary Documents
To work as a Nanny in Australia, you must mandatorily provide the following documents:
Step 3: Complete Relevant Training
You don't need educational training to offer paid nannying services in Australia. However, completing an entry-level qualification in childcare will help you work as a Nanny skillfully and confidently.
Here are the introductory to advanced-level nationally accredited courses to prepare for this role:
Diploma in Early Childhood Education and Care

Graduate Certificate in Early Childhood Education and Care
Step 4: Gain Membership in ANA
ANA was established in 2012 to support nannies and make them more accessible for parents. The industry organization also advises and motivates Nannies to enable them to provide the best service to their employers.
Joining and maintaining your membership with this organization will help you work as a professional nanny. Furthermore, it will open the door to more job opportunities to progress within the childcare industry.
The Criteria To Become A Member of This ANA Organization:
At least 18 years

Hold a valid Working with Children Check as per state/territory requirements

Working as a nanny or have worked in this role for the past three years

Hold a valid First Aid qualification

Hold a valid CPR qualification
Nanny Members Are Encouraged To:
6. Nanny Courses In Australia
Do you want to make a rewarding and successful career in social, intellectual, physical, and emotional development in young children?
A certification and Diploma course in "Early childhood education and care" is the ideal way to gain the skills and expertise to work as a Nanny in Australia.
Here are the relevant courses of training institutes that offer them:
Certificate III in Early Childhood Education and Care
The Certificate III course is a nationally accredited vocational course designed to give a thorough understanding of the early years of a child.
This introductory course teaches ways to provide high-quality care to help pre-primary school students (aged up to 6 years) reach their full potential.
In this 6-month full-time course, participants learn about the relevant health and safety, communication, nutrition, and care-related skills to work in the industry.
Swinburne University

Australian Academy

Federation University

TAFE NSW

TAFE QLD

SW TAFE

TAFE SA
Graduate Certificate in Early Childhood Education and Care
The Australian Children's Education Care Quality Authority accredits this online postgraduate course.
It helps cultivate skills to create safe learning and quality environments for the holistic development of young children.
You gain experience as a primary teacher to play a critical role in preparing preschool children for lifelong learning and social involvement. You will learn how to foster positive attitudes, creativity, and curiosity in children to facilitate learning and solving problems.
Diploma in Early Childhood Education and Care
This advanced and nationally approved vocational course is best suited for those who want to take their childcare career to the next level.
Those working in early childhood education and care who wish to specialize as an "instructor" or "centre director" overseeing staff and volunteers should take this course.
The 18 monthly full-time course comprises online and on-campus classes and numerous work placements. Students gain practical knowledge and skills, helping them understand young children's emotional, cognitive, social, and physical needs. They can then accordingly design and implement early childhood programs.
After completing the course, you will be skilled in planning, implementing and assessing programs in line with standard learning frameworks and regulatory requirements.
Chisholm TAFE

TAFE NSW

TAFE QLD

TAFE International WA

Swinburne University
7. Working Conditions For A Nanny
Nannies work full-time, part-time, or casual in private households, child's homes, and preschools. Based on the employer/family's needs, they may get hired as a "live-in nanny" or as one who travels to and from the residence.
Even though they are working standard hours, they may need to work overtime on weekends and evenings.
8. Job Opportunities For Nannies In Australia
Employers and agencies in Australia usually prefer applicants with recognized qualifications and references. With the Certificate III and Diploma qualification, you can work in the following positions:
Nanny

School Assistant

Early childhood educator

Family daycare provider

Out-of-school hours care assistant/coordinator

Early childhood care director
Professional agencies in Australia like Dream Nannies recruit qualified nannies to provide quality childcare to families across the country. It is a member of the Australian Nanny Association, the expanding community of nannies and nanny agency owners across Australia.
Dream Nannies offers fabulous work opportunities for new and experienced nannies and childcare professionals to work and travel all over Australia and overseas. If you are starting in the profession and aspire to become a professional nanny, visit their website to find and apply for jobs.
Experienced nannies can specialize and advance their learning careers in the following roles:
Governess: To oversee and teach children in educational programs in private households.
Mother's Helper: To assist new mothers in making arrangements for the arrival of a new baby and performing additional work such as childcare, cleaning the house, and cooking meals.
9. Job Outlook For Nannies In Australia
As more parents decide to re-enter or stay in the workforce, the demand for nannies, daycare, and before and after-school care has increased.
Moreover, the work-from-home culture resulted in more Australian families seeking the assistance of nannies to help them take care of their children. Nannies offer valuable assistance to "working couples as parents" in providing ongoing care and supervision for their babies and children.
Additionally, as the ratio of children going to kindergarten continues to follow the upward trend of the past five years, a significant demand for competent early childhood specialists is projected in Australia.
The benefit of working anywhere in the country and advancing their career in various childcare fields such as family daycare centres, preschools, early learning centres, and kindergartens inspires many to pursue this career.
Based on the Australian job outlook website, the number of Nannies grew strongly over five years. The high demand for nannies indicates that the number of nanny jobs will grow at a steady rate of 10.2% in the coming five years.
Nannies work in the Administrative and Support Services and Health Care and Social Assistance sectors in several regions of Australia.
With only 23% of workers employed full-time, many part-time opportunities exist. Full-time workers work for the standard 43 hours per week.
The average age of workers employed in this profession is 25 years (around 47% are below 25 years). With 97% of female workers, this profession best suits female candidates.
10. How Much Does A Nanny Earn In Australia?
The average salary for a Nanny is AU$52,962 per year or equivalent to AU$24.33 in Australia.
The starting salary can be low in this profession but gradually increases once you gain experience.
Entry-level Nannies with (below one year of experience) earn an average salary of AU$20.18

Early career Nannies with (1 to 4 years of experience) earn AU$22.66

Mid-career Nannies with (5 to 9 years of experience) earn AU$24.74

Experienced Nannies with (10 to 19 years of experience) earn AU$25.83
Nannies in the following Australian cities draw a high salary:
Mosman: $66,146 per year

Sydney: $64,216 per year

Brighton: $63,602 per year

Central Coast: $62,951 per year

Melbourne: $62,290 per year

Perth: $61,446 per year

Newcastle: $61,311 per year

Bondi: $60,882 per year
11. Conclusion
If you are passionate about childcare and genuinely interested in serving families, nannying is your perfect choice. Working as a nanny is a great way to make a nice living or supplement your income.
A future-proof career, strong demand, work-life balance, variety of work, and job satisfaction are benefits of pursuing this profession.
If you are serious about working in childcare, complete the necessary qualifications and certifications and start helping families and making a positive difference in a child's life.
Useful Links to Explore:
How useful was this post?
Click on a star to rate it!