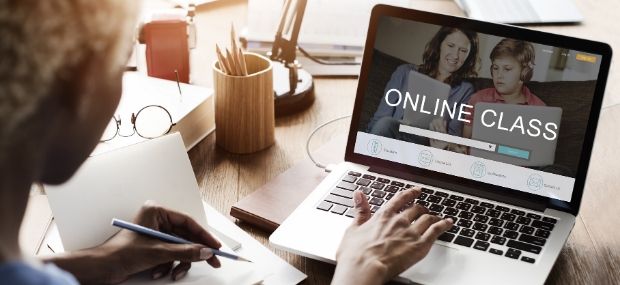 When deciding whether to pursue an online course or on-campus education in Australia, you must consider several factors.
Most international students choose to study in Australia to take advantage of the quality education that the country provides. However, it is only an option for some, especially those with family and job obligations overseas.
If you cannot travel to Australia, you can still gain an Australian qualification through online courses and study in the comfort of your home.
To get clarity and more information on which online or campus classes are better, continue reading this post.
1. What To Consider When Deciding Between On-Campus and Online Courses?
Taking up an online or on-campus course may determine what your future looks like. So it's very crucial to make the right decision.
Here are some of the factors you must consider before choosing between an online class vs campus education:
Your Lifestyle
Your lifestyle is one of the essential factors that will help you decide which study course you should pursue. For instance, even if you live close to campus, your home or work life may only allow you to commit to a part-time course.
Or on the contrary, you may prefer the daily routine and have the time and energy to attend classes every week. Whatever the situation, you must reflect on your lifestyle and then decide based on it.
Proximity To Campus
Find affordable and accessible educational institutions near you that offer high-quality courses you are interested in. You should think of the benefits of taking on-campus classes.
However, suppose the university is too far away, or you live in another country and cannot travel abroad due to particular circumstances. In that case, you must check whether the courses you want to pursue are available online.
Your Learning Style
Understanding your learning style is crucial in deciding between face-to-face and virtual education.
Online or on-campus courses work well for you if you are comfortable communicating through chat, emails, and video conferencing. But if you prefer in-person interaction, on-campus education will suit you the best.
Your Future Plans
Once you have completed your course, what profession would you choose? Will your potential employer see your online degree as negative or positive? Are online colleges as good as traditional colleges for accomplishing future goals?
Answers to these questions will help you determine whether you want to attend an on-campus or an online school. Seek advice from people with different educational backgrounds currently working with the industry or company of your choice.
2. What Are The Pros and Cons of Studying an Online Course?
In recent years, getting online education has become widely popular among students from all across the world. Completing an online course offers excellent flexibility, especially for those trying to maintain a work-life balance but still want to obtain a qualification.
Below are some of the disadvantages and advantages of online learning that you must consider before applying for an online course.
The Pros of Online Study
Plenty of Flexibility
Flexibility is one of the most significant perks of online school, as it enables you to choose the time and day for taking classes. Not only that, but you also get access to notes and other materials, which are usually available 24/7.
You might be required to participate in forums and group discussions. Still, you can attend them whenever it's convenient for you.
More Personal Support
When studying on-campus, you might find yourself in a classroom or a vast lecture hall full of students. Online classes are much smaller, so you can talk to your tutors or lecturers without hesitation.
Study At Your Own Pace
Most online courses often encourage students to learn and study at their own pace, giving them a timeline (e.g. 12 months) to complete the course. In other words, you can take as little or as much time as you want without worrying about following daily or weekly class schedules.
Study Costs
Several online courses can be way more affordable than on-campus classes, depending on your field of study. So if you are on a budget or want to reduce your course fees, you must consider the study cost benefits of online schools and get a qualification.
No Travelling Involved
One of the most convenient parts about taking an online course is that you can study in the comfort of your home. You do not have to worry about travelling to and from campus daily. With this benefit, you can utilise your time, and instead of commuting, you can spend more hours studying.
The Cons of Online Study
The Continuous Self-Motivation
This is one of the significant drawbacks of studying an online course. You must always stay self-motivated as no one will encourage you to study. Sometimes, you might find it hard to discipline yourself, particularly when you are busy fulfilling other responsibilities in your life.
Therefore, if you are thinking about studying online, you should first learn how to discipline yourself.
Lack of Communication
As an online course requires you to study through your computer, face-to-face interaction with your classmates or teachers is less likely. In most situations, you will communicate online or through email. This can make learning difficult for some students.
You Still Might Need to Visit Campus
A few courses may require you to visit the university campus to complete assessments, give an exam, or attend the compulsory "on-campus" part of your course. So when deciding which program to choose, make sure to consider this factor.
Issues With Technology
You might face some technical issues when taking an online course. This can be highly frustrating, especially when your internet connection is slow and you need access to notes and materials. So before considering an online course, think about how well your set-up is in terms of technology.
3. What Are The Pros and Cons of Studying an On-Campus Course?
On-campus learning is a great and practical approach to study. It involves physically attending tutorials and lectures at the university campus for specific course duration.
If you want to experience university life, on-campus education is the right choice.
The Pros of On-Campus Study
The Social Aspect
Studying on campus is a perfect way to make new friends. Meeting and being friends with fellow students will enable you to study together, assist each other with assignments, and participate in study groups.
So if you want to meet like-minded people and prefer learning with others, on-campus education could be the best decision you have ever made.
Interactive Learning
By attending classes, lectures, and workshops, you will enjoy interactive sessions with your teachers and get hands-on learning experience along with your fellow students.
You will always stay motivated in the company of others, and you do not have to deal with the scenario of continuously self-motivating yourself to get through the course.
Face-To-Face Communication With Teachers
On-campus learning will also allow you to have face-to-face interaction with your teachers and lecturers. You can ask them as many questions as possible and clear all your doubts. Additionally, in-person interaction is a great way to build your career and academic network.
The Cons of On-Campus Study
Attendance is Compulsory
Most universities in Australia will grade your final assessment based on your attendance. Therefore, it is essential to ensure that you attend all classes, as it might affect your overall score at the end of the course.
You Need to Stick to a Schedule
When studying an on-campus course, you need to be physically present in the class at the scheduled time every week. This can be challenging if you have other responsibilities to take care of. Remember, missing a class or an on-campus lecture may lead to missing out on knowledge.
Travelling Time
Travelling to campus and returning from university to home may consume much of your time. Additionally, while commuting, if you face public transport or traffic issues, it can be highly frustrating.
Hence, when choosing a university, consider how much time you will spend travelling and how this could affect your everyday life.
4. Final Words
Choosing between on-campus and online education is a decision that needs careful planning. So before selecting a program, explore which educational approach best fits your personality and learning style.
Whether you decide to study in the comfort of your home or a classroom, with the tips above, you will be able to make the right decision and get closer to reaching your goals.
If you are still trying to decide which course is right, seek advice from the university you are considering. They will assist you and help you work out your choices.
Useful Links to Explore: