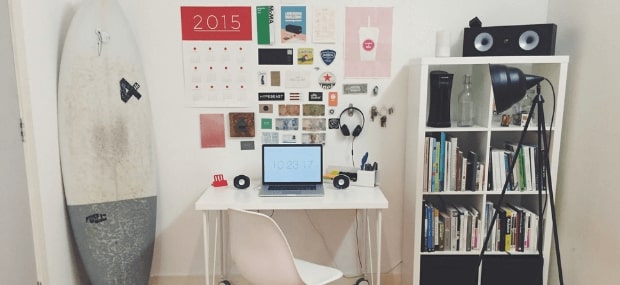 Once you know where you'll be studying in Australia, you can start looking for accommodation that suits your budget and requirements. In Australia, there are several accommodation options available, ranging from university apartments, homestays, to private rental property.
When choosing an accommodation, the most crucial thing for international students is to feel comfortable and secure, so that they can focus on their studies as well as enjoy their lives. Therefore, before making a final decision, it's always a good idea to look for all student rooms for rent options accessible and know every little detail about renting in Australia.
Continue reading this post to learn more about accommodation options and renting in Australia.
1. Choose the Right Place to Live
As we all know, finding a suitable housing facility is an important part to feel at home, especially when you are moving to a new place. Accommodations around Australia vary, depending on where it's located and what type of accommodation you choose.
Here are different accommodations that you can choose from:
2. Important Things to Consider
Location
In Australia, the closer you live to the CBD (Central Business District) area, the more expensive rent gets. The same applies to the accommodations close to campuses. It's always better to conduct thorough research when looking for accommodations. However, there's a possibility that you'll find an accommodation that is a little bit further from your campus.
It might be difficult for you to find international student renting apartments of your choice, as Australian cities are currently facing a rental shortage. This means it may take you weeks or even months to find a long-term accommodation. Therefore, you need to book a short-term accommodation before coming to Australia, so that you have an option to stay while you can conveniently look for a long-term rental property.
Style of Accommodation
The sort of accommodation you choose is entirely up to you — it basically depends on your expectations and needs. If you want to live with other students, you can go for a share house or private rental. You can also get a fully furnished property, but that might be a little expensive and hard to find. Remember, most rental properties in Australia are unfurnished.
By choosing a homestay, international students can live and experience life with an Australian family. This type of accommodation is more expensive than the other options available but includes both utility bills and meals.
Rental Agreements
When renting a property in Australia, you'll be required to sign a legal contract to ensure tenant (you) and the landlord are both protected. The minimum contract period may last up to six months, but most contracts last for twelve months.
You will also need to pay a security deposit, which is called a bond. It is mainly used to cover the costs of cleaning and maintenance after the tenant leaves the property. It's crucial to note that some rules and regulations govern the use of bond and it's important for you to abide by them.
To find out more about the rights and responsibilities of tenants, you can visit the Residential Tenancies Authority. This website will help you to be more aware of your rights and responsibilities before you sign a rental agreement.
3. Questions you Need to Ask Yourself Before Renting in Australia
You need to ask yourself the following questions to make the right decision and find an accommodation according to your requirements.
What are my rights and responsibilities as a tenant?

How close is the accommodation to my campus?

Is the area safe enough?

Are there any public transport options available?

Is the place comfortable and quiet to sleep and study?

Does the accommodation cost include internet, telephone, and utility bills?

With how many people will I share the accommodation and what are they like?

Will I be comfortable sharing accommodation with different people?

Does accommodation include meal plans?

Is the apartment furnished or unfurnished?
To clear your doubts about renting in Australia, you can even talk to your education provider or speak to the international student support team of your institution.
4. Accommodation Tips
Here are some tips you should consider when searching for accommodation in Australia for international students:
Do not leave anything for the last minute
Leaving things for last minute may create havoc. So start making accommodation plans immediately after you receive your acceptance letter from the university, college, or school. Planning everything in advance helps you to properly consider and go through all the options available.
Seek advice
When searching for private accommodation in Australia for international students, you can seek advice from your education provider or institution. Usually, they have a list of accommodation options around your area.
Go online
You can check out several rental properties on websites like domain.com.au and realestate.com.au. This will help you to find an apartment or a shared house facility as per your choice of location.
Know your rights
International students renting an apartment in Australia, need to know their tenancy rights. You can visit realestate.com.au to learn more about tenant rights in different states of Australia.
Carefully go through your lease or contract
It's important to understand your accommodation lease or contract. So take time to read the document and if you have any confusion, talk to your landlord or educational institution to clear all your doubts.
Make sure to check the costs
Ensure that you completely understand the additional expenses incurred apart from rent and deposit. Thoroughly check what costs are included and what's not included.
Review your inventory or condition report
If you rent a private property, you will get an inventory (list of property contents) and the condition report that describes the state of each item of the property. When you leave the property, this allows you to prove that you have not caused any damage and that you are eligible to receive your deposit back. Make sure that you understand what you are agreeing to and signing.
Find cheaper alternatives for household items
In Australia, there are several second-hand markets and rental schemes available that offer cheaper alternatives for you to buy new things not included in the accommodation like furniture, refrigerators, and washing machines. So consider those options and save a ton of money.
5. Additional Details
If you need more information on renting, you can contact the relevant authority in a specific state or territory in Australia. Here's a list of authorities in different states and territories of Australia that you can check online:
Useful Links to Explore:
Don't forget to share this post!