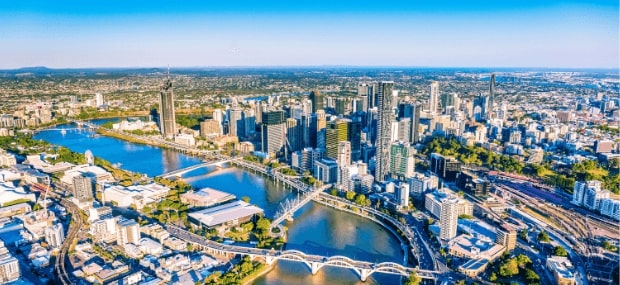 Brisbane also recognised as the 'Sunshine State' is the capital of Queensland and the third largest city in Australia.
With a population of 2.2 million people, Brisbane has the majority of international students from 40 different nations.
More than 80% of international students studying in Queensland have chosen Brisbane to pursue their academic goals.
If you are planning to pursue your studies in Brisbane but confused between Sydney and Melbourne, then below are reasons that can help you to make the right decision.
1. World-Class Education Providers
Did you know Queensland Universities ranked top around the world? Brisbane offers some of the finest education institutions for international students.
Some of the top-notch names are - the Queensland University of Technology, University of Queensland and Griffith University.
The city is also home to a number of vocational education providers, pathways, foundation studies and English language colleges.
2. Safe and Welcoming City
Brisbane is also considered as the most inclusive study destination in Australia. It welcomes students from all over the world and is known as a welcoming and safe place to live.
The Lord Mayor of Brisbane hosts regular the International Student Friendship ceremony, giving the chance to international students to receive a personally signed certificate of friendship on the behalf of Brisbane.
The city also organises Brisbane's City Welcome Festival - The largest city Orientation Day in Australia that gives an opportunity to international students to enjoy food, free music and networking opportunities.
3. An Affordable Option
As compared to other Australian cities, Brisbane is an affordable option to live and study. Everything from accommodation to commuting to meals is cheap in the city.
However, cheap doesn't mean that you have to compromise on quality. It just means that you will save money while staying in Brisbane.
4. A Sustainable City
In terms of sustainability, Brisbane is on the way to becoming a global leader. The home to more than 200 parks and almost 2500 plant species, Brisbane is known as the most biodiverse city of Australia.
The citie's sustainability and biodiversity make it a preferred option for international students to study and live a quality life.
5. The City Celebrates Art
If you are an art lover, Brisbane has so much to offer. Brisbane is home to Australia's largest Gallery of Modern art and Queensland Art Gallery.
The Museum of Brisbane, located in the iconic City Hall, will let you know about Brisbane's history. And if you want to see science come alive, the Queensland Museum has got you covered.
To enjoy world-class theatre and music events, you can visit the Queensland Performing Arts Centre. The city of Brisbane also hosts the Asia Pacific Screen Awards.
6. The Sunshine City
As mentioned above, Brisbane is known as the 'Sunshine State' of Australia.
The city is known for its best climate in Australia – warm and sunny year-round. With more than 300 sunny days a year, it is the right city for hosting and taking part in colourful events.
Students who love adventure can take advantage of the outdoor lifestyle in the city while studying.
7. Reliable Public Transportation
The public transport is the best option to get around Brisbane.
As a student, it would be better to have a Translink go card. This card allows you to travel by bus, train, and ferry throughout the city.
You may also ask for the green student go card to get discounts. Simultaneously, you have an option for free bus rides via Spring Hill Loop and City Loop bus services within the Spring Hill and CBD areas.
8. Weekend Getaways
On weekends, Brisbane has so much to offer. From rainforests, islands, waterfalls and beaches, the city offers popular gateways for students.
Standing in the shadow of Melbourne and Sydney, Brisbane boasts a thriving food and cultural scene.
From charming countryside villages to serene hinterlands, beaches and coastal towns, the City of Brisbane offers several weekend gateway choices to the international students.
9. Work While You Study
Last but not least, Brisbane offers several job opportunities for international students to finance their stay and study in the city.
Students are eligible to work up to 40 hours per fortnight during their study period and unlimited hours during term breaks.
10. Live Music
Students can enjoy watching live bands on Saturday at South Bank. It is one of the favourite pastimes of international students in Brisbane. From Wednesday to Sunday, there are free live bands across the city.
Brisbane welcomes more than 50,000 international students each year.
According to the Department of Immigration and Border Protection, there are around 72,316 international students enrolled in Queensland and a big portion of that population is based in Brisbane.
In the next few years, the numbers are expected to grow and it will soon become the top preferred choice for students across the world.
Useful Links to Explore:
Don't forget to share this post!