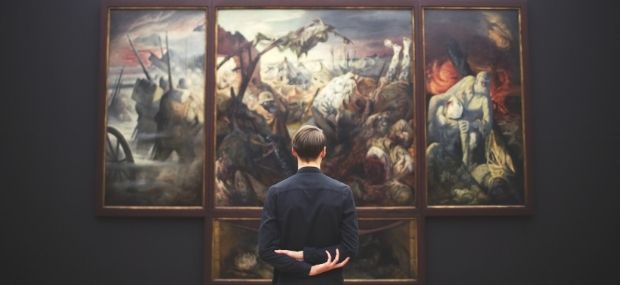 Do arts, history, science, archaeology, and humanities fascinate you?

A museum curator organizes, displays, and manages artworks and art pieces for exhibitions, shows, and collections. They also handle administrative tasks and plan events, workshops, lectures, and other activities related to the exhibits and artists.

To become a Museum Curator in Australia, you need to complete a bachelor's degree with a major in fine arts, cultural studies, anthropology, and history, such as a Bachelor of Fine Arts.

If you are passionate about acquiring, displaying, preserving, and developing art objects for museums, then here is what you need to study, how much you will earn, and the steps to launch a profession as a museum curator in Australia.

1. What Is A Museum Curator?

Museum Curators are professionals who specialize in a specific discipline, such as cultural heritage, anthropology, fine art, decorative arts, social history, natural history, science, and technology.

They plan, organize, and oversee museum collections, and display artifacts in a gallery, museum, or cultural venue. Museum curators research to understand what will attract public audiences and submit grant applications to gain financial support.

They play a key role in museum administration and form a link between artists, administrators and museumgoers for creating an ultimate experience for those who appreciate art and other types of museum installations.
2. What are the Types of Museum Curators?

Where a smaller museum has a general curator who manages the entire collection, prominent museums have specialized curators for different types of subjects.

Here are the common categories for a museum curator:

Art curator

They have extensive knowledge of fine arts and art history and generally work at an art museum or an art gallery.
Digital data objects curator

This type of museum curator gathers, lists, and maintains the digital assets of any museum collection.

Special collections curator

This type of curator research to understand what people look for in a collection. They prepare and manage collections of a museum and may also borrow them.
The focus of such museums lies in artefacts related to aerospace, medicine, souvenirs related to geography/movies/books, a specific cultural movement or historical period and archaeology.
Science curator

This type of museum curator specializes in astrophysics, chemical science, natural sciences and is generally employed in natural history and science museums.

3. What Does A Museum Curator Do?

Museum curators manage the entire collection of a museum that includes the acquisition and maintenance of exhibitions.
They either specialize in a specific field of art, or work in museums that offer a variety of exhibitions in a wide range of disciplines.

Their major roles include performing research, preparing articles for publications, planning events, workshops, lectures, and supervising all section curators in a large cultural institution.
Here is a complete list of work responsibilities of a museum curator:
Research and negotiate the acquisition of museum collections, either permanently or for a specified duration

Develop exhibitions around coherent themes

Identify, categorize, and document museum items and collections.

Design, mount/arrange and organize installations in display areas and cases in an art exhibit

Authenticate and oversee artifacts, artworks, and other historical items in a museum

Select appropriate materials and methods to restore items

Ensure careful storage and care of display items

Manage volunteers and staff

Design tours and other academic resources for the public

Exclusively handle paper records of a museum

Write labels for exhibited artifacts

Coordinate with cultural institutions including cultural guardians and artists

Prepare promotional content and materials, preserve circulation systems, and place an order for new materials.

Coordinate activities to gain monetary assistance and public interest

Travel to examine or procure new museum collections

Keep precise records of loans, acquisitions, and details about art objects and their values

Produces trade publications, initiate exhibitions, deliver public lecturers, write about collections, and respond to public queries

Arrange the lighting and layout of scientific displays, art displays, and historical displays

Organize workshops and tours to interface with the public and work on public outreach campaigns for the promotion of the museum.

Collaborate with different departments of the museum to find the best form of representation for the museum's collection.

Categorize, store, and set up a comprehensive navigable database of the museum collection.

4. Skills To Become A Museum Curator

As museum curators oversee a broad array of tasks, their list of skillsets is quite expansive.
If you wish to pursue this profession, then here are a few fundamental skills to develop/refine:
Fondness for arts, science, environment and history

Patience

Detail-oriented

Methodical approach

Teamwork skills

Organizational skills

Good verbal and written communication skills

Good imagination

Aptitude for research

Accounting

Meticulous organizational skills

Critical thinking

Technical skills to manage, and upkeep historical artifacts

Physical stamina

Interpersonal Skills

Software proficiency to use office software that includes databases, spreadsheet tools, invoicing software, etc.

Creative thinking

Managerial skills

5. Qualifications To Become A Museum Curator In Australia

Do you want to know how to become a curator in Australia?
Here are the qualifications that will help you become one:
Complete your Senior Secondary Certificate of Education.

Earn an undergraduate university-level degree in arts or science with a focus in related areas such as fine arts, anthropology, history, cultural studies, archaeology, biology, environmental science, or astronomy.

Complete a master's degree in museum studies, cultural heritage management, or curatorship's such as a Master of Arts (Curatorial and Museum Studies) or a Graduate Certificate of Cultural Heritage and Museum Studies. Some universities require previous experience in museums and related sectors as a prerequisite to undertaking postgraduate courses.
6. Steps To Become a Museum Curator in Australia?

Interested in the job profile and looking to work in this sector?
Then follow the below steps to embark on a career as a museum curator:

Step 1: Obtain A Bachelor's Degree

If you want to know how to become an art curator in Australia, then you can benefit from studying fine arts, history, archaeology, arts management, and museum studies. A Bachelor of Fine Arts will give you fundamental knowledge in art history and learn practical art skills.

A bachelor's degree in science and technology will be beneficial to work in a science museum. Likewise, based on the type of museum you want to work in, you can pursue a degree in that field.

Many degree programs offer internships and externships that are good opportunities to widen your professional network and secure a job post your graduation.

Step 2: Get A Post Graduate Qualification

It is common to enroll in a master's degree program to become more competitive in the employment market. Owning a postgraduation qualification can help you secure work in museum administration.

A Master of Fine Arts provides a practical education with plenty of real-world experience in curating art exhibitions and shows for galleries. This can prove to be a valuable experience to work in a museum.

Those wishing to work in history or natural sciences museums can benefit from earning a master's in business administration.
Other available post-graduation options include:
Master of Cultural Studies

Master of Museum Studies

Master of Museum and Heritage Studies
These degrees emphasize areas such as the philosophy and history of museums, art conservation, cultural heritage law, audience engagement, exhibition management, and more.

Step 3: Gain Experience Through Internships

Expertise in research, management, and restoration of collections, exhibition design, and other related roles will increase your chances of obtaining a full-time role in museums.

Museum internships and volunteering are great options available for graduate students to gain hands-on experience. Many museums look for volunteers who can offer them help in their daily basis tasks.

Though these works may not earn you money, but it can offer networking opportunities and invaluable experience in the humanitarian sector.

Step 4: Get Recruited

Once you have gained adequate skills, experience, and education required for the role of a museum curator, prepare an impressive resume by listing relevant work experience and keywords mentioned in the job description.

Now you are ready to apply for museum curator jobs either through online job portals or by visiting cultural institutions in person.
Industry bodies related to museum curation include:

7. How Long Does It Take To Become A Museum Curator?

It takes around 5 to 10 years on average to land a position as a museum curator in Australia.
In most cases, you would require about 6 years of school and 3 to 5 years of experience to fulfill the minimum eligibility qualifications for a museum curator role.

8. Relevant Certifications For Museum Curators in Australia

Graduate Certificate of Cultural Heritage and Museum Studies

This coursework program is meant for those who have recently completed their undergraduate degree or are already working as a volunteer in heritage sites or museums and are prepared for an exciting career.

Curator courses in Australia equip you with basic theoretical knowledge and hands-on skills on museum history, interpretation, administration, curation, cultural heritage management, collections management, artifact handling, code of conduct, exhibitions, and familiarizes with the latest theory and practice in the museum.

The graduate certificate also helps develop a solid foundation to pursue advanced education and progress in their careers.
It is ideal to seek internships or an entry role in all types of national, state, and regional cultural institutions including museums, national parks, cultural heritage sites, and international heritage groups.

You can attend this program at the following Australian universities:
Deakin University

Colarado State University

Australian National University

The University of Sydney

Bachelor of Fine Arts

This is an intensive and practical degree course designed to teach historic aspects of art practice, hands-on learning, and creative independence to make a rewarding career as an artist.
The course provides the essential guidelines and resources to enable students to think creatively and explore their artistic potential.

Master of Arts (Curatorial and Museum Studies)

This comprehensive course integrates relevant and contemporary theoretical, practical, and historical aspects of gathering, interpreting, and displaying art.
It is well-suited for graduates who aim to enter the museum profession as curators, researchers, or exhibition organizers in Australia or abroad.

Undergoing this professional qualification, students learn in-depth on curatorial research and exhibition demonstration from industry experts.
The Australian universities that are presently offering this museum curator degree course are:
The University of Adelaide,

The University of Melbourne

The University of Western Australia

9. Working Conditions For A Museum Curator

Workplace

This is an indoor work that requires museum curators to work in art galleries, and museums.
Those working in small museums are mostly responsible to manage the entire collection of an institution.
On the other hand, curators employed at prominent museums, have specialized responsibilities for different subjects and specialties.

Work hours

Full-time workers work around 42 hours per week compared to the industry's average of 44 hours.
Nature of Employment

Based on Job outlook data, around 67% of workers are employed full-time.
A few museum curators also work part-time, or on a contractual basis.

Age

The average age of employed museum curators is 46 years which is higher than the industry's average of 40 years. Around 54% of them are above the age of 54 years.
This shows that the profession is doable and suitable even in the late stages of a career.

Gender

Around 68% of the total workforce comprises females which is much higher than the average of 48% in other occupations in Australia. This shows that the profession presents promising employment and growth opportunities for aspiring female museum curators.

10. Job Opportunities for a Museum Curator In Australia

Around 55.8% of the total employed professionals in this sector hold a master's degree or Graduate Certificate/Diploma. Around 31.7% have completed a bachelor's degree.
This shows that gaining a post-graduation qualification is the ideal pathway to enter and sustain a position in this industry.

Once qualified, a museum curator can start their career journey with the Curatorial Assistant role and progress to the following roles as per their skill and experience.
Assistant Museum Curator

Museum Curator

Senior Museum Curator

Though museum Curators are employed in several regions of Australia, the ACT has got the major share of workers.
The top recruiting industries for museum curators are Public Administration and Safety, Education and Training, and Arts and Recreation Services.

11. Job Prospects of Museum Curators in Australia

Cultural institutions in Australia are evolving. Modern age archives, museums, galleries, and heritage sites are designed to be highly interactive and accessible to entice a larger number of national and overseas travelers.

The employment outlook of museum curators is projected to grow at a rapid rate than average. The Bureau of Labor Statistics predicts steady growth of 9% for museum curator jobs in Australia through 2028, which outperforms the growth rate of other industries.

12. How Much Does A Museum Curator Earn In Australia?

As per Salary Expert, the average museum curator salary in Australia is $93,759 per year.
The average weekly and hourly pay of a museum curator is $1,812, and $45 respectively. Museum Curators also earn an annual bonus of $2,381 on average.

According to Indeed, the average salary for a Curator in Australia is $86,713 or an equivalent to $31 per hour.

Top paying Australian cities for Curators are
Sydney NSW: $108,120 per year

Rockhampton QLD: $99,318 per year

Canberra ACT: $96,303 per year

Perth WA: $89,318 per year

Kings Park WA: $79,716 per year

Melbourne City Centre VIC: $78,479 per year

Campbell ACT: $72,518 per year

Warrnambool VIC: $70,423 per year

13. Conclusion

The job of a museum curator can be hard work, but it is also rewarding. They play a significant part in cultural recreation and shaping the way the community perceives itself.
Curator courses help the student learn the right way to work with collections, thereby creating a broad array of career opportunities in the national and global heritage and cultural sectors.
Useful Links to Explore:
Don't forget to share this post!