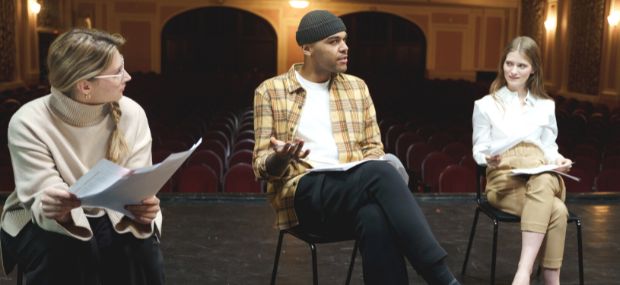 Are you imaginative, creative, and interested in visual design, artwork, graphics, or photography? Then, a career as an Art Director could be worth investigating.
Art directors plan, organise and control creative aspects of television, stage, and film productions. They create visual ideas to develop communication and advertising programs and plan and implement the campaign.
To become an Art Director in Australia, you need a university or VET qualification in graphics, screen, media, design, art, or stage production and experience in the entertainment industry.
Understanding the role of an Art Director can help you decide whether this career suits you. This blog discusses the most common art director tasks, responsibilities, qualifications, courses, salary, and skills you need to help you prepare for this role.
1. What Is An Art Director?
Art directors create visual ideas to develop advertising and communication programs to execute campaigns. They manage the design of elements, colour combinations, and aesthetic arrangements for product packaging, publications, albums or book covers, TV programs, websites, apps, movies, or theatre productions.
When working for television and radio companies, they produce artistic media and information on sports and music events.
Art directors are more focused on the concept-and-design efforts for promotions in print form, commercials, or on websites. They are mainly responsible for coordinating work schedules and meetings to ensure employees work together seamlessly and efficiently.
They work in several performing arts organisations. These include theatre companies, music bands, dance institutes, festivals, and cultural venues, to determine and supervise the execution of artistic policies.
Art directors delegate work to editors, photographers, graphic designers, animators, writers, and other artists who perform the individual tasks that collectively form the finished product.
2. What Does An Art Director Do?
The duties of an Art director vary based on projects and employer, but the job description usually includes the following:
Develop elaborate budgets for art projects and ensure projects get delivered within the budget and deadline.

Meet clients to discuss their creative project's vision and specifications

Guide, encourage, and mentor a team of creative professionals to materialise a studio's vision.

Monitor the creation and execution of an artistic style of a product/ production

Create style guides and choose the correct visual elements for art projects

Source freelance creative artists to develop visual design

Supervise the work of creative professionals and provide them with timely feedback

Edit photographs before publication

Meet representatives from editorial and advertising to talk about their project contributions

Periodically evaluate the progress of the project and ensure it stays on track.

Approve purchases within allocated budgets

Supervise, review, approve and shortlist the photography, visual designs, artwork, and graphics developed by team members to present them to clients

Lead client presentations

Ensure artistic productions meet cost, quality, and timing specs

Develop artistic policies, media production strategies, and plans for an organisation

Control the usage of facilities used in media production, such as editing equipment, studios, and stage and film equipment

Introduce entertainment programs, music, celebrities, and guests

Research, inspect, and collect stories and programs to prepare news bulletins and read them.

Provide commentary for sports events

Present opinions on social, political, and economic matters
3. Art Director Skills
Looking at some of the famous art directors in Australia, we have compiled a list of the most sought personal traits and qualities that will help you excel in this profession:
Artistic ability

Able to express ideas clearly

Highly motivated

Excellent relationship-building skills

Good written and oral communication skills

Creative skills to create good-looking visuals

Good organisation skills

Teamwork skills

Great attention to detail

Able to work under pressure

Problem-solving skills

Effective at balancing creativity with analytics

Good at visualising a concept

Leadership skills

Good time management

Organised

Computer literacy
4. Qualifications For Art Directors in Australia
You usually need a relevant Art Director degree and extensive experience in the entertainment industry to work as an Art Director. University and Vocational Education and Training are common study pathways to qualify for this role.
Complete a degree in design, or graphic design, such as a Bachelor's degree in design or a Bachelor's degree in Graphic Design.

Additionally, you need working knowledge of graphic design software, such as InDesign, Photoshop, or Illustrator, to create graphics and edit photos.

Most advertising firms usually look for applicants with a minimum of 3 years of experience. So, it is beneficial to work in the following junior roles: Designer, Assistant Art Director, Fine Artist, Editor, Graphic Designer, or Photographer to develop work experience in this field.
5. Steps To Become An Art Director in Australia
There are different paths you can take to secure this position:
Step 1: Get A Visual Arts Qualification
Aspiring art directors should complete 4-years of full-time bachelor's degree in visual arts, art, design, 3D design, or interior architecture. Some recommended options are a Bachelor of Graphic Design or a Bachelor in Design.
These degrees provide a solid foundation in art theory and its commercial uses:
Bachelor of Graphic Design: University of Canberra, RMIT University and The University of Melbourne
Bachelor of Design: The University of Melbourne, Monash University, QUT, and The Swinburne University of Technology.
Those who want to know how to become an art director in a film can further undertake higher-level courses in theatre production or film design to gain specialised knowledge.
Step 2: Create Your Art Director Portfolio
A professional-looking portfolio showing your skills in a diverse range of products is essential for better employment prospects in this competitive industry.
Build a portfolio by mentioning your previous and latest work on different multimedia platforms illustrating your diverse skill set in areas of artistic vision and design style. You can include sample ad campaigns, visual design and conceptual work that shows your art style.
Step 3: Gain Work Experience
Most companies prefer recruiting people with at least three years of industry experience for entry-level positions in visual arts.
You can apply for various roles to improve your chances of obtaining work.
For example:
If you love capturing photos, consider working in a photographer's role.

If you are interested in fashion designing, find opportunities to work with clothing retailers, fashion designers, etc.

If commercial media or advertising interests you, you can explore graphic design.
After 1 or 2 years in the art industry, you may start as an assistant art director. Focus on continuous learning and upskilling yourself to move up the career ladder to become an art director.
Step 4: Apply For An Art Director Job
Having developed strong creative skills and the necessary experience in working and managing people in the creative industry, you can begin applying for the art director role.
Professional bodies:
6. Art Director Jobs In Australia
Art Directors work in Software development and FMCG industries to help strengthen their brand and marketing outputs.
You may also find them in Creative industries, including publishing houses (newspapers, books, magazines), design institutes, public relations firms, and entertainment and media companies.
Some advertising agencies also employ Art Directors to create product layouts, visual styles, or packaging. Few also work with television, movie, or theatre Producers and Directors to supervise set designs.
After gaining an experience of 4 to 5 years in a mid-level to senior-level role, Art Directors can advance to senior art director jobs for future promotions.
7. Working Conditions For An Art Director
Advertising art directors work indoors in the company's offices. Their work environment depends on the type of projects they work on.
Freelance Art directors who specialise in television or film work for a range of clients in different settings such as indoor sets, filming locations, and studios.
Since their work depends on employment status and current assignments, they have highly irregular work hours. They may even work on weekends or late at night to deliver projects on time.
Art directors may also need to work outside the office to meet clients and attend photo sessions. Working in fast-paced work environments may become stressful at times.
8. How Much Does An Art Director Gets Paid In Australia?
The average Art Director's salary in Australia is AU$81,121 per year or equivalent to AU$39.11 per hour. Their salary varies based on several factors, such as experience, education, employer, and work location.
Art Director Salary Based on Experience
Entry-level Art Director (< 1-year experience): AU$48,980 per year

Early career Art Director (1 to 4 years of experience): AU$66,491 per year

Mid-career Art Director (5 to 9 years of experience): AU$84,073 per year

Experienced Art Director (10 to 19 years of experience): AU$86,334
Salary Based on Location
Cities that presently offer the highest salaries for art directors are as below:
Penrith, NSW: $133,420 per year

Melbourne, VIC: $110,865 per year

Art Director salary Sydney, NSW: $109,500 per year

Bunbury, WA: $90,385 per year

Brisbane, QLD: $90,000 per year
9. Job Prospects For Art Directors In Australia
The booming Creative industry in Australia indicates a job market for prospective applicants, with plenty of job opportunities available throughout the country.
Work Arrangements
Around 88% of people employed as Art Directors work an average of 51 hours weekly. It is 7 hours more than the average of all jobs, which is 44 hours per week.
Main Industries
Maximum job openings for these professionals are available in the Information Media and Telecommunications Industry. Presently, around 68.8% of Art Directors work in this industry. Other industries are:
Professional, Scientific, And Technical Services: 17.1%

Arts And Recreation Services: 12.4%

Administrative And Support Services: 1.8%
Percentage of Employment all Over Australia as per Population Size:
New South Wales: 55.1%

Victoria: 29.2%

Queensland: 6.5%

South Australia: 3.2%

Western Australia: 5.9%
Age and Gender Profile
The average age of Art Directors is 43 years which is higher than the average of all jobs, which is 40 years. Most of the professionals employed in this industry are between 35 and 44 years.
Around 36% of females make up the entire workforce. It is 12 percentage points less than the average of all other jobs, 48%.
10. Conclusion
The profession of an Art director is challenging and exciting at the same time.
The creative freedom and control you gain by working on different creative projects are the reason that makes it a rewarding career.
Moreover, the fast-paced work environment and a wide diversity of art projects keep you inspired and motivated throughout your career.
Useful Links to Explore: