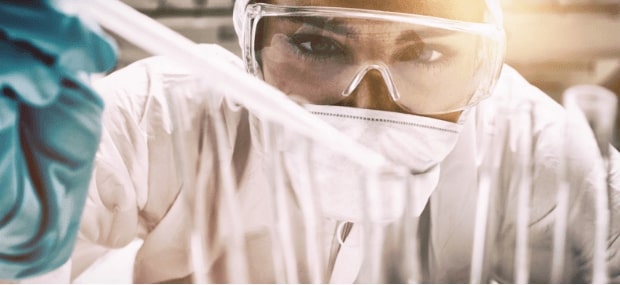 As an international student, whether you want to study data science in Australia, food science or any other discipline, Australia offers a wide range of courses for you.
If you are looking to study science in Australia, then there are many courses and degrees available in different science disciplines like marine biology, chemistry, physics and nanotechnology.
If you are interested to study more advanced medical science courses in Australia, you can enrol into Nursing and Health Services and Rehabilitation, which are quite popular in Australia.
Three Qualification Levels
There are three different qualification levels in science. These are:
VET (Vocational Education & Training) Study

Undergraduate (Bachelor's) Study

Postgraduate (Master's) Study
Let's have a detailed and closed look at these three levels.
1. VET Courses in Sciences
VET stands for Vocational Education and Training. It offers many practical learning opportunities for science students. The most common science courses offered in the VET sector in Australia are diplomas and certificates in laboratory techniques, laboratory technology and laboratory skills.
So, if you want to become a technical officer or lab technician, you have to study these diplomas and certifications from a reputed Australian university or institute. You can also lead to more advanced career levels by studying specialised courses like:
Environmental monitoring and technology

Biotechnology

Animal technology

Health Science and pathology

Food Science and technology

Geoscience etc.
The aim of VET qualifications in science is to develop scientific knowledge and high-level technical skills among the students.
If you are looking for an easy path into higher education in the science field then also VET qualification in science is the best choice. By studying VET courses, you can get senior scientific and research positions in the related industry easily.
Where to Study VET Courses in Australia?
Australia offers many regional and metropolitan campuses to study VET Science courses. From TAFE institutes, private colleges to universities with TAFE departments, you can discover many campuses throughout the country to study VET science courses. If you are having difficulty finding a suitable program, you can find courses offered by TAFE institutes and private providers.
Since practical experience is very important in the science field, you need to choose institutions and courses that provide excellent facilities along with providing access to the latest techniques and equipment.
The fees of each course depend on various factors like the type of course, location and institution you choose. But it may cost you somewhere around AUD $4000 to $22,000 yearly. However, higher-level vocational courses like vocational graduate certificates and diplomas are more expensive.
Career Opportunities after VET Study in Sciences

As a graduate of VET Study in Science, you can easily find work in various related practices like rescue centres, reception and administrative tasks, animal care, radiography procedures, clinic pathology, lab technician and anaesthetic nursing.
As a VET graduate in Australia, you can earn between AUD $70,000 per year to $163,237/year, depending on your experience and qualification level.
2. Undergraduate Courses in Science
Australia offers many undergraduate courses in Science for students. For example bachelor in Science, and more. If you have an interest in any specific specialisation you can study an undergraduate course in that specific discipline. Some of the popular traditional academic disciplines are:
These general courses enable students to enter any career of their choice, but to qualify or specialise in a particular position, studying a postgraduate course in the specific field is mandatory.
As a student, if you wish to complete your honours degree and improve the level of jobs prospects, you can even pair your desired science course with engineering, law and commerce.
Where to Study Undergraduate Courses in Science?
Australia offers many opportunities to study undergraduate courses in Australian universities, TAFE colleges and institutes. A bachelor's degree in Australia will not only prepare you for postgraduate study but also make you job ready.
If you are looking for the top universities or educational institution to study undergraduate Science course in Australia click here.
Career Opportunities for Science Undergraduates
The Bachelor of Science is a foremost step towards building a career in technology or science. It offers a wide variety of career opportunities to students like commercialisation agents, educators, science editors, patent attorneys and government policy analysts.
There are also some common business careers in which Science graduates move forward. These are business analyst, risk analyst, insurance, stockbroking, utility management, banking and more.
3. Postgraduate Science Courses in Australia
Australia is one of the best study destinations for those who are looking to pursue postgraduate science courses and degrees. These courses not only help in the personal development of the students but also increase job opportunities for them.
If you have completed an honours or bachelor's degree in Science and want to pursue further studies to give a boost to your career then you can undertake a postgraduate course in the specific discipline.
You can choose from various academic disciplines like Physics, Chemistry, Biology and more. Or if you are looking for specialisation program you can choose from different areas like DNA Technology, mental health science, biomedical technology and biotechnology.
Where to Study Postgraduate Science Courses?
Most of the postgraduate science courses like graduate certificates, diplomas and coursework masters degrees help students to achieve more advanced degrees such as research doctorates and research-based master degrees.
Each Postgraduate degree will provide you with greater exposure and understanding of your selected area, helping you to become an eligible candidate for employment opportunities.
If you are seeking to study postgraduate science courses in Australia, you will get many universities and institutes offering a wide range of these courses. The duration of postgraduate courses may last between six months to four years, depending on the course you've chosen.
The average tuition fees for Postgraduate science courses are:
Master's degree – AU $20,000 to AU$37,000

Doctoral degree – AU $14,000 to AU$37,000
Career Opportunities for Science Postgraduates
When completing a postgraduate course in science you will get entrance to a wide range of employment roles across various industries like medical research, environmental testing, mining mineral analysis and more.
As a postgraduate student in Science, you can also find employment in senior scientific roles such as government organisations, private corporations, universities and industries.
Useful Links to Explore:
Don't forget to share this post!