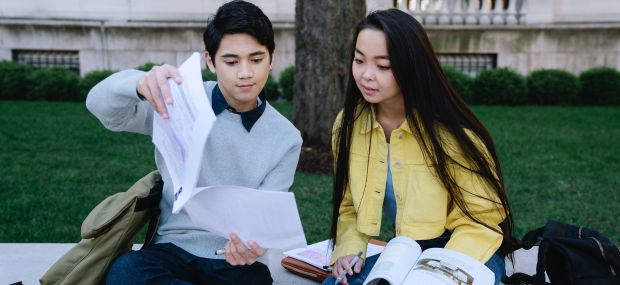 You can choose from various locations if you plan to study for a law degree in Australia. Some are cultural and economic hotspots: Sydney, Melbourne and the east coast region of Brisbane.
There is no shortage of options for choosing the best place to study law in Australia.
If you like to debate or see yourself interrogating in a courtroom, then getting a Law degree is the best option. A law degree allows you to take up various political, business, and banking positions.
There Are Three Qualification Levels
Undergraduate Level

Postgraduate Level

VET (Vocational Education and Training) Level
1. Undergraduate Study In Law
Studying LLB or Bachelor of Law programs at the undergraduate level in Australia prepares you to have an exceptional law career and builds your foundation of knowledge and the strategic, critical and analytical thinking skills required for the field of law.
Becoming a lawyer will allow students to work for big businesses, accounting firms, banks, and government departments.
Under the LLB program, you can study the following courses:
Criminal Law

Business Law

European Law

International Law
You can complete an LLB degree (Bachelor of Laws) within 3 to 4 years. You can also obtain a double degree at the undergraduate level, pairing law with other courses like business, arts, and languages. A dual degree is also a great option if you want to expand your knowledge about a particular subject that will complement your law profession.
Remember, you will need more than just an undergraduate degree to practice law. But it is also essential to undertake a PLT (Practical Legal Training) to become a lawyer, which enables one to gain practical skills in the field of law.
Overall, the best law courses in Australia focus on innovative teaching and industry connectedness.
Where To Study Undergraduate Law Courses In Australia?
Most universities in Australia offer law degrees to international students. Some institutions even focus on providing distance education or online law courses in Australia. And only a few institutions in Australia provide rare combination courses such as "law with medicine".
You must also remember that private higher education providers do not offer law degrees in Australia.
Here are some of the top universities in Australia that offer undergraduate law courses in Australia:
2. Postgraduate Study in Law
An LLM (Master of Law) or postgraduate course in Australia is for students or law professionals who want in-depth knowledge about a specialised law area, such as tax or international law.
The Juris Doctor (JD) programs are becoming increasingly popular at the postgraduate level in Australia. You can complete a JD program within three years. It has a legal emphasis, and you can study it alongside other advanced degrees.
Studying in a JD program improves practical focus. It enables students to develop critical thinking, advocacy, informed advice, critical thinking, communication and analysis skills.
These skills help students to become eligible for practising law in Australia and allow them to apply for positions like business strategist, entrepreneur, corporate counsel or government policy advisor.
Other law courses in Australia for international students offer PLT (Practical Legal Training) for graduates, allowing students to gain the required skills to practice as a lawyer.
Other coursework programs offer students expertise in international law, information technology, commercial law, tax law and environmental law. Some LLM programs consist of coursework, while others might entirely focus on research. LLM students may also be required to complete a thesis to get the degree.
Where To Study Postgraduate Law Courses In Australia?
Pursuing an LLM (Masters of Law) from an Australian institution can be an enlightening and exciting educational experience for international students. Many universities, including some private providers in Australia, offer postgraduate law courses.
Most universities in Australia offer postgraduate programs consisting of a master's thesis and practical coursework. Students can choose from various LLM programs in taxation, environmental law, international law or global business law.
Your home country may also recognise some of the postgraduate law courses in Australia. So, you must conduct a thorough research about that specific law program.
On the other hand, if you want to pursue a research degree, choose an institution with an established research program.
Here are some of the top universities in Australia that offer postgraduate law courses for international students in Australia:
3. Vocational Education & Training Study (VET) In Law
VET (Vocational Education and Training) level law courses do not provide professional qualifications. But the VET paralegal studies offer courses in legal administration, justice, security, law enforcement, and more.
These courses may open a pathway towards other law degrees. You may also directly enter into an appropriate occupation. Still, your job prospects will only improve once you climb the qualification ladder.
Where To Study VET Law Courses in Australia?
Several VET providers and TAFE institutes in Australia offer paralegal courses in Australia. But for particular specialisations, some institutions might have limited options.
4. Career Opportunities for Students Pursuing Law in Australia
There are abundant career opportunities for students pursuing a law degree in Australia. You could work as a lawyer or join a legal practice in business, criminal Law, Commercial Law and family law. You can also join legal community centres linked to non-profit organisations.
Industries in Australia with the most significant demand for law graduates include workplace relations, private equity, tax, litigation, property, commercial/corporate, banking and finance. The average salary of a law graduate in Australia starts at AUD $72,000 annually.
5. Frequently Asked Questions (FAQs)
How Long Is The Law Course in Australia?
A bachelor of law is the fundamental law qualification to work in the legal industry in Australia. You usually require four years of full-time or part-time equivalent study to complete the course.
How Can I Take a Law Course in Australia?
As entry into an undergraduate law degree, such as a Bachelor of Law, is competitive, you must complete Year 12 with a high ATAR. You can study for this qualification full-time or part-time, based on your preference.
Suppose you don't have a sufficient ATAR to qualify for a bachelor's degree in law. In that case, you can complete another undergraduate degree and earn a two-year full-time Juris Doctor degree. It is an ideal post-graduate degree for students from non-legal study backgrounds.
These qualifications equip you with the fundamental knowledge of legal concepts and systems to work as a lawyer in Australia and abroad.
What Qualifications Do You Need To Be a Lawyer in Australia?
The following steps will help you qualify for a Lawyer's role:
You must complete an undergraduate law degree approved by the Law Society of the state/ territory you wish to practise in. A four-year full-time Bachelor of Law is the standard qualification to enter the role. Alternatively, if you already have an undergraduate degree, you can study for three years of full-time Juris Doctor qualification.

Undertake a supervised Complete Practical Legal Training of up to 80 days. Alternatively, complete a Graduate Diploma of Legal Practice.

Apply for admission with your local Admissions Authority.

Undertake an additional supervised 18 to 24 months of practice at a law firm to apply for a Practising Certificate from your state/territory-level Law Society.
For more information, please check out our detailed post on how to become a lawyer in Australia.
Do Lawyers Earn a Lot in Australia?
Yes. A Lawyer is one of the well-paid and reputable professions in Australia. You may expect a higher income as you gain more experience and skills and work in high-paying locations.
Entry-level (<1-year of experience) - AU$59,674 per year

Early career (1-4 years of experience)- AU$68,115 per year

Mid-career (5-9 years of experience)- AU$96,991 per year

Experienced: (10-19 years of experience): AU$125,268 per year

In their late career (20 years and above): AU$ 148,994 per year.
According to Indeed, the highest-paying cities for lawyers are:
Sydney Central Business District: $126,365 per year

Brisbane: $122,234 per year

Thursday Island: $117,217 per year

Sydney: $115,725 per year

Melbourne City Centre: $111,666 per year

Darwin: $109,386 per year

Melbourne: $105,005 per year

Parramatta NSW: $102,923 per year

Canberra: $102,575 per year
How Much Does It Cost To Sit The Bar Exam in Australia?
To register for the Victoria bar exam, you must pay a non-refundable registration fee of $620.
What is the Hardest Subject in The Bar?
After the third year of law school, students must prepare for the bar exam that tests their knowledge of various areas they have learned throughout their studies.
Most students find "Contracts" the most challenging subject as it is vast and confusing, with several intricate rules and exceptions. Competing for such a dense material in a short period makes them feel overwhelmed.
Other complex subjects include Constitutional law, Federal Income Tax, and Civil Procedure.
What is Passing The Bar in Australia?
If you pass the bar exam, you can apply for enrolment in the Bar Practice Course within 15 months. However, it doesn't entitle you to a barrister's practising certificate.
Suppose you pass the Bar Exam and satisfactorily complete the Bar Practice Course. In that case, the Bar Council will only approve your application for a practising certificate before issuing the practising certificate.
Thus, passing the bar exam in Australia is necessary before starting the Bar Practice Course. Law candidates should acquaint themselves with the Bar Association Examination Policy before registering.
How Hard is The Bar Exam in Australia?
Each state in Australia conducts the Bar Exam to determine whether a lawyer candidate is adequately proficient in legal knowledge. Based on the assessment, the examining authority decides whether he can gain admission to the Bar Association and work as a lawyer in that state.
A bar exam is a 1-day written and open-book test conducted electronically twice a year. Each aspiring lawyer must pass the exam before starting the Bar Practice Course.
The difficulty level of the bar exam depends on various factors, such as:
Where did you attend the law school?

What is your preparation level for the exam?

What state do you plan to take the exam in?
In Queensland, a law candidate must score at least 65% for each Practice and Procedure, Evidence, and Legal Ethics examination to be eligible to apply for a Bar Practice Course. The pass score in NSW and Victoria is 75%.
The bar exam tests the subject matter expertise in areas specific to advocacy, such as:
Legal Ethics for Barristers

Aspects of evidence

Practice and procedure for barristers
If you have studied well in law school and taken practice essays for a dedicated number of hours daily, you must be well-prepared for this competitive exam. However, if your preparation isn't up to the mark, you may find the exam hard.
Which is The Easiest Bar to Pass?
In Australia, different states conduct bar exams in varying formats and passing percentages.
So, the Bar Association of Queensland is the easiest bar to pass in Australia.
What is The Highest Bar Exam Score?
The bar exam varies between states worldwide. The number of points you get for each correct answer depends on the question and the jurisdiction.
The highest possible score that you obtain in a bar exam is 400. Based on the examining authority, a good bar exam score is between 260 and 280.
What is The Most Difficult Part of Law School?
There are several challenging aspects to law school.
Stress, workload, hard work, and understanding and applying complex law concepts to real-world scenarios make law school exhausting.
For most students, the hardest part of law school is the challenging curriculum that requires considerable reading and work.
Finally, there is immense competition among students, as everyone strives to get the best grades and jobs in the field.
What Is The Hardest Year in Law School?
Often students find law school demanding. The toughest class in law school varies between students. It depends on your preferences, your professor, and your abilities.
Some students find the 1st year challenging due to the new subject, cut-throat competition, heavy readings, and adjusting to the rigidities of law school academics. Though the classes are conceptually straightforward, they are tricky in practice.
The most difficult course in law school that students report in the first year is Constitutional Law and Civil Procedure, as they are comparatively more abstract and require a lot of reading and understanding of complex legal concepts.
Studying in a law school may feel like learning a second language to them. Navigating the federal judiciary is hard as very little intuitive information is available on the subject matter.
On the contrary, certain students find the third year of law school the most challenging as graduation, the bar exam, and employment are the main focus this year. Thus, it depends on the individual student's year in law school is the most challenging.
Can You Study Law Courses Online in Australia?
Yes. You can study 100% online law sources through in Australia. Some of the online courses you may consider include:
Undergraduate Bachelor of Laws - The University of New England

Undergraduate Bachelor of Laws - Charles Stuart University

Post Graduate Juris Doctor - RMIT University

Undergraduate Law, Crime and Justice - Griffith University

Undergraduate Principles of Public Law - The University of South Australia
Are There any Law Courses in Australia for International Students?
Victoria University offers law courses for international students in the areas of legal or criminal justice professionals to equip them with the knowledge, skills, and recognition required to practice law in Australia.
Some of these include:
Can You Study Law Courses at TAFE?
Yes. You can study law courses in diverse areas at TAFE QLD:
Certificate III in Legal Services (BSB30320)

Certificate IV in Justice Studies (10971NAT)

Diploma of Justice Studies (10972NAT)

Diploma of Paralegal Services (BSB50720)
TAFE NSW also offers a wide range of law courses as a pathway to university courses in Australia. The practical experience and specialist skills you develop after course completion give you a competitive advantage in the job market.
Statement of Attainment in Introduction to Paralegal Services Skill Set (BSBSS00106)

Certificate III in Legal Services (BSB30320)

Certificate IV in Legal Services (BSB40620)

Diploma of Paralegal Services (BSB50720)
How To Take Law Courses in NSW?
Several universities in NSW, such as the University of Sydney, UNSW, Western Sydney University, etc., offer Bachelor of Laws and a range of double degree combinations to domestic and overseas students in Australia.
Bachelor of Arts and Bachelor of Laws – The University of Sydney

Bachelor of Laws - UNSW

Bachelor of Laws (Honours) Combined - The University of Newcastle

Bachelor of Business / Bachelor of Laws – Western Sydney University

Bachelor of Laws - Southern Cross University
Is Being a Lawyer Worth it in Australia?
Law degrees can lead to rewarding law careers. However, becoming a lawyer in Australia takes several years of education, hard work, and practical experience (through supervised training).
If you enjoy the challenge of healthy debate, then a career in the justice system may be ideal for you.
Here are the pros and cons of the Lawyer profession to help you form the right career decision:
Pros:
Respected Occupation

Excellent scope for career progression

Varied Work

Decent compensation

You Can Work as a Legal Counsel

Opportunities to work Self-Employed and start your own business
Additionally, the transferable skills you develop while working in the career are most sought after in various non-legal professions, including banking, publishing, technology, administration, and more.
Cons:
Competitive

Stressful (long work hours, severe customer demands, billing pressures, etc.)

Expensive to study in a law school, and student loan repayment can be debilitating, particularly for out-of-town students and new graduates.
Useful Links to Explore: