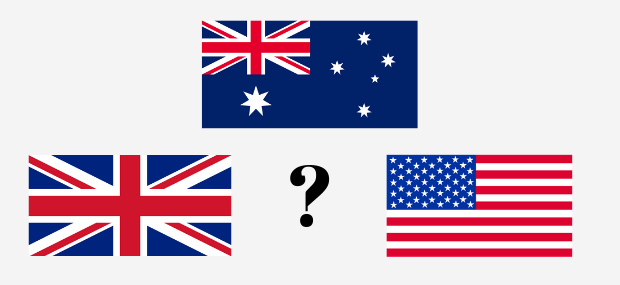 Studying abroad is a big decision to make, especially when you have to choose amongst the most popular study destinations like Australia, the UK (United Kingdom) and the USA (United States of America).
These countries are home to some of the highest-ranked universities around the world. Not only that, they attract international students on the basis of the quality of life and employment opportunities they provide.
To help make your study abroad decision easier, here are some important factors that you must consider and compare while choosing among Australia, the UK (United Kingdom) and the USA (United States of America).
Having an idea about the different aspects like quality & cost of education, future employment prospects, availability of financial aid & scholarships, etc. will help you to make the right and informed decision.
1. Reputation and Quality of Education
All three countries - Australia, the UK and the US are recognised worldwide and have a good reputation for the high-quality education they provide.
Australia has a world-class education system and boasts a large number of universities and colleges. Australian institutions have a clear framework and provide quality research and effective teaching standards. Students can use an Australian degree anywhere in the world. Australia is considered one of the global leaders of education, making it a popular destination for international students to pursue their education.
The UK is widely known for its academic and historic reputation. The country is well-established and also offers modern high-technology teachings. It consists of both traditional red-brick and state-of-the-art universities spread across Wales, England, Ireland, and Scotland. Not to forget, the UK also offers exceptional research opportunities for students all around the world. Studying in the United Kingdom is a popular option for international students who are looking for a life-changing and exciting experience.
The US is a powerhouse for research and international education. The number of universities in the United States is more than any other country in the world. It has some of the best academic facilities and teachers and provides access to the latest technology, equipment and resources. The US is also known for its famous ivy league colleges like Stanford and Harvard. All in all, the US is a leading scientific, political and cultural force.
2. Degree Cost
No matter which country you choose to study, you'll have to consider the cost of a particular degree you want to study. Apart from tuition fees, you also need to take into account the cost of living, including day-to-day expenses, transportation, accommodation and even university supplies.
Your total cost of living will entirely depend on the city you decide to live in. Living in big metropolitan cities like New York, Sydney or London is more expensive when it comes to buying groceries, finding accommodations or eating out.
Now let's have a look at the average degree costs in Australia, the UK, and the US.
Australia
For international undergraduates and postgraduates studying in Australia, the average tuition fee per year is AUD $30,840 and $31,596 respectively. The tuition fee for a master's degree in Australia is between AUD $20,000 and $37,000. Whereas, a doctoral degree or PhD costs between AUD$14,000 and $37,000. The degree costs vary, based on the course you choose.
UK
In the UK, the tuition fees vary, depending on the institution and the course you choose. For international graduates and postgraduates, the tuition fees per year may range between, GBP £10,000 - £38,000 and GBP £11,000 - £32,000 respectively.
USA
In the USA, the average fee is between USD $4,800 and $48,500 per year. For private colleges, the tuition fee is around USD $32,500, and for public colleges, the fee is around USD $24,300 per year. The tuition fees may vary depending on whether a student is attending a private or a public college.
3. Employment and Immigration Opportunities
Many international students choose to study overseas to gain exposure and improve their career opportunities. All three countries - Australia, the US and the UK have universities that work in close partnership with industries and organisations that offer practical learning opportunities for international students.
International students with a student visa can work in Australia. Students can work full-time during vacations and are permitted to work for up to 40 hours per fortnight while studying. It is not hard to find part-time jobs in Australia to support your living expenses. Also, Australia is amongst a few countries that offer skilled migrant programs focusing on students who have abilities, skills, and education qualification and can contribute to the economy of Australia.
There's a shortage of skilled workforce in Australia, especially in the fields of accounting, engineering, nursing, and information technology. Hence, skilled workers are always required. In order to apply for permanent residency in Australia, students must pass the points test and fulfil some basic requirements such as the age limit (which is up to 45 years), relevant work experience or post-secondary school qualifications. Applicants with Australian qualifications get additional points.
In the UK, students are allowed to work for 20 hours per week during the course period, and they can easily find part-time jobs to support their living expenses. Getting a job or a work permit to stay in the UK might be more difficult as compared to Australia. However, British degrees are recognised and valued all around the world, especially in the Middle East and India. This helps students to get job opportunities in different countries worldwide.
In the US, students are allowed to work on-campus for 20 hours during the first year of their study. In the second year, students can take up part-time jobs off-campus to fulfil their financial as well as academic requirements. The United States also provides the best employment and immigration opportunities for international students. After successfully completing their course in the US, students can stay back in the country and work for the one year through OPT (Optional Professional Training).
For graduates of STEM (Science, Technology, Engineering and Mathematics), the OPT can be extended up to a period of another two years. International students placed in some US organisations during this period can apply for an H1B (work visa).
4. Style of Learning
When deciding to study abroad, students should also consider how each country approaches exams, classes and assignments.
Australia provides guided learning to international students. Teachers at Australian universities deliver lectures and small class tutorials. The courses in Australia consists of essays, group work and individual assignments. In Australia, students are expected to think independently and creatively, and gaining practical experience is always encouraged. This is why Australia is the best country to study.
In the UK, courses include lectures with a combination of workshops and small-group tutorials. During the course, professors and lecturers give particular guidelines to students, and then they expect students to research on their own and critically analyse and evaluate outcomes.
In comparison, the US education system focuses on providing knowledge on various subjects. The courses require you to stay updated and submit research papers and regular assignments, as well as participate in oral presentations and debates. In the US, a student's assignment performance and final examination determine his/her course grade.
5. Pros and Cons of Studying in Australia, UK and the US
As we all know, Australia, the United Kingdom and the United States are highly desirable destinations for students all over the globe. However, choosing amongst these three countries to study can be difficult. So here we've outlined some pros and cons of the countries to clear the confusion.
Australia
Pros:
A welcoming, vibrant and social culture.

Tuition fees in Australia are comparatively cheaper than in the US.

Student visa (subclass 500) allows students to work in Australia.

Many natural sites and activities.

Several recognised and respected programs.

Australian universities like the Australian National University, the University of Melbourne, and the University of Sydney are in the top 50 QS university ranking.
Cons:
The high cost of living - Australia is one of the most expensive countries in the world.

Australian speech style and accent - Some international students think that it's very hard to decode the Australian speech style and accent, despite being proficient in English.
UK
Pros:
Staying in the country, students can discover a lot of history.

As per the World University Rankings, the University of Oxford and the University of Cambridge are the top two universities in the world.

While studying in the UK, travelling across Europe is cheaper and easier.

To be admitted in the law school, students don't have to write LSAT (Law School Admission Test)
Cons:
One of the world's most expensive currencies.

The cost of living is high.

Public transportation fares are also high, especially for the railways. A public transport pass may cost you between £62 and £157, depending on the city you choose to live in.
USA
Pros:
Boasts many highly-ranked and prestigious institutions.

Provides flexible education pathways - International students can consider attending community colleges and then later move to a four-year school to get a bachelor's degree.

Students can pursue a specialised course or choose amongst a multitude of subjects.
Cons:
Many US colleges require ACT (American College Testing) or SAT (Scholastic Assessment Test) scores for admissions.

High tuition for international students.

Strict visa rules for international students with respect to working while studying and many other restrictions.

The job market in the US is very competitive, making it very hard for international students to find sponsorship to stay in the United States.
6. Why Choose Australia for study?
If you are wondering why go to Australia for study, you should know that out of all the other countries, currently, Australia is the best study destination given the abundant job opportunities and immigration possibilities it provides.
Also, Australia has a lower tuition fees as compared to the UK and US. Additionally, studying in Australia will enable you to live like a local and explore places and culture around you.
Useful Topics to Explore:
Don't forget to share this post!