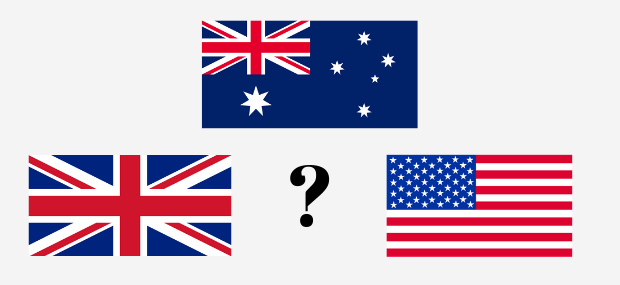 Studying abroad is a big decision, especially when you have to choose amongst the most popular study destinations like Australia, the UK (United Kingdom) and the USA (United States of America).
These countries are home to some of the highest-ranked universities around the world. Not only that, they attract international students based on the quality of life and employment opportunities they provide.
To help make your study abroad decision easier, here are some essential factors you must consider and compare while choosing between Australia, the UK (United Kingdom) and the USA (United States of America).
Knowing the different aspects like quality and education cost, employment prospects, and the availability of financial aid and scholarships will help you to make the right decision.
1. Reputation and Quality of Education
All three countries, Australia, the UK and the US, are recognised worldwide and have a good reputation for their high-quality education.
Australia has a world-class education system and boasts many universities and colleges. Australian institutions have a clear framework and provide quality research and practical teaching standards.
Students can use an Australian degree anywhere in the world. Australia is one of the global education leaders, making it a popular destination for international students to pursue their education.
The UK is widely known for its academic and historic reputation. The country is well-established and also offers modern high-technology teachings. It consists of traditional red-brick and state-of-the-art universities spread across Wales, England, Ireland, and Scotland.
Not to forget, the UK also offers exceptional research opportunities for students worldwide. Studying in the United Kingdom is a popular option for international students looking for a life-changing and exciting experience.
The US is a powerhouse for research and international education. The number of universities in the United States is more than in any other country. It has some of the best academic facilities and teachers and provides access to the latest technology, equipment and resources.
The US is also known for its famous ivy league colleges like Stanford and Harvard. All in all, the US is a leading scientific, political and cultural force.
2. Degree Cost
No matter which country you choose to study, you'll have to consider the cost of a particular degree you want to study. Apart from tuition fees, you also need to consider the cost of living, including day-to-day expenses, transportation, accommodation and even university supplies.
Your total cost of living will entirely depend on the city you decide to live in. Living in big metropolitan cities like New York, Sydney or London is more expensive when buying groceries, finding accommodations or eating out.
Now let's have a look at the average degree costs in Australia, the UK, and the US:
Australia
The average annual tuition fees for international undergraduates and postgraduates studying in Australia are AUD 30,840 and $31,596, respectively. The tuition fee for a master's degree in Australia is between AUD 20,000 and $37,000.
Whereas a doctoral degree or PhD costs between AUD$14,000 and $37,000. The degree costs vary based on the course you choose.
UK
In the UK, the tuition fees vary, depending on the institution and the course you choose. For international graduates and postgraduates, the tuition fees per year may range between GBP 10,000 - £38,000 and GBP 11,000 - £32,000, respectively.
USA
In the USA, the average fee is between USD 4,800 and $48,500 per year. For private colleges, the tuition fee is around USD 32,500, and for public colleges, the cost is around USD 24,300 per year. The tuition fees may vary depending on whether a student attends a private or a public college.
3. Employment And Immigration Opportunities
Many international students study overseas to gain exposure and improve their career opportunities. All three countries - Australia, the US and the UK have universities that work closely with industries and organisations that offer valuable learning opportunities for international students.
International students with a student visa can work in Australia. Students can work full-time during vacations and are permitted to work for up to 40 hours per fortnight while studying. It is easy to find part-time jobs in Australia to support your living expenses.
Also, Australia is among a few countries that offer skilled migrant programs focusing on students who have abilities, skills, and education qualifications and can contribute to the economy of Australia.
There's a shortage of skilled workforce in Australia, especially in the fields of accounting, engineering, nursing, and information technology. Hence, skilled workers are always required.
To apply for permanent residency in Australia, students must pass the points test and fulfil some basic requirements such as the age limit (up to 45 years), relevant work experience or post-secondary school qualifications. Applicants with Australian qualifications get additional points.
In the UK, students can work 20 hours per week during the course period and easily find part-time jobs to support their living expenses. Getting a job or a work permit to stay in the UK might be more complex than in Australia.
However, British degrees are recognised and valued worldwide, especially in the Middle East and India. This helps students to get job opportunities in different countries worldwide.
In the US, students are allowed to work on-campus for 20 hours during the first year of their study. Students can take part-time jobs off-campus in the second year to fulfil their financial and academic requirements.
The United States also provides international students with the best employment and immigration opportunities. After completing their course in the US, students can stay back and work for one year through OPT (Optional Professional Training).
For STEM graduates (Science, Technology, Engineering and Mathematics), they can extend OPT up to another two years. International students placed in some US organisations during this period can apply for an H1B (work visa).
4. Style of Learning
When deciding to study abroad, students should consider how each country approaches exams, classes and assignments.
Australia provides guided learning to international students. Teachers at Australian universities deliver lectures and small class tutorials. The courses in Australia consist of essays, group work and individual assignments.
Students think independently and creatively in Australia, and gaining practical experience is always encouraged. This is why Australia is the best country to study in.
In the UK, courses include lectures with workshops and small-group tutorials. During the course, professors and lecturers give particular guidelines to students, expecting them to research independently and critically analyse and evaluate outcomes.
In comparison, the US education system focuses on providing knowledge on various subjects. The courses require you to stay updated, submit research papers and regular assignments, and participate in oral presentations and debates.
A student's assignment performance and final examination determine their course grade in the US.
5. The Pros and Cons of Studying in Australia Vs The UK and US
As we all know, Australia, the United Kingdom and the United States are highly desirable destinations for students all over the globe. However, choosing among these three countries to study can take time and effort. So here, we've outlined some countries' pros and cons to clarify the confusion.
Australia
Pros:
A welcoming, vibrant and social culture.

Tuition fees in Australia are comparatively cheaper than in the US.

Student visa (subclass 500) allows students to work in Australia.

Many natural sites and activities.

Several recognised and respected programs.

Australian universities like the Australian National University, the University of Melbourne, and the University of Sydney are in the top 50 QS university rankings.
Cons:
The high cost of living - Australia is one of the most expensive countries in the world.

Australian speech style and accent - Some international students think it takes more work to decode the Australian speech style and accent, despite being proficient in English.
UK
Pros:
Staying in the country, students can discover a lot of history.

As per the World University Rankings, the University of Oxford and the University of Cambridge are the top two universities in the world.

While studying in the UK, travelling across Europe is cheaper and more accessible.

To be admitted to the law school, students don't have to write the LSAT (Law School Admission Test)
Cons:
One of the world's most expensive currencies.

The cost of living is high.

Public transportation fares are also high, especially for the railways. A public transport pass may cost you between £62 and £157, depending on the city you choose to live in.
USA
Pros:
Boasts many highly-ranked and prestigious institutions.

Provides flexible education pathways - International students can consider attending community colleges and moving to a four-year school to get a bachelor's degree.

Students can pursue a specialised course or choose from a multitude of subjects.
Cons:
Many US colleges require ACT (American College Testing) or SAT (Scholastic Assessment Test) scores for admissions.

High tuition for international students.

There are strict visa rules for international students working while studying and many other restrictions.

The job market in the US is very competitive, making it very hard for international students to find sponsorship to stay in the United States.
6. Why Choose Australia For Study?
If you are wondering why you should study in Australia, you should know that out of all the other countries. Currently, Australia is the best study destination, given the abundant job opportunities and immigration possibilities it provides.
Also, Australia has lower tuition fees than the UK and US. Additionally, studying in Australia will enable you to live like a local and explore the places and culture around you.
7. Frequently Asked Questions (FAQs)
Why is Australia Better Than The UK for Study?
Here are reasons why Australia is superior to the UK for international studies.
Course Fee
The average tuition cost for an international student in the UK is £12,705 per year (AUD 24,221 per year).
It can even go up to £38,000 per year (AUD 72,448 per year) for a medical degree. On top of it, you have other expenses such as accommodation, travel, books, food, and additional living costs.
On the contrary, Australian universities charge students based on how many credit hours they take for a year. The average tuition cost for an international student in Australia is around £10,885 per year (AUD 20,747 per year), which makes it comparatively cheaper than the UK.
Admission Requirements
Top UK universities require 13 years of pre-university education for admission to undergraduate courses.
However, in Australia, all universities require 12 years of pre-university education. It makes it easier for overseas students to enter the preferred degree programs or courses directly.
Additionally, you might need some years of work experience to study management courses. It is not a mandatory requirement in Australia.
You can study management courses in some colleges without prior work experience, provided you enrol in a graduate certificate/ graduate diploma program.
Learning Style
Is education better in UK or Australia? In the UK, learning is purely independent, with students having to develop their research skills themselves without supervision.
Except for a few courses, you usually don't require completing assignments during the semester. Your entire course grade is based on one essay or exam.
The course curriculum in Australian universities includes extensive lectures and smaller group work, tutorials, and individual exams and assessments.
Though you must be an autonomous thinker, you obtain immense support and encouragement from lecturers and course coordinators.
Work While Study
In the UK, overseas students can work up to 20 hours per week during term time and any number of hours outside of term time.
Upon graduation, with a Post Study Work Visa, you can stay for a maximum of two years working or searching for jobs in the country.
In Australia, overseas students with a visa can work up to 40 hours over a fortnight. With a Post-Study Work stream visa, they can stay longer in the country, i.e., between 2 to 4 years, based on their degree/ qualification.
Minimum Wage
In the UK, the minimum wage is:
£6.56 per hour (12.46 AUD per hour) for people between 18 and 20

£8.36 (AUD 15.88 per hour) for people between 21 and 22

£8.91 (AUD 16.97 per hour) for people 23 years and over.
The minimum wage in Australia is much higher than in other countries. It is presently set at AU$23.23 per hour and increases every year. Casual employees covered under the national minimum wage also get a minimum 25% casual loading.
Post Study Work Permit
A post-study work permit allows overseas students to stay back while working full-time. Both countries have separate requirements regarding Post Work Visa.
You don't get a Post Work Visa with a Student Visa in the UK. After their studies, students wishing to work in the country must apply for a Tier 2 visa.

Only highly skilled workers with an annual wage of £20,500 or above are eligible for this visa. The Tier 2 visa allows you to stay and work in the country for a maximum of 5 years.
In Australia, Graduates who complete a Bachelor's or Master's degree can apply for a two-year post-study work visa.
Graduates from other courses may be eligible to apply for an 18-month subclass 485 visa via the graduate work stream.
Wide Range of Course Options
In the UK, students must commit to a major of their choice at the beginning of their academic journey, leaving them with limited opportunities to explore and evaluate their interests later on.
However, in Australia, students can choose from various options in the first year and narrow their choices afterwards.
Living Expenses
Affordable living is another reason studying in Australia is better than in the UK. You need at least AU$ 2,000 monthly to live a student-like lifestyle in Australia.
However, in the UK, the minimum amount to live a lifestyle covering your basics would be AUD 2,856 weekly.
Average Graduate Salary
Besides the living expenses, the average salary in Australia is 25% higher than in the UK.
If you stay in the UK after completing your studies, the average annual graduate salary you can expect is around £26,345 (AUD 50,204).
However, the exact salary will depend on your degree and location. On the other hand, Australian graduates earn an average of £33,200 per year (AUD 63,277 per year) after graduation.
Permanent Residency
Due to recent changes in government and legal policies, immigration to the United Kingdom has become very difficult. However, getting a permanent residency permit to Australia is a lengthy process but possible.
The thorough background check by immigration officials makes the PR permit process complicated. It may take time, but it is possible to get Australian citizenship.
Is it better to study in the UK or Australia? The above reasons make Australia a tremendous study-abroad destination. It offers numerous benefits to overseas students, which include global exposure, world-class education, a safe and welcoming environment, etc.
All these benefits help you achieve your career goals and prosper in life.
Is It Better To Study in USA or Australia?
Australia and the USA are home to prestigious universities that draw millions of international students annually.
Deciding on one destination between the two for studies takes a lot of work. Below is a comparison of both countries' specific parameters to help you determine the best option to pursue your studies.
Tuition fee
Australia is known to have the highest living standards globally; it is more affordable than America in terms of cost of living and tuition fees.
Estimated Monthly Cost of Living in Australia:
Estimated Monthly Cost of Living in The USA:

A family of four: $5,679 (AUD 8,439)

Single person: $3,352 (AUD 4,981)
Crime Rate
Based on police statistics of crime reports, the general level of Australian crime is much lower than that of America.
Compared to global crime rankings in 2023, the USA stood at 57th, followed by the UK at 66th and Australia at 68th. It shows that Australia is highly safe among the top study-abroad destinations in the world.
Public Infrastructure
Australia boasts of a better public infrastructure than America and Europe. The Australian government plays a crucial role in maintaining public monuments and infrastructure.
Work While Study
Australia permits its students to work on and off-campus employment for 20 hours a week during their term and 40 hours a week during vacation.
The USA is more restrictive in this regard. Overseas students can work up to 20 hours a week during the semester and full-time on holidays.
There are restrictions around the kind of work international students can do. On-campus work is freely available, but off-campus work is only allowed if it meets specific guidelines.
The government allows students to work only "on campus in the USA" for "up to 20 hours a week" during their studies. Students can only work off-campus in the country if engaged in a job relevant to their studies.
Minimum Wage
The current minimum wage in Australia is AU$ 23.23 per hour. Casual employees covered by the national minimum wage get an additional 25 per cent casual loading.
In the USA, the minimum wage is around USD$7.25 per hour nationally (AUD 10.69 per hour). The national minimum average salary increases annually in Australia, but it has stayed the same since 2007 in the USA.
The USA and Australia are developed countries and top choices for studying abroad. However, in terms of a safer environment and affordable cost of education, Australia makes a suitable choice over the USA.
Why Studying in the USA is Better Than Studying in Australia?
If you are trying to decide whether to choose USA or Australia for studies abroad, the below comparison will help you find the best option.
Global Rankings
According to QS world rankings, the USA (Massachusetts Institute of Technology (MIT)) remains in the top position in the 'World University Rankings .'
These rankings are based on university rankings, student mix, employer activity, affordability, desirability, and student voice. It proves that the USA is the No. 1 global study destination.
Australia, on the other hand, ranks 11th worldwide on sustainability programs and research. The three Australian universities ranked in the top 20 of QS World University Rankings 2024.
The University of Melbourne ranked 14th, while the University of New South Wales and the University of Sydney tied for 19th.
Number of Academic Institutions
Australia has 43 universities, while the US has around 1,300 universities. With more colleges in the US, you are more likely to find one that matches your preferences.
Smaller Classes
As local universities admit many more students, classroom sizes in Australia are growing yearly.
While Australia boasts a high enrollment rate, its student-to-staff ratio is approximately 19:1. In contrast, prestigious institutions like Stanford and Harvard University maintain a much lower student-to-staff ratio, at only 6:1.

The low student-to-staff ratios allow instructors to give personalised attention and learning experience to help students flourish in their academic environment.
Grading Systems in The Australian and US
In Australia, you need a 50% passing grade. These grades are based on one or two large essays or tests. However, in the US, grades are given based on various factors such as homework, tests, group projects, quizzes, and class participation.
US grades range from F (Fail) to A+ (the highest grade). Grade point averages are evaluated on a 4.0 scale, i.e., a 4.0 is an A, 3.0 is a B, etc.
The grading system in Australia might require some clarification. Grades are evaluated on a 7-point scale - 0 to 3.99 (a failing grade) and 7 (High Distinction).
Campus Life
Besides being a centre for learning, the campus is also the basis of college activities and social life for US students.
The universities organise clubs, group activities, and intramural sports, allowing students to mingle with others and share their interests.
Harvard University alone has over 450 student-operated hobby clubs in various areas such as music, theatre, cooking, photography, foreign languages, etc. This club culture is highly popular among overseas students.
In contrast, Australians love outdoor student activities. That's why fewer clubs and campus activities take place on Australian campuses. Students mostly plan their entertainment.
Secondly, in the US, most students live in on- or off-campus dormitories, eat in a communal dining hall, and spend idle time in common public areas like campus coffee shops, libraries, etc.
By contrast, most Australian students live off campus either with their parents, in homestays, managed student accommodation, or in rental properties.
In their leisure hours, Australian students spend little time on campus. Their social life focuses on the community where they live. Due to this, making friends is challenging in Australia.
Education System
Classes are structured differently in both countries. In Australia, most classes include one tutorial and one weekly lecture that prepares students for one major test or paper.
A tutorial is more of a discussion-based session that helps students understand and learn more about the topic. A tutorial can include as few as eight students, while lectures can have as many as 200.
By contrast, in the US, classes are held only twice or thrice a week for the same time per session.
These classes can be in the form of lectures, labs, or small-group sessions. Grades depend on students' performance in tests, quizzes, in-class work, attendance, papers, and participation.
In Australia, classes focus mainly on student's areas of study with few unrelated courses. Most students take a dual major to study one field of interest at a time.
In the US, higher education focuses on the scope of the study. In the initial years of an undergraduate bachelor's degree, students can choose from various subjects that form a broad educational base.
Once the core curriculum requirements are met, students choose a specific 'major' that focuses on the last two years.
Thus, the education system in the USA is suitable for students who want the freedom to explore various research areas and specialisations or need clarification about what career to pursue.
Is The UK or Australia Easier To Get PR?
Yes. It is easier for overseas students to get Permanent Residency in Australia.
Australia's skilled migration program is more flexible and open than the UK's. It could be due to a severe labour shortage and a lesser population than that in the UK.
Therefore, the migration system in Australia favours people with in-demand skills. In most cases, migrants don't require a job offer to apply for such programs (unless they apply for employer-sponsored visas).
On the contrary, the UK migration system favours EU citizens who:
Have been resident in the country before 31 December 2020

Have employment offers, and

Have employer-based sponsorship
Comparison of Points System
In the UK, candidates must apply for the skilled migration program online via the point-based system and obtain a passing score, i.e., 70. They must score some compulsory points to become eligible (for example, a job offer, English).
However, in the Australian point-based system, you need not score any compulsory points as long as you can achieve a minimum of 65 points.
Application Process
Applicants who score 65 points and more must submit an EOI or Expression of Interest via the online SkillSelect system. Those with the highest ranking EOIs will get an invitation to apply for a skilled visa.
Applicants can apply for Australian PR by applying to the Department of Home Affairs within 60 days of receiving an invitation. Successful applicants receive their PR status along with any dependent family members.
In the UK, applicants who score 70 and above points can apply for skilled workers visas directly on the immigration department website. Unlike in Australia, they don't need an invitation for the visa application.
Processing Time
In Australia, the processing duration for visas is long between 6 months and 25 months.
In the UK, after online application, proving your identity, and providing the necessary documents, you will get the outcome on your visa application within the:
Three weeks, if you are outside the UK

Eight weeks, if you are inside the UK
Cost
In Australia, you need to pay a higher fee for a skilled visa application, i.e., AU$4045 for the applicant, an extra AU$2025 for the applicant's dependent, like partner or spouse, and AU$1010 per child.
Other costs include postage, health check-up, translation, and miscellaneous expenses. Some state or territory-level governments may require overseas applicants to have settlement money of about AUD 20,000.
In the UK, when applying for a Skilled Worker visa, you must have adequate money to:
Pay the visa application charge –from £610 (AUD 1,164) to £1,408 (AUD 2,689) based on your circumstances.

Healthcare surcharge –£624 per year (AUD 1,191 per year) on average.

Support yourself when arriving in the UK – a minimum of £1,270 (AUD 2,425) is available.
You may pay a lower application fee if your job is on the shortage occupation list.
Why Study in Australia, not in UK and USA?
Benefits of Studying in Australia Over The USA:

The crime rate is much lower in Australia than in the USA. Where the USA is known for its gun, in Australia, police officials don't even carry guns. It shows how safe Australia is for living.
Australia permits its students to work off and on-campus employment for up to 20 hours weekly during their term and 40 hours weekly during holidays. However, in the USA, overseas students can work only for a maximum of 20 hours weekly during their term and only on campus within the country. Off-campus work is only allowed when the job is study-related.
Australia has been providing a higher minimum wage compared to the rest of nations like the UK, USA, and Canada. It is because of its low population, and they treat Human resources right. While the average minimum wage in Australia is AU$ 23.23 per hour, it is only $7.25 (AUD 10.77) per hour in the USA.
Benefits of Studying in Australia Over The UK:
Students who study in Australia can choose from a wide array of "majors" in the first year of their studies. They can then narrow down their choices afterwards. However, in the United Kingdom, students can choose a major in their first year and stick to it throughout their studies. This way, they get a lesser chance to examine their interests.
Again, Australia offers a higher minimum wage than the UK. In contrast to Australia's average minimum wage of AU$23.23 per hour, the UK provides £6.56 per hour (12.46 AUD per hour) for 18- to 20-year-olds, £8.36 (AUD 15.88 per hour) for 21 and 22 years old, and £8.91 (AUD 16.97 per hour) for 23-year-old and above.
Australia has a better economy and a lower unemployment rate, which makes it easier for overseas students to get a job without much hassle. It, in turn, helps them transition smoothly to a new country.
Besides ample job opportunities, the average graduate salary in Australia is 28% higher than the UK's. If you stay in the UK after graduation, your average annual salary is around £26,345 (AUD 50,333 annually). At the same time, Australian graduates earn an average yearly wage of £33,200 (AUD 63,423) after graduation.
Immigrating to the UK has become challenging due to recent changes in federal and legal policies. The UK government has taken several measures to delist "fake" colleges and limit non-EU immigration. So, students who are staying back in the country for Work or Students may have to leave the country.
Both countries also differ based on their learning style. When planning to study in the UK, you can expect learning to be incredibly independent. As a student, you must develop your research skills largely unsupervised. Also, there are fewer assignments during the semester, and the course grade is based on one essay or exam.
Australia has a different learning methodology where students must attend lectures, tutorials, individual assessments, group work, and exams. Their rank is decided based on their progress in all these areas. Though the universities expect students to be autonomous thinkers, they get ample encouragement and support from course coordinators and lecturers.
Considering the above benefits, Australia is a better study option than other global study-abroad destinations.
Are UK Degrees Recognised in Australia?
A UK degree is roughly equivalent to an Australian degree. Employers care more about a candidate's most recent work experience than the qualification.
You need to provide your qualification evidence to gain admission into an Australian higher education institution with a UK degree.
If you wish to work in Australia with a UK degree, contact an Australian state or territory government's Overseas Qualifications Unit (OQU) for overseas qualification assessment.
Based on the evaluation, they will tell you if they can assess your qualification or offer advice on how to get your overseas qualification recognised.
Is it Cheaper to Live in Australia or UK?
The quality of life in Australia is higher than in the UK. However, the highest living standards are accompanied by higher average wages that UK salaries can't beat.
Even in the highest-paid British city, i.e., London, the average salary was only £38,600 (AUD 73,649 per year) in 2020.
The average salary for full-time workers in Australia was AU$ 90,329 (£51,561) in 2021 (excluding overtime and bonuses). It is at least 25% higher than the British average.
Also, you may earn even higher if you work in cities such as Sydney, Brisbane, and Melbourne. With adequate experience and the right skills, you can substantially boost your income by getting employment in those places.
Why Study in the UK Instead of the US or Australia?
The UK is a global leader in education and research. It has top academic facilities, instructors, innovative equipment, technology, and resources.
The UK is a friendly country that attracts students from all countries, faiths, and cultures with its gentle countryside, vibrant cities, diverse lifestyles, and cultural attractions.
Few reasons why the UK is superior to the rest of the study destinations:
Course Duration
The short duration of a bachelor's degree program helps students save time, money, and effort.
A bachelor's degree in the USA lasts four years. In Australia, it is between 3 and 4 years. However, you can complete bachelor's degree programs in the UK in 3 years. You can also undertake a 1-2-year Master's program to gain practical experience via work placements.
Tuition Fees and Living Expenses
Regarding personal and educational expenses, the UK is less expensive than the USA and Australia.
Tuition Fees
In the UK, tuition fee ranges from AUD 18000 to AUD 50000 per year.
In the USA, it is between AUD 37,000 and AUD 52,000 per year at a public university and between AUD 45,000 and AUD 67,000 at private colleges/universities/institutions.
In Australia, the tuition fee for an undergrad program is approx. AU$30,840 to AUD 42,000 yearly; for the postgrad program, it is approx. AUD 20,000 to AUD 37,000.
Living Costs
The average living cost in the US is around AUD 16,500 to $18,841 per year. In Australia, it is approx. AUD 20,290 per year, and for the UK, it's approx. AUD 18502 to AUD 24000 per year. Registered Nursing and MBBS courses are affordable in the UK compared to other countries.
Scholarships
Some universities, colleges, and institutes in the USA and Australia offer up to 30% to 40% scholarships for overseas students. On the other hand, overseas students get up to 50% merit-based scholarships on student qualifications in all UK universities.
English Language Requirements
UK: The UK requires an overall IELTS score of 6.0 for undergraduate and postgraduate programs, with no individual band score falling below 5.5.
USA: In the USA, the IELTS requirements vary. For undergraduates, the overall score should be 6.5, with no band score below 6.0. Postgraduate students, on the other hand, need an overall score of 7.0, with no band score below 6.0. Certain courses may also mandate the submission of other standardized test scores such as GMAT, SAT, LSAT, GRE, ACT, and MCAT.
Australia: Australia has specific IELTS requirements for both undergraduate and postgraduate studies. An overall score of 6.0 is needed for undergraduates, but individual band scores can not be below 5.5. For postgraduate studies, an overall score of 6.5 is required, with no band score below 6.0.
Due to the pandemic, UK universities are also accepting specific online English language tests like- Duolingo, OIETC, IELTS indicator, etc. Students can gain admission to universities with UKVI IELTS overall 5.5, up to 4.0.
Work Placement
Most UK universities offer Masters courses, including placement, internship, or advanced practice opportunities. However, in contrast, only a few universities in the USA and Australia provide similar placement programs.
Useful Topics to Explore:
How useful was this post?
Click on a star to rate it!