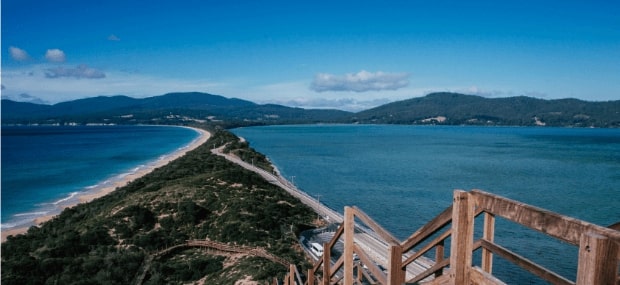 Tasmania is a natural paradise and is the 26th largest island in the world. It is considered to be one of the favourite vacation spots in Australia which is surrounded by beautiful beaches, breathtaking mountains and glistening lakes.
It is a relaxed place with the cleanest air and purest water. You can drive anywhere in this island state - from the beach-lined coasts to the World Heritage listed mountain regions in just a few hours.
If you are planning to study abroad, then you should definitely consider Tasmania. Read this post to know more about it.
1. Studying in Tasmania
The total student population of Tasmania is 25,000. Out of these, 22% are domestic students and 78% are international students.
Despite its small population, Tasmania offers a broad range of Australian university courses in science, arts, health and business, as well as programs focusing on the environment and natural resources. Local specialisations include courses in Antarctic science, maritime technology management and naval architecture.
Tasmania welcomes international students to study in top-ranked institutes that provide high-quality education and research opportunities. These renowned institutes allow students to learn new skills and even improve their English Language skills.
Every student living and studying in Tasmania receives personal attention and great support from advisors and teachers.
After studying one year in Tasmania, you can apply for a Skilled Regional (Provisional) Visa or any other state sponsored visa. And completing two years of study enables you to apply for a Skilled Nominated Visa. It is highly recommended to consider studying in Tasmania if you want to apply for Australia permanent residency.
2. Working in Tasmania
International students get valuable work experience opportunities during their studies. This gives them the opportunity to create professional networks which they can use to get a job after they graduate. You can also apply for a part-time job while studying.
But if you are on a student visa, then there are some strict rules about how many hours you are allowed to work. Many people on Australian student visas are allowed to work up to 40 hours every fortnight and full-time during vacations.
3. Universities in Tasmania
The majority of students in Tasmania attend the University of Tasmania and the Maritime College that provides specialisations in various fields. The campuses of the University of Tasmania are spread all over Tasmania, starting from Launceston in the north to Hobart in the south.
4. TasTAFE
TAFE is the leading vocational institution and one of the 10 largest registered training organisations in Australia. TasTAFE delivers over 370 nationally accredited vocational education qualifications across 12 specialised campuses spread throughout Tasmania.
The training at TasTAFE is extremely hands on and industry relevant, with highly experienced teachers and world-class facilities. TasTAFE has extremely close links with Tasmanian businesses, who trust the exceptional quality of teaching and learning TasTAFE offers.
TasTAFE continues to have outstanding employment outcomes for graduates within Tasmania and around the world.
5. Living in Tasmania
Tasmania's cities are welcoming, safe and offer a secure environment for living and study. They provide the opportunity to be a part of a thriving and growing community. It boasts stunning arts and cultural scenes, restaurants, cafes, markets and music festivals.
Tasmania has the cleanest air in the world, nearly half the state is surrounded by World Heritage Area, forest reserve and national park. In this beautiful and calm state of Australia, you'll face no traffic jams or city pollution as the cities aren't dense and public transportation is hard to fault.
Also, Tasmania is not far from the major cities of Australia like Melbourne and Sydney, and even transport is easily available, to travel around in Australia.
One of the major benefits of living in Tasmania is that it is cheaper than other states in Australia. Even if you decide to live in the city like Hobart, you won't be paying as much as you might in Sydney or Melbourne.
Without worrying much about the cost of living, groceries and other expenses, you can enjoy other adventurous activities such as rock climbing, mountain biking and kayaking.
The capital city of Tasmania, Hobart, has spectacular views of the harbour and the snow-capped Mount Wellington is a perfect backdrop to the city during winters. The city is well-known for a wide range of restaurants, bars and clubs that extend from the Sandy Bay and Uni Bar through to Elizabeth St. Mall in the Hobart City Centre.
They cater to visitors from mainland Australia as well as students living in the city. It also hosts the famous Taste of Tasmania Festival at Salamanca markets every year. Overall, you'll enjoy the vibrant culture, mesmerizing natural beauty and fresh food while living in Tasmania.
6. Climate
Tasmania is comparatively chillier than the northern states of Australia. It has four distinct seasons with the warmest months being December to March. The average temperature in the summer ranges between 17°C to 23°C and in the winter the temperature drops down to 11°C.
7. Housing
Tasmania offers safe, high-quality international student accommodation options in different settings, from the inner city living of Launceston and Hobart to beach suburbs. The average weekly rental price for a house in Tasmania is $350 and $285 for a unit.
It's important to note that these figures may vary, depending on the location you choose. The student rental market in Tasmania is very competitive, you can visit your institution's housing service for any advice or referrals.
8. Transport
The major cities of Tasmania - Burnie, Hobart, and Launceston all have local bus services making it easier for students to travel from campuses on weekdays. Transportation services on weekends and after 6 pm on weekdays are more limited, so having access to personal transport might be required.
You can use a rechargeable electronic "Green Card" for travelling in buses. Students who live close to campus often ride bikes or walk.
To get more information about public transport, you can visit Metro Tasmania.
Useful Topics to Explore:
Don't forget to share this post!