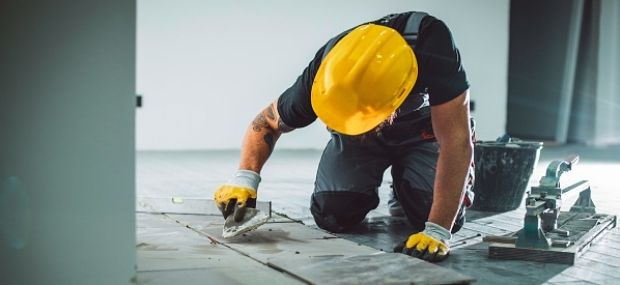 Do you have a creative flair and physical fitness? If yes, becoming a tiler could be the best job for you.
Tilers prepare external and internal walls, floors, and other surfaces, fitting tiles. They work with marble, glass, clay, ceramic, stone, and slate to provide decorative and protective finishes in houses.
To become a tiler, you must get a formal education and do an apprenticeship to develop competency and practical experience. A Certificate III in Wall and Floor Tiling is the ideal qualification to prepare for a Tiler profession.
Keep reading this blog. You will learn about the wall and floor tiler's job, tiling apprenticeships, personal and academic requirements, career opportunities, salary potential, and study pathways.
1. What Is A Wall And Floor Tiler?
Wall and Floor tilers play a crucial role during the construction and renovation of commercial and domestic spaces. Tilers specialise in laying tiles on a structure's indoor and outdoor surfaces.
They have extensive knowledge of materials and tiles to create finished surfaces based on the design briefs.
Tilers are mainly involved in surface preparation, selecting and cutting tiles for absolute fit, tile placement, and applying sealants to add a protective and cosmetic touch to surfaces.
2. What Does A Tiler Do?
Though the day-to-day duties of a tiler vary based on the type of project they undertake, the most common include:
Analyse the job briefs

Interpret plans, measure, and mark surfaces that need to be covered

Calculate the type and number of tiles needed

Choose appropriate tiles based on the client's budget and needs.

Place an order for the required tiles, materials, and parts.

Plan how to lay them and execute the work

Remove old tiles and fill gaps, holes, and cracks to prepare work areas on walls and floors.

Ensure the surfaces are clean before fitting new tiles

Operate tools such as spirit levels, plumb lines, and squares

Use specialised tile-cutting tools to achieve the desired shape and size of tiles for fitting in corners, edges, or around fittings and pipes.

Clean, polish, and waterproof tiles

Lay and grout tiles uniformly on walls and floors of cement, terrazzo, granolithic, or similar composition

Spread the cement and right adhesives onto prepared surfaces and tiles

Seal the area to keep the tiles intact

Consult with clients and project managers and work with other tradespeople

Remove or restore the wall and floor tiles when renovating a structure.
3. Tiler Skills For Success
Tiling is a physically demanding and labour-intensive job. It involves creativity, design, accuracy, and mathematics to create a finished tiled wall or floor.
If you are planning to become a tiler, you must have a range of skills:
Enjoy practical and hands-on activities

Hard-working

A high level of physical fitness

Good spatial awareness

Excellent communicator

Great problem solver

Can work to stringent budgets and timelines

Creativity

Meticulous design

Good observation skills

Able to work with precision and neatness

Detail-oriented

Can work both independently and in a team

Good spatial awareness

Good mathematical and measurement skills

Good listener

Clear communication

Comfortable working in small spaces or at heights

Good hand-eye coordination

Able to make simple calculations
4. Tiler Qualifications To Work In Australia
To become and work as a Tiler, you need to gain formal education to develop skills and knowledge in tiling. Here are the steps to qualify for this role:
Complete your Year 10 education in Maths and Trade

Complete a Certificate III in Wall and Floor Tiling (CPC31311) as part of your 4-year tiling apprenticeship program.

To work in the construction industry, you must complete Safety Induction Training and obtain a Construction Induction Card.

Hold a valid driver's licence.

To start your tiling business, undertake additional training like a Certificate IV in Small Business.

In some Australian states and territories, tilers must be registered or work under the administration of a registered building practitioner. Thus, checking your state-level licensing requirements for legally working as a tiler is beneficial.
5. Steps To Become A Wall And Floor Tiler In Australia
Theoretical and practical training is needed to become a tiler to gain extensive knowledge of tiles and specialised skills. Here is the study pathway to pursue this role:
Step 1: Study A VET Qualification
The most common route to becoming a Tiler is to complete a relevant VET qualification via a 4-year tiling apprenticeship. A Certificate III in Wall and Floor Tiling (CPC31311) is a nationally accredited qualification that gives you the essential knowledge, skills, and practical hands-on learning to prepare you for this job.
This certificate course usually takes 12 months of full-time study or four years if studied part-time as part of an apprenticeship.
Based on your academic record, and area of study, you may be eligible for a VET student loan or subsidised training. Several institutions offer TAFE tiling courses all over Australia.
The training program teaches you in various areas, such as erecting scaffolding, tiling domestic spas, pools and spas, mosaic tiling, and safe working practices in the construction industry.
Subjects offered as electives provide a good understanding of micro-business opportunities and the management of small business finances.
Apprenticeships are onsite training where a trainee works for an employer, gets paid, and gains a practical hands-on experience in the workplace.
Step 2: Obtain A Construction Induction Card
In addition to tiling knowledge and skills, you must have the necessary license to work in an operational construction zone. All states in Australia require tilers to undergo safety induction training from an RTO and obtain a White Card to do the job.
The training teaches you how to work safely and efficiently in a construction environment.
Step 3: Decide On Your Specialisation
The next step is to decide on the type of tiling work you want to specialise in. It could be pool tiling, kitchen tiling, bathroom tiling, or decorative mosaic tiling.
Wall and floor tilers have plenty of opportunities to progress in their careers. They can work in a private firm on commercial sites in the construction industry or run their small business.
Become clear on what type of tiling job you want and where you want to work. It will give you a direction in your professional journey and simplify your job hunt.
Those planning to work self-employed by running a business must be well-equipped with business skills for a profitable and successful business operation. Consider completing an online course to learn business, admin, customer service, and financial management skills.
Step 4: Obtain A License
In Australia, Wall and floor tiling is considered Trade Work. According to NSW licencing requirements, a tiling licence in NSW is a must to perform wall and floor tiling work of over $5000 in residential buildings in NSW.
National Resources For Tilers:
6. Procedure For Obtaining Tiling Licences In NSW
In NSW, there are different Tiling Licenses based on whether you wish to supervise work or contract for another party. The following are the different types:
Contractor Licence (For 1-, 3- or Five Years): This licence is issued only to individuals, partnerships, and companies. Having it enables you to contract and advertise to perform work. You are eligible to perform only those jobs mentioned on the licence card.
Qualified Supervisor Certificate (For 1, 3, or 5 Years): This licence is only issued to individuals and enables them to supervise and perform the type of work stated on the certificate.
Endorsed Contractor Licence: This license is for those who seek a contractor licence and have the essential qualifications and experience for a qualified supervisor role. The license has 'contractor licence (Q)' printed, showing that the licence holder can work as a contractor and supervisor.
7. Qualifications Needed To Obtain A Tiling Licence
To get a certificate/ licence to do wall and floor tiling in NSW, you need to meet any of the following qualifications stated below:
CPC31320 (latest) Certificate 3 in Wall and Floor Tiling

CPC31308/ CPC31311 /BCG31303 Certificate 3 in Wall and Floor Tiling

Certificate 3 in Tiling Wall and Floor Trade TAFE course No. 5123

Qualification 11768 Certificate 3 in Tiling Wall and Floor TAFE course No. 2157

BCG30198 Certificate 3 in Wall and Floor Tiling TAFE course No. 8061
8. Process To Apply For A Tiling License In NSW
Lodge your licence application and make payment in person at your nearest Service NSW Centre. Support your application form with the following required documents:
Proof of identity

One passport-size photo

An original copy of relevant qualification/s

Details of your current or past licences or certificates

Details of employment and work experience

Details of insolvency matters, compliance issues, or criminal felonies (if applicable)
When To Apply For A Tiling Licence/Certificate?
You can't apply for a licence or certificate if you are a trainee or an apprentice. Once you complete your apprenticeship or traineeship, apply for it quickly to continue working in the industry.
Do Past Licence/Certificate Holders Require Qualifications?
If you have a licence or supervisor certificate, you do not need to show your qualifications under the following conditions:
You have held an unrestricted endorsed qualified supervisor certificate or contractor licence in the wall and floor tiling. In such a scenario, your past certificate or licence is acceptable in place of the existing qualification requirements.
In the last five years, you have held a restricted qualified supervisor certificate or endorsed contractor licence in wall and floor tiling. In this situation, the concerned department will evaluate your application and reissue a certificate or licence reflecting the work scope mentioned in your earlier licence/ certificate.
How Should I Renew Or Restore A Certificate/ Licence?
The department will send you a renewal form via mail a couple of weeks before the due date of the expiry of your licence/certificate.
Use the details to fill out the form and submit it at your nearest Service NSW Centre. Alternatively, submit the form online with the details. Please note that along with the renewal form, you also need the following:
Your licence number

Details of insolvency matters, past compliance issues, or criminal offences in the past (if applicable)

Details of modification in the certificate/licence

Payment
Upon receipt and approval of your application, the department will issue a new licence. In other cases, they will specify the reason for rejection.
You must renew your licence on time to avoid incurring a restoration fee to keep it active. Licence/Certificate holders must apply within three months to restore their expired licence.
How To Update Details On The Licence/Certificate?
You can update your name, address, and other details on the licence online or visit in person at your nearest Service NSW. Check that your existing mobile phone number and email address are registered with Fair Trading to update the details online.
To update the details, you need to provide the following information:
Your licence number

Your new contact details (that you want to update)

Change of address form (needed by only those individuals who have chosen to update their licence details "in person" at a service NSW centre).
How To Replace A Licence/Certificate?
Suppose your certificate or licence has been lost, damaged, or stolen. You can order a new one by lodging a replacement application form at a Service NSW Centre.
9. Wall And Floor Tiling Courses In Australia
Certificate III in Wall and Floor Tiling
It is the ideal qualification for wall and floor tiling work in residential and commercial construction projects. The trade-level course is to meet the Australian Qualifications Framework standards and provide training in all aspects of tiling, including mosaic tiling, waterproofing processes, and wall and floor tiling.
Besides technical knowledge, this qualification help students gain specialist tiling skills to work onsite competently and confidently. You will learn to lay tiles on external and internal walls and floors, using them as decorative finishes. Moreover, you will develop skills to operate various tile-cutting tools perfectly.
After completing this tiling course, you can work on new constructions, large-scale projects, or renovations.
Certificate IV in Business/ New Small Business
The Certificate IV in Business qualification is for individuals who want to enter entry-level administrative, business, and management roles.
The nationally recognised course offers foundational knowledge and skills in administration, management, and business operations to begin a career in the business world.
Along with developing entrepreneurship skills, the course helps develop critical thinking, relationship building, and technical skills to produce complex spreadsheets and use social media and digital technologies for successfully operating a business.
10. Work Conditions For Tilers In Australia
It is a purely outdoor job that occasionally requires wall and floor tilers to work in confined areas. The work involves bending, kneeling, lifting, and carrying piles of cement and stacks of tiles between places.
They also sometimes use ladders or scaffolding to work at heights. Tilers often work in small-sized teams and frequently travel from one location to another for job purposes.
11. Where Can A Tiler Work In Australia?
After becoming a qualified wall and floor tiler, you develop the essential skills to start your career. You can work in small privately-owned firms carrying out contract building work or set up your small business and work as a self-employed tiler.
Some tilers work in firms involved in the manufacturing and selling of tiles.
Tilers take up various jobs in construction or renovation in commercial spaces, including houses, commercial buildings, factories, swimming pools, offices, and shops. Most tilers work in cities or where large-scale construction projects are.
Since being a tiler is a hands-on practical job, so you have to be always onsite. The flexibility of remote work or working from home isn't possible.
12. Areas Of Specialisation Of Wall And Floor Tilers:
Qualified tilers have numerous career opportunities available to develop their skills, specialise in a specific tiling style, or use their job skills to pursue a new talent.
Here are a few specialisation options to consider:
Tiling With Tessellated Tiles: This is in demand due to owners' increasing craze to preserve their homes' legacy. Considering this, tilers can specialise in working specifically with tessellated tiles.
Stonemason: Qualified tilers can gain specialised training in the processes and tools required to work with stone and cement.
Self-Employed Tilers: Tilers with adequate administrative skills, practical tiling knowledge, and experience can work as freelancers by undertaking contract assignments with companies or starting their businesses.
13. Job Prospect For Tilers In Australia
It is a medium-sized occupation with a large share of workers employed in the Construction and Manufacturing industries. The demand for wall and floor tilers is spread evenly across all states and territories of Australia.
Though the demand for tilers fluctuates based on construction activity, the profession will likely have stable growth.
According to the National Job Outlook data, around 76% of workers work full-time for 43 hours a week. The average age of workers is 37 years, with only 2% of workers being female.
14. How Long Does It Take To Train As A Tiler?
An apprentice in Australia takes around four years to become a trained tiler. An apprenticeship includes 18 months of certificate qualification.
A tiler may need further study and experience to perform specialised tiling. To start your own business, you must also take a six-month full-time Certificate IV in Small Business course to learn business skills.
You can also complete an online tiling short course in Sydney or other cities for specific tiling services you want to offer your clients.
Thus, the total time required to work as a tiler can be four years or more based on the type and complexity of the task you undertake and your nature of employment.
15. How Much Do Tilers Earn In Australia?
The average tiler hourly rate is AU$28.83 or equivalent to AU$59,476 per year. Experience, specialisation, work location, and demand for construction are the key factors determining the wall and floor tiler salary in Australia.
Tilers working on large-scale construction projects in major cities tend to earn more than those working in rural areas.
Salary Based on Experience
First-year apprentice tilers can expect to earn AU$20.98 on an average

Early career Tilers with (1 to 4 years of experience) earn AU$24.70

Mid-career Tilers with (5 to 9 years of experience) earn AU$30.21

Experienced Tilers with (10 to 19 years of experience) earn AU$34.21
16. Conclusion
Seeing your vision transform into finished art is a rewarding experience. The best of this profession is that you can pursue this career right after your high-school education.
Minimal qualification requirements, job stability, and career advancement opportunities make this profession worth trying. So, if you find this job interesting, complete a tiling apprenticeship program and become a qualified tradesman.
Useful Links to Explore:
How useful was this post?
Click on a star to rate it!