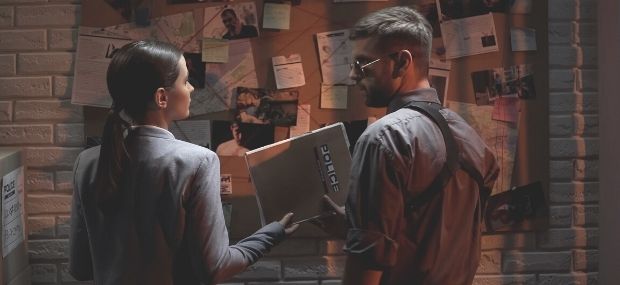 Do you have an analytical mind and like solving crime mysteries? If yes, a career as a criminal profiler might be perfect for you.
Criminal profilers use human psychology and criminal investigation techniques to prepare criminal profiles. They work in criminal departments of law enforcement agencies to solve crimes in society.
To become a criminologist in Australia, you must complete an undergraduate degree in psychology, forensics, criminal justice, behavioural science, or a similar field. Alternatively, graduates in non-related disciplines can earn a postgraduate qualification in criminology.
If you want to work in criminal justice, you should prepare as early as possible. Explore the responsibilities, educational and personal requirements, salary, criminal profiling, jobs, degrees, and the steps to becoming a criminal profiler in Australia.
1. What Is Criminal Profiling?
Criminal profiling, also called criminal investigative analysis, is a process of studying past and present criminals' emotions, personalities, and behaviours.
Criminal profilers use this information along with victim and witness statements and crime scene evidence to prepare the criminal's profile for use by law enforcement agencies.
2. Who Is A Criminal Profiler?
Criminal profilers are forensic psychologists, criminal investigative analysts, or criminal psychologists. They investigate criminal behaviour to assess danger and recognise potential perpetrators.
These highly trained special agents specialise in dealing with many crimes, such as kidnappings, terrorism, hostage-taking, white-collar crime, child abduction, extortion, cybercrime, arson, and serial sexual homicide.
They have experience in criminal justice, law enforcement, investigative or forensic psychology, crime analysis, and criminal behaviour. It helps them to identify the characteristics and personality traits of offenders.
3. What Does A Criminal Profiler Do?
Criminal profilers in Australia perform a diverse range of tasks regularly. These include:
Identify potential criminal offenders.

Review old case files or evidence to determine factors to describe a suspect

Study the psychology of past and present criminals

Research on criminology and criminals to identify their crucial behaviour patterns

Perform geographic profiling

Assist law enforcement agencies with violent, complicated cases, such as child abductions and homicides

Administer personality assessments and psychological testing

Use investigative strategy to perform behaviour and personality assessments, and analyse crime scene reports and evidence. Further, investigate victim testimonies, interview convicted criminals and witnesses and reconstruct crime scenes to build offender profiles.

Read and prepare reports for law enforcement agencies.

Participate in industry training to remain updated on the recent developments in the criminal psychology

Provide testimony and findings in the court to find the correct perpetrator from a pool of suspects
4. Key Skills For A Criminal Profiler
Do you want to be a successful criminal profiler? Here are the most desirable traits and qualities for this role:
Likes conducting research and investigations

Strong intuition

Curious

Judgment skills

Attention to detail

Analytical skills

Emotional detachment

Understanding of behaviour and emotions of criminals

Communication skills

Teamwork skills

Observation skills

Active listening skills
5. Qualifications For Criminal Profilers In Australia
To start as a criminal profiler, you need a mix of formal education and on-the-job training. Here is the standard route to becoming one:
At least 18 years old

Graduate from high school (4 years)

Take a bachelor's course in psychology, criminal justice, forensics, behavioural science, or a related discipline. Suppose you have a bachelor's degree in an unrelated profession. In that case, you can earn a relevant postgraduate course to enter this field.

Undertake internships in the local police department or with an experienced criminal profiler to gain relevant hands-on training in investigations, forensics, and criminal detection. Alternatively, volunteer through a local law enforcement agency (3 to 5 months).

Gaining membership in a national psychological organisation like the Australian Psychological Society is beneficial.

Based on the role's requirements, you may require a Police Check and a Work with Children Check.
6. Step To Become A Criminal Profiler In Australia
Do you like the job profile and want to pursue this profession? Follow these steps to kickstart your career as a criminal profiler:
Step 1: Complete Your Senior Secondary Education
This is the first step to starting your career journey. Complete the required six years of high school and earn a Higher School Certificate. It will verify your graduation and make you eligible to enrol in an undergraduate program.
Try to obtain a competitive HSC score to get a higher ATAR score and access a broader array of universities and courses.
Step 2: Complete a Bachelor's Qualification
Most employers look for criminal profilers with bachelor's degrees in criminal justice, psychology, forensics, or behavioural science. So, once you gain your HSC, apply to a relevant bachelor's degree program to prepare yourself for the job.
Graduates with a non-related major should complete a relevant master's degree to work as a criminal profiler. You can also undertake systematic profiling-related courses to gain knowledge and develop a solid base for your future career.
To become a criminal profiler for the FBI, you must hold a relevant bachelor's in criminology. It is the minimum requirement to enrol in the FBI Academy.
You must also undertake on-the-job training and have a private investigator license based on local or state regulations. Search licensing laws in the states where you wish to work.
Step 3: Earn A Post Graduate Degree
Advanced qualification in criminal profiling gives you in-depth knowledge about the field. Consider completing a master's degree in criminal psychology to develop a thorough understanding of criminals' behaviour, the types of psychological disorders, and investigation techniques.
It provides you with higher-level technical knowledge and the necessary skills to execute the job efficiently.
Step 4: Get Trained
It is not mandatory to take formal training programs to become a criminal profiler. However, professional on-the-job training with an established criminal profiler will help develop skills and techniques in criminal justice and law enforcement.
It won't just strengthen your resume but also boost your career prospects. Completing a related internship will make it easier to work in investigation roles.
Apply for professional internships during the final year of college or get trained and gain experience by criminal profiler entry-level jobs.
Step 5: Gain Professional Experience In Investigation
Ask your law enforcement agency about work opportunities with detectives or local investigators to build investigation experience. You can find positions with local private investigators to learn the investigation methods.
When you gain expertise and confidence, you are ready to start applying for a job as a criminal profiler.
Step 6: Affiliate With A Professional Organisation
Consider joining a related professional organisation such as the Australian Psychological Society or International Criminal Investigation Analysis Fellowship.
It is a great way to expand your professional network to access specialised career seminars, lectures, and exclusive job listings. Furthermore, membership will enhance your credentials and bolster your aspiring criminal profiling career.
Step 7: Apply For Jobs
Search and apply for criminal profiler jobs both online and offline. Mention relevant internships, work placements, and certifications, and highlight your strengths when interviewing for roles.
7. Criminal Profiler Courses In Australia
Criminal profiler courses equip the learners with extensive knowledge of local and global criminality, human behaviour, law, legal proceedings, intelligence-led investigation, forensic investigation, the criminal justice system, and emerging trends and practices in this sector.
You also learn about the traditional processes and multidisciplinary methods of crime, such as:
Analysing crime scene

Witnessing accounts

Collecting and analysing evidence and intelligence

Interrogating and negotiating tactics

Defensive driving

Concluding characteristics and intentions of the criminal
Criminology courses can help develop the necessary knowledge and skills to work in many industries and sectors, such as policing, courts, corrections, victim support, government policy development, and offender rehabilitation.
Here is the list of degree programs to help you prepare for an entry-level criminal profiler role:
Bachelor of Criminology and Justice
Bachelor of Criminology and Justice/Law
Bachelor of Social Work (Criminology and Justice)
Bachelor of Criminology
Deakin University

The University of Newcastle

Flinders University

Open Universities

Victoria University

Western Sydney University

CQ University
Relevant Criminal Profiler Courses
Certificate IV in Crime and Justice Studies - CQ University

Diploma of Crime and Justice Studies - TAFE QLD

Diploma of Justice - Chisholm TAFE and CQ University
8. Work Environment For A Criminal Profiler
Criminal profilers spend most of their offices researching criminals. They may also require travel to visit the crime scene, talk to victims, and interrogate eyewitnesses and criminals.
Criminal profilers rarely work alone. They often work as part of a team in a law enforcement department. They may work long hours on weekends or late evenings when working on a case.
9. Employment Opportunities For Criminal Profilers In Australia
Criminal justice is a vast field that offers many career opportunities in the public and private sectors. Criminal Profilers mainly work to generate profiles of suspects based on evidence from crime scenes, victim testimony, witness reports, and analysis of suspects involved. They also offer consultation in a case to assist with criminal investigations.
Law enforcement, regulatory agencies and the FBI contract criminal profilers as physiologists. Besides these, they also work in a range of community and professional settings that includes:
Criminal justice

Police force

Courts

Non-government community support sector

Customs

Private security and investigation

Correction services and other law enforcement agencies
Common Criminal Profiler Jobs include:
FBI Criminal Profiler

Australian Border Force Officer

Protective Services Officer

Legal/ Paralegal Administrator

Court Services Officer

State/Local Government Investigator

Government Administrator

Youth Justice roles
The Australian Criminal Intelligence Commission also presents career opportunities for criminal profilers. This agency works with national and global partners to protect the country from pervasive criminal threats. ACIC is a strong, supportive, and diverse agency that operates across 8 locations in Australia.
Exciting career opportunities, rotational work, attractive employment conditions, work/life balance, competitive remuneration package, relocation assistance, and a comprehensive development program are good reasons to become part of ACIC.
The agency looks for driven and passionate qualified graduates in the Corporate/ Intelligence and Technical sector. If you are an innovative thinker and problem solver dedicated to making a difference in society, joining ACIC could be the best way to start your career.
The starting salary for graduates is $69,476 + superannuation.
10. Job Prospects For Criminal Profilers In Australia
Criminal profiling is a standard tool to investigate and solve crimes. Due to this, criminal profilers play an integral role in the criminal justice system.
They are starting as criminal investigators or detectives. They mostly do additional training to pursue advanced careers as forensic psychology professors, jury consultants, and juvenile offenders, to name a few.
The strong career outlook translates to robust job growth and future demand for criminal profilers/investigators/private detectives in Australia. Their employment includes the FBI and law enforcement agencies around the world.
11. How Much Does A Criminal Profiler Earn In Australia?
The average criminal profiler salary in Australia is $89,300, or an equivalent hourly rate of $41. The criminal profiler's compensation varies widely based on the following factors:
Levels of education

Type of Employer

Years of Experience

Industry in which they work, and

Cost of living in the area you work
The Top-Paying Industries For Criminal Profilers Are as Follows:
Postal services

Psychiatric and substance abuse hospitals

Local government

Academic sectors such as colleges, professional schools, and universities
Average Criminal Profiler Salary Based on Experience:
Entry-level criminal profiler (1 to 3 years of experience) earns $61,527.

Senior-level criminal profilers (8 years of experience) earn $104,770.
According to PayScale, the average criminologist's salary is AU$56,930 or an equivalent of AU$32.50 per hour.
Early career Criminologist earns AU$57,325 per year

Mid-career Criminologist earns AU$55,481 per year
12. Conclusion
As a criminal profiler, you are responsible for helping law enforcement agencies to deter crimes from society. Pursuing this career requires years of rigorous preparation and determination to gain the vast depth of skills and techniques to perform the job.
If you are interested in making your community safe, follow the above steps and get started.
Useful Links to Explore: