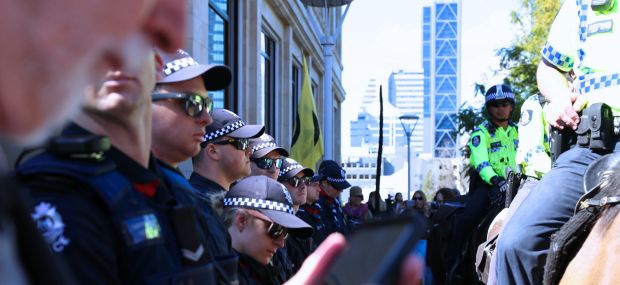 Do you have courage, decision-making skills, and a passion for serving and protecting the community? If yes, a career as a Police Officer could be ideal for you.
A police officer enhances citizens' quality of life by reducing the fear of crime and ensuring their safety and protection. Additionally, they play a vital role in identifying criminals and ensuring the successful prosecution of lawbreakers.
The Australian Federal Police (AFP) and State and Territory Police forces have distinct requirements for individuals aspiring to become Police Officers.
To become a Police Recruit in Australia, you must complete the application procedure, which involves successfully passing eligibility checks, background checks, an entrance exam, fitness testing, health checks, psychological testing, and a final interview.

Read this post to learn how to enter the police force and become a police officer (Cop) in Australia, including how long it takes, how long the police training is, and more.
1. What Is An Australian Police Officer?
In Australia, there are two primary divisions of the police force — The Australian Federal Police (AFP) and the State and Territory Police. The AFP is Australia's national policing agency that upholds and enforces Commonwealth law in Australia and overseas.
Some AFP responsibilities include providing security at airports, counter-terrorism, and protecting the Australian Prime Minister and other foreign dignitaries. They also handle border and international operations, combating drug trafficking, fraud, sex tourism, and smuggling.
On the other hand, the State and Territory Police are responsible for upholding local law, safety, and community protection, preventing crime, and preserving peace in society. Apart from that, they also enforce road and traffic rules, offer assistance in times of emergency, and investigate crimes.
2. Principal Duties And Tasks Of A Police Officer
Investigate, arrest, and interview suspected offenders.

Examine certain scenes of accidents or crimes.

Attend critical emergencies and incidents.

Handle traffic in congested areas.

Enforce traffic laws and test suspected drug-affected or alcoholic drivers.

Maintain peace at strikes, social events, public meetings, etc.

Document and submit incident or crime reports, present case files, and maintain records.

Protect witnesses of significant crimes.

Provide assistance and advice to the victims of crime and their families.

Attend court and provide evidence if required.

Prevent anti-social behaviour and maintain public order and safety.

Conduct patrol duties by automobile, bicycle, or on foot.

Respond to calls and requests from the public for assistance.
3. Police Officer Skills
Since police officers often deal directly with the public, they must possess many skills and attributes. Also, they must have an excellent work ethic and be physically fit.

Also, a police officer must have the mental strength to deal with dangerous circumstances rationally and calmly.
Besides meeting the official requirements for a police officer, you also need to develop the following skills:
Teamwork

Judgment and decision-making

Conflict resolution

Excellent verbal and non-verbal communication skills

Critical thinking

High level of physical fitness

Problem-solving skills

Attention to detail

Strong communication

Empathy and Compassion

Courage

First aid and CPR knowledge

Physical fitness

Able to stay calm under pressure
4. What Qualifications Do You Need To Be A Police Officer In Australia?
To join the Australian Federal Police (AFP) and become a police officer, you either need to complete Year 10 in addition to a trade certificate or receive your Senior Secondary Certificate of Education. Furthermore, obtaining tertiary-level qualifications may contribute to your competitiveness.
Always remember the AFP aims to recruit students from various disciplines, which is not limited to justice, law, or criminology studies.
Different educational institutions in Australia have other entry requirements — some are more flexible, and some even offer external study options.
If accepted by the AFP, you must complete 24 weeks of training at the Australian Federal Police (AFP) College in Barton, ACT. After the training, candidates must complete 12 months of on-the-job training.
General eligibility requirements to become a police officer across all Australian states:
Be at least 18 years of age or more.

Have Australian citizenship or permanent residence status and provide the required documentation.

Possess a valid and current driver's license. Automatic (only) and Provisional (P Plates) licences are accepted.

To be eligible, you are required to obtain a Year 10 certificate along with a minimum qualification of a Diploma/Certificate IV level or a Trade Certificate. Additionally, university-level qualifications can also be submitted. It may be necessary to upload educational certificates and provide evidence upon request.

Provide a copy of your recent traffic history for each territory or state from where your driver's license is issued. You can get a copy from the local Motor Registry.

Complete and submit the ESQ (Employment Sustainability Questionnaire) that helps determine candidates' character suitability for getting employed by the AFP.
When you advance through the application process, you will also be required to meet the following criteria:
Before you engage with the AFP, submit a fingerprint sample and undertake a drug test to comply with AFP's Illicit Drug-Free Work Force Policy.

Provide a first-aid certificate, including the Level 1 First Aid Certificate with CPR.

Go through the security clearance process to determine your suitability to access classified and official information.

Provide proof of your ability to swim 100 meters freestyle, unaided, and non-stop.

Maintain intense levels of physical strength and cardio fitness. Give fitness tests, including bleep tests, stamina and strength tests, and agility runs.
Note: Candidates who do not satisfy the above requirements cannot engage with the Australian Federal Police (AFP).
You must also remember police departments in different states and territories of Australia may have other or additional requirements.
Before submitting your application to any of the police departments, it is crucial to visit the websites that outline the specific recruiting requirements for each Australian state or territory.
5. Police Officer Courses In Australia
Several Australian universities provide courses for aspiring police officers:
Bachelor of Policing and Public Safety – Charles Stuart University, (Online course), Common Wealth Supported Place CSP)

Bachelor of Criminology and Justice – Edith Cowan University (Online course), CSP

Bachelor of Justice Studies – The University of Tasmania, Online course, CSP

Graduate Certificate in Criminology and Criminal Justice - Griffith University, Online course, CSP

Policing Investigations and Intelligence - University of South Australia, Online, CSP

Making Sense of Criminal Justice - Griffith University, Online course, CSP

Australia's Approach to Law Enforcement - Macquarie University, Online course, CSP

Prisons and Punishment - The University of New England, Online course, CSP
6. Specialised Roles For Police Officers
Police officers can specialise in pursuing the following roles:
Bomb Squad Officer

Mounted Police Officer

Tactical Response Group Officer

Search and Rescue Officer
7. Career Progression For Police Officers In Australia
As you climb the ranks and get promoted to senior positions, you will obtain further salary increments in line with your duties and experience.
| Position | Gross Salary Per Annum |
| --- | --- |
| First-Class Constable (After five years) | $92,176 |
| Senior Constable (9 years+) | $99,012 |
| Sergeant | $109,362 |
| Senior Sergeant | $121,835 |
Besides the above, you can consider other opportunities and pathways when beginning a career with the Police Force (in Western Australia).
These include:
8. What Are The Different Jobs In The Police Force Australia?
Depending on your skills and interests, Police Officers in Australia can choose from a range of roles within the sector, such as:
Constable

Senior Constable

Police Officer (State or Federal)

Paralegal /Legal Administrator

Protective Security Officer

Court Services Officer

Local/State Youth Justice Roles

Government Administrator

Government Investigator

Police Liaison Officer Investigator

Commander, Child Protection and Human Trafficking

Investigator, Counter Terrorism and Special Investigations Command

Digital Forensics Examiner

Investigator, Fraud, and Anti-Corruption

Assistant Commissioner, International Command

Deputy Commissioner, ACT Chief Police Officer

National Manager, Criminal Assets Confiscation

Assistant Commissioner, Specialist Protective Command

Canine Handler, Specialist Protective Command

Commander, Transnational Operations

Detective Sergeant, Transnational Serious and Organised Crime
For more Police Officer vacancies, click here.
9. Job Outlook For Police Officers In Australia
Police Officers are an integral asset to the community. They could work in a country town handling almost all aspects of policing or in the most frontline positions to tackle crime and safety.
Beyond metropolitan roles, police officers can also provide regional service in communities.
Working Arrangements
Around 93% of employed Police Officers work full-time hours for an average (44 hours per week).
Primary Industries for Employment
Public Administration And Safety- 98.8%

Education And Training - 0.5%

Professional, Scientific, And Technical Services - 0.1%
Worker's Age and Gender Profile
The average age of Police Officers is 40, with most between 35 and 44 years. Females constitute 27% of the workforce which is 21 percentage points lesser than the average of all jobs, i.e., 48%.
10. How Much IsThe Police Salary In Australia?
The average police officer's salary in Australia is $71,404 per annum. The exact amount differs based on which state/ territory you work in.
11. Is The Police Paid Well in Australia?
Yes. In addition to the annual police officer salary, they also get several perks such as:
Free or subsidized housing for specific locations

Free fitness facilities

Support for families

Fully funded uniform

14 weeks of paid parental leave
Salary Based on Experience
Entry-level (< 1-year Experience): AU$ 68,255 per annum.

Early career (1-4 years of Experience): AU$69,856 per annum

Mid-career (5-9 years of Experience): AU$80,598 per annum

Experienced (10-19 years of Experience): AU$89,575 per annum

Late career (20 years and above): AU$72,242 per annum.
Top Recruiters for Police Officers in Australia
NSW Police Force: $99,244 p.a.

Victoria Police: $98,230per p.a.

Australian Federal Police: $94,281 p.a.

NSW Government: $92,398 p.a.

Queensland Police Service: $92,156 p.a.
Highest Paying Cities Near Australia for Police Officers:
Sydney: $98,000 per year

Brisbane: $93,373 per year

Melbourne: $90,251 per year

Canberra: $81,143 per year

Perth: $80,675 per year

Shepparton: $62,433 per year

Geelong: $62,433 per year

Morwell: $62,108 per year

Heidelberg: $61,988 per year
12. Frequently Asked Questions (FAQs)
Where Is the Best Place To Be a Police Officer?
According to Labour Market Insights, the regions with the largest share of workers are:
Adelaide - South

Perth - North West

Gold Coast

Melbourne - Outer East

Melbourne - South East
Who Hires The Most Police Officers?
Most Police Officers (98.8%) work in the public administration and safety industry.
How Long Does It Take to Become a Police Officer in Australia?
Becoming a police officer may take around 5 to 6 years, including four years of education, 3 to 4 months to process your application, and 3 to 4 months for the hiring process (depending on the police department).
After that, if you get selected, you will spend about six months in the Police Academy and then serve six to one year of probation.
The recruitment process may take a long time, especially if further testing or checking is needed. To ensure the application process runs smoothly, respond to all emails or calls you receive from the recruiting services instantly. Also, ensure you submit all the required paperwork as early as possible.
What is the Maximum Age To Become a Police Officer in Australia?
The minimum age to enter the profession is 18, but most Australian states have no maximum age limit. You can apply if you pass the lengthy selection procedure and conduct the operational job requirements.
Which Study is Best for Police Officers?
The Police Officer requirements of the Australian Federal Police may differ from that of State and Territory Police forces.
If you plan to become a Police Officer, a Diploma in Crime and Justice Studies could benefit you. The course helps develop job-specific skills such as interviewing, investigations, court document preparation, and conflict resolution.
Which Police Has The Highest Salary?
Below are the average salaries for related roles within the field:
Police officer: $79,449 per year

Law Enforcement Officer: Average $86,825 per year

Cadet: Average $61,560 per year

Patrol Officer: Average $78,541 per year

Correctional Officer: Average $79,704 per year

Police Sergeant: Average $107,580 per year
As we can see, Police Sergeant earns the highest salary of all police officer roles in Australia.
Who Are The Highest-Paid Police in Australia?
The gross annual salary of a Police Salary for different roles in the Western Australia Police Force is as follows:
| Position | Salary |
| --- | --- |
| Academy Training (Police Officer - Entry-Level) | $62,459 |
| Probationary Constable (First 18 months) | $80,414 |
| 3rd Year of Service | $82,966 |
| 4th Year of Service | $85,047 |
| 5th + Year of Service | $87,133 |
What is The Lowest-Paying Police?
Military Police are the lowest-paying Police, with an average salary of $36,367 annually.
What Are The Best Jobs in The Police?
Graduates with relevant qualifications can make rewarding careers in policing, criminal justice, and corrections.
How Hard Is it To Become a Police Officer in Australia?
A career in the police force offers both rewards and challenges. Policing in Australia is consistently demanding across all states, yet each state has its own police service and unique hiring process.
The work environment can be potentially dangerous, physically demanding, and sometimes distressing. Therefore, you need to be mentally and physically prepared to take on the role of a police officer.
Maintaining intense cardio fitness and physical strength is essential to undertake rigorous academy training and performing an operational role.
Once you join the Police Force, you will undergo fitness tests, including strength tests, bleep tests, stamina, and agility runs twice a year.
Do You Get Paid While Training To Be a Police Officer in Australia?
Yes. Police recruits get paid from the first day of their training. When attending the Victoria Police Academy, you will receive $53,156 per annum during the initial 12 weeks of training. At Week 12, you will be promoted to a Constable role and receive $73,026 annually.
Besides the annual salary, you will get overtime payments, shift penalties, and salary increments per year.
Police Officers in Western Australia undergo 28 weeks of paid training and a competitive salary at the academy. Your annual incremental pay increases once you complete the training.
Do you Have to Attend University To Become a Police Officer in Australia?
The Police officer eligibility requirements vary between states. However, applicants who can provide the following forms of academic evidence are exempt from undertaking the Police Entrance Evaluation.
How To Become a Police Officer in NSW?
The NSW Police Officer recruitment process is comprehensive. You will need to complete five stages to pursue a career in policing in NSW.
Stage 1: Pre-application Requirements:
Covid-19 proof of vaccination

Birth certificate

Citizenship documents

Overseas penal clearance certificate

Proof of academic qualifications

Declaration and consent form
Stage 2: Complete Provide First Aid (HLTAID011) + Pocket Mask training course
Stage 3: Apply. The Recruitment Branch will assess your application to determine your professional suitability for recruitment as an NSW Police officer.
A Recruitment case manager will be assigned to the applicant to assess the eligibility and conduct background and reference checks.
You will receive an invite to enrol in the 4-week University Certificate in Workforce Essentials program and undergo a medical assessment, fitness testing, and psychometric testing. Applicants must attend an NSW Police station to provide their fingerprints taken.
Stage 4: Undertake and pass several fitness, medical, and psychometric tests.
Stage 5: If selected, your case manager will invite you to a recruitment interview.
Applicants who complete the UCWE course will get a formal offer to undertake the Associate Degree in Policing Practice at the NSW Police Force Academy.
How To Become a Police Officer in Victoria?
You must fulfil the following Police officer entry requirements to work in Victoria Police.
Step 1: Undergo a thorough assessment of your code of conduct and prior behaviour
Step 2: Fulfil age and education requirements. You must be at least 18 years to apply.
Applicants below 21 must complete a Victorian Certificate of Education or the equivalent (Senior Level Victorian Certificate of Applied Learning).

Applicants above 21 can skip a VCE or equivalent to apply for the role.
Step 3: Provide proof of Australian citizenship/permanent residency/ special category visa. As per the Victoria Police Act 2013, you must be an Australian Citizen and hold an Australian PR visa or a special category visa (for New Zealand Citizens) to join Victoria Police.
Step 4: Undertake regular fitness tests to meet the physical requirements of the job. Victorian Police provide the POLICE FIT app to help applicants prepare for the fitness requirement of their application.
Step 5: Provide a manual or automatic Australian driver's license. A probationary license is also acceptable.
Step 6: Provide an existing Level 1 First Aid Certificate (HLTAID010) with CPR.
Step 7: Undertake a medical evaluation to meet the minimum medical requirements to perform the role. You may require providing specialist reports based on your medical history.
Step 8: The selection committee will assess the applicant's work history and performance in professional employment settings. It displays the applicant's readiness to work and ongoing employment drive.
How to Become a Police Officer in QLD?
You must complete the QPS (Queensland Police Service) selection process to seek a career with the Queensland Police Service.
Eligibility Conditions:
Be at least 17 years at the time of applying; and

Show high standards of conduct and behaviour in the past.

Complete year 12 (or equivalent senior year). Alternatively, gain three years of full-time (or part-time equivalent) employment.

Have an open driver's license or an existing provisional driver's license with at least 12 months of Experience in driving as the license holder (manual or automatic vehicle) when graduating from the police academy.

Hold Australian citizenship, a permanent residency status, or a special category visa (for New Zealand citizens)

Showcase a reasonable degree of physical and mental strength and fitness to undertake the operational role of a Constable.
Those who meet the eligibility criteria should complete QPS Entrance Assessment to get an invitation to apply online to become a QPS police recruit. It evaluates an applicant in various areas, including digital literacy, writing ability, reasoning ability, and numeracy.
How To Become a Police Officer in WA?
You need to complete a series of steps to start a career in policing in Western Australia:
Step 1: Check Your Eligibility
At least 18 years and above

Hold an Australian or New Zealand Citizenship or a Permanent Australian Resident visa status.

Hold a valid and current Manual 'C' or Automatic 'C-A' class Driver's Licence with less than eight demerit points.

Have a valid and current First Aid Certificate, i.e., (HLTAID003 or HLTAID011 - Provide First Aid).
Step 2: Start The Recruitment Process (6-8 weeks application processing time)
Provide the following documents as part of the recruitment process:
Personal details

Education and academic qualifications

Work history in the military, defence force, or police service (if applicable).

Upload certified copies of the following documents –

Birth Certificate

Citizenship or Permanent Residency

Passport Photo

First Aid Certificate

Valid Driver's Licence
Step 3: Pass Various Assessments Under The Selection Process (3-4 months)
You will go through various checks and evaluations before starting your training at the WA Police Academy. Some of the assessments include:
Police Entrance Evaluation

Integrity Check

Psychological Evaluation

Tattoo Review

Physical Performance Evaluation
Once you have completed all assessments, your application will be grouped with other applications awaiting placement at the WA Police Academy to initiate your training.
13. Conclusion
Now that you know how to become a police officer, visit the AFP website to check out the entry-level requirements for policing and protective service officer recruitment.
Useful Links to Explore: