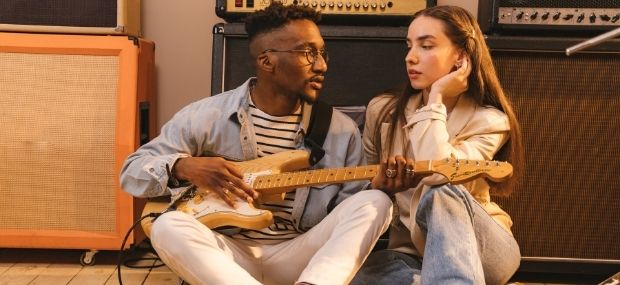 Does music make an inevitable part of your life? Do you like singing and playing musical instruments to entertain people?
If you want to follow in the footsteps of music legends like Bryan Adams, or Elvis Presley, the time has come to turn your passion for music into a full-time career.
Professional musicians play various musical instruments and perform live performances on stage and in recording studios. They use their musical skills and talents to produce compelling music for creative and commercial purposes.
To work as a musician in Australia, you need to be skilled in a specific musical instrument. Though formal qualifications aren't mandatory, a Vocational Education and Training or a university-level degree in music will help.
Here is a complete guide to becoming a musician from scratch and what it takes to get a step nearer to your dream profession.
1. Who Is A Musician?
Musicians are talented professionals who entertain the public by playing one or more musical styles and instruments.
A musician can either specialise in a specific musical genre or play in different styles such as classical, hip-hop, rock, pop, jazz, bashment, and more based on their cultural background and interest.
Professional musicians are multi-talented personalities who can work as singers, composers, instrumentalists, songwriters, or conductors. They write lyrics, arrange, orchestrate, play, record, and conduct brilliant music compositions.
These professionals perform independently, as part of a record label/music band, or in a group of musicians.
2. What Are The Different Types Of Musicians?
Do you need to decide what kind of musician you should become based on your skills and interests?
Look at the below list of different musicians categories to help you decide.
Recording Artist
They record sessions or perform live performances in a studio. They are experienced and skilled with instruments.
Conductor
They direct a chorus, orchestra, ballet, opera company, or any other musical group in the performance.
Music Producer
They work with technology to improve and compose music in a recording studio.
Music Composer
As the name suggests, a composer is a music professional who creates and composes musical scores for television, movies, and computer games.
Music Teacher
This is another popular profession where a musician transfers his music knowledge and skills to the upcoming generation in a classroom setting.
Orchestrator
They are musical professionals who allocate various instruments to an orchestra written by a composer. Orchestras are professionals who often perform classical music. Still, they can also work for recording studios, film production firms, musical theatre, and video game music.
The Songwriter
A Songwriter is also called a producer-composer who writes lyrics, composes music, and even records demos.
Arranger
The work of an arranger is to determine the perfect musical instruments to play for particular musical composition.
Vocalist
He is a musician who lends his voice to a piece of musical composition. He works solo, with bands, orchestras, ensembles, or in concerts.
Rapper
He is a musical specialist who specialises in performing rap music.
Record Producer
A record producer is a creative and technical leader responsible for different recording projects conducted in a studio.
An Independent Artist
This type of musician pursues a music career independently and falls under the following categories:
DIY solo artist

DIY artists with a team

Unsigned artist
3. Why Should You Become A Musician In Australia?
Playing music not only appeals to the ears but also helps you to become a better human.
Here are solid reasons why a career as a musician is among the best jobs:
Learning and playing music makes you a disciplined and hard-working person.

You learn to read the sheet language, in which musicians interpret the notes and communicate with each other.

Being a musician, you enjoy a large community of music lovers who love playing and sharing music.

You get precious opportunities to perform in front of a large audience. These memories stay with you for a lifetime.

You travel the world to attend and perform in LIVE shows and musical events. You can see new places and participate in national or global cultural festivals. It is a beautiful feeling when people appreciate your talent. The love and recognition you get from people make the career fulfilling and rewarding.

It is not a traditional day job. You can set your work time and achieve a work-life balance —an ideal profession for night-owl people.

The profession of a musician gives you opportunities to learn and grow. There is ample scope to specialise and master your skills.

Being a musician is not a routine desk job. You live your passion while meeting different personalities from varying cultural and technical backgrounds.

The job doesn't bore you as every day is a new day. You will enjoy diversity in work in this profession.

While you work as a musician to make a living, you learn the knowledge and skills of several types of businesses. You become better at communication. Music helps in the holistic development of your personality.

You devote every minute of your life to living music and enjoy being in the company of people who shares the same passion as yours.

Music gives you a great chance to serve society and bring a huge positive and meaningful impact on the life of people.
4. What Does A Musician Do In Australia?
A professional musician in Australia selects a genre, performance setting, and instrument that aligns with his passions, technical capabilities, and areas of interest.
The following are the musician's daily duties and responsibilities:
Compose unique music based on the preferences of the demographic

Record music in a studio setting

Play music as an accompanist, an orchestra member, a band, a musical group, or in recitals.

Arrange and read sheet music.

Compose music for commercial purposes

Communicate with clients to gain clarity on musical compositions

Repair/upkeep musical equipment

Make recordings online or on sample music discs to send to record labels and studios for sale or promotion.

Perform music concerts domestically and internationally for a broad array of live audiences

Practice music using a variety of musical instruments. Study and rehearse musical scores before actual performances

Team up with other musicians to produce an outstanding musical composition

Performs songs and music based on interpretation, presentation style, and direction, using impressive acoustic skills to replicate music

Create associated videos for the composed music

Playback music for commercial advertisements, radio, film productions, and popular recordings

Improvise, arrange, transpose, or compose music

Play music as per the instruction of a conductor

Select music for stage shows and performances and allocate instrumental parts to other musicians.

Audition and choose the most capable singers and musicians

Create melodic, rhythmic, and harmonic sentences to convey emotions musically.

Direct musical groups at performances to achieve harmonic balance, tempo, and rhythm
5. Skills Needed To Be A Musician In Australia
Here are a few highly desirable skills and traits of a musician in Australia:
Extreme fondness for music

Able to practice and rehearse regularly

Able to interpret sheet music

Patience

Perseverance

Creativity

Good at networking

Good stamina to sing clearly and pleasantly on a high note

Self-confidence

Self-motivated

Determined

Good communication skills

Able to focus for a prolonged duration

Specialisation in one or more music styles

The natural inclination for entertainment
In addition to the above skills, a musician needs to have the following abilities to work efficiently in this field:
Hearing sensitivity

Oral comprehension and expression

Auditory attention

Multilimbed synchronisation

Selective attention (ability to focus without getting distracted)

Manual dexterity to clasp, deploy, use, and assemble objects

Finger dexterity

Originality

Sorting or arranging numbers, words, and letters to create a pattern

Arm-hand steadiness

Brainstorming Ideas

Speech clarity

Speech recognition
6. Qualifications Needed To Become A Musician In Australia
There is no formal training needed to become a musician in Australia. However, if you are keen on making a long-term career as a musician, in that case, getting a basic knowledge of the industry and the profession is exemplary.
Here is what education is needed to become a musician in Australia:
Get a Senior Secondary Certificate of Education

Consider a VET qualification in music to get introductory knowledge about the field and the profession. Applicants may need to attend an audition, interview, or theory test to evaluate their proficiency in music.

The other way to become a musician is to earn a university-level degree in music. Applicants may require to attend an audition, interview, or musicianship/music proficiency theory test. Universities have different prerequisites, and some have flexible entry requirements.
7. Steps To Become A Professional Musician In Australia
The road to becoming a professional musician starts with getting qualified. Earning a degree in music shows your competence and seriousness towards your career. It makes you more desirable than a non-qualified musician.
Here are the steps to becoming a musician:
Step 1: Decide Who You Want To Become
Identity what type of musician you wish to be and acquire relevant skills and experience.
Step 2: Choose The Instrument
Choose the musical instrument you learn, practice, and specialise in. Ensure that the instrument you choose is compatible with a wide range of music. A guitar is one such example.
Step 3: Take Music Lessons
Take in-person music lessons from a qualified music instructor to learn the basics of playing and composing music. Other music resources include e-books, YouTube videos, music training schools, and colleges.
Step 4: Practive Singing and Playing The Instrument
Practice singing and playing instruments for at least a few minutes daily. Study new techniques, enhance your skills, and learn complex music on your chosen instrument.
Step 5: Read Sheet Music
Try reading sheet music, as it is needed, for specific music styles and instruments. The ability to interpret sheet music is helpful when playing classical music, where it is impossible to learn and memorise music through repetition.
Step 6: Study Music Theory and History
Learn music theory and music history to compose your music. The knowledge in these areas will help you develop as a composer and instrumentalist regardless of the instrument you play.
Step 7: Start Writing Music Compositions
It is the time now to skill up and begin writing your music compositions. While you do this, you will learn the difference between making music and playing notes quickly and easily.
Step 8: Join A Music Band
After gaining expertise in singing or playing a musical instrument, plan to associate with an established music band. You will get the much-needed training, experience, and professional connections to help you progress as a musician.
Playing with musicians and instrumentalists in a band will help improve your skills and opportunities to perform LIVE outdoor concerts.
If you can't find an established music group, don't feel disappointed. Use the time to start your band and record music. To promote your music, list it on popular online platforms, record labels, or local music shops.
While you follow the above process, stay patient and committed. Know that making a good foundation in music takes time, but it will eventually make a rewarding career.
8. Musician Relevant Certification Courses In Australia
If you are serious about making a career in music, then the best way is to get qualified. Studying a certification course, diploma, or degree in music is the initial step to getting experienced and forming your network within the industry.
Music courses equip students with the fundamental knowledge of music, instruments, and technicalities involved in the job. Undergoing music-focused degrees improves your employability and chances of getting your first break into this competitive industry.
Diploma of Music
9. How To Become A Musician Singer In Australia?
There is a lot of competition in the music industry. To establish yourself as a professional musician singer, you must consistently sharpen your singing talent as much as possible.
It becomes easy to achieve your goals when you have the proper guidance and direction.
Here are the steps to enhance your singing talent and learn ways to make more money while pursuing this profession.
Step 1: Get Singing Lessons
Get high-quality singing lessons either online or in-person to learn proper and healthy singing techniques (warm-ups, consistency, right pitch and tone, intermittent rest between singing sessions) and improve your singing. Hiring a personal singing teacher is a good option for those who find it expensive to join a music school.
Step 2: Sing at Local Events
Grab every opportunity to sing at social events in front of an audience. This is because regular singing exercises your voice, and early experiences will make you more adaptable. Initially, you should be ready to sing for free as you need recognition and appreciation.
Money will follow as you get experienced.
Step 3: Join A Music Group
Join a music group and participate in a Live event that could give you a great learning opportunity. Come out of your comfort zone and challenge your limits. You gain the ability to work under pressure and deal with every hurdle in your career path positively and courageously.
Singing in unaccustomed venues will make you more confident and ready to take on more challenges. More practical exposure translates to better stage presence experiences and an impressive resume. All this will help improve your employability as a singer.
Step 4: Choose Your Best Song
Decide a song that you have expertise in. Sing it at places where you need to impress the public and employers. Make sure that the song you choose should be popular and likable by the general public. You should be able to sing its lyrics properly, clearly, and confidently. It should match your vocal range and suit your voice.
Step 5: Attend Auditions And Interviews
Once you have gained proficiency in singing, confidence, and industrial exposure, you can attend auditions and interviews. It is usually tricky for a beginner to approach employers. Invest your time in networking and building relevant contacts.
The right way is to seek assistance from those you know in the industry. Browse your existing contacts, make new contacts, and use online music platforms and social media to get better industry opportunities.
Step 6: Create More Goals
Make small, realistic, achievable, and precise goals and accomplish them step by step. Set bigger goals after every goal you finish.
Step 7: Apply For More Jobs Online
Apply with your resume on all online job platforms. Once you obtain and complete your first paid job, it will boost your confidence and validate your skills. Also, it becomes easier to get more work in the future.
10. How To Become A Keyboard Singer In Australia?
A musician can specialise in playing various instruments, the keyboard being one of them. If you like playing music on the keyboard and want to pursue it as your career, then here is the pathway to achieving your goal.
Mental makeup is crucial when learning and mastering any skill. Being prepared and committed to your goal is very much essential. Playing a keyboard along with singing is a challenging job.
However, with determination and putting in extra effort, you can manage and excel at playing a keyboard along with singing job. To impress your audience, you must be well-versed in playing the piano.
Step 1: Learn To Play The Piano
The first step is to learn to play the piano properly while maintaining the correct posture and controlling your breath. Keep practising to enhance your piano playing skills so that you do not even need to look at the keyboard while playing the piano.
Step 2: Position The Microphone Correctly When Singing
Ensure your microphone is in the correct position. It should be at the proper distance from the mouth so that audience can hear you.
Step 3: Master One Act at A Time
Before you sing and play the piano simultaneously, you should gain perfection in doing the tasks separately. Begin mastering the piano playing act without singing the song. Once you get comfortable operating a piano, introduce some melodies to the piano tune. Next, play simple chords while refining your singing skill.
Gradually, try playing the piano and singing using both hands until you become confident doing both tasks together.
Singing and playing the piano simultaneously usually comes after regular practice. Devote 30 minutes daily until you get used to it that it becomes second nature. Try recording your performance to find areas of improvement.
Step 4: Play The Piano And Sing At The Same Time
Finally, try performing both acts together while watching the audience. Congrats. You are ready to perform an outstanding keyboard singing to your audience.
11. What Are The Working Conditions For A Musician In Australia?
Age
The average age of employed musicians in Australia is 40 years.
Gender
Around 25% of the Australian musician workforce comprises females, and 48% are males.
Qualification
Most of the employed musicians in Australia hold a bachelor's degree in music or other equivalent training in music, music theory, performance, or other related fields.
Nature of Employment
A musician enjoys the flexibility to work part-time or full-time. Based on PayScale data, only 30% of musicians work full-time. This shows that the occupation is most suited to work part-time. Musicians can work as freelancers on different gigs to earn a living.
Work Hours
When employed as a musician, you may have to work beyond your usual hours doing rehearsals and practice. The average work hours for full-time workers is 46 hours per week. In most cases, performances are held on weekends and in the evenings. The work hours of musicians frequently change, and most even work late at night.
Workplace
Musicians generally work in a comfortable indoor setting with proper heating or cooling facilities. However, they may get exposed to loud and uncomfortable sounds.
Musicians generally work in a team or in groups. You can find them working in a recording studio, learning and practising music to gain a grip on the industry, or giving LIVE performances at outdoor concerts.
Based on the event requirement, a musician may need to perform in numerous venues, such as orchestras, theatres, operas, lounges, and cabarets.
The work environment in the music industry is very competitive, and you should be capable of handling competitive pressure well.
Travel
As a musician, you must be prepared to travel domestically or abroad as per the event requirements.
12. What Are The Career Opportunities for a Musician In Australia?
Musicians are multi-talented and multi-skilled personalities who can work in different positions in the music industry.
They are employed either via agents or as an independent artist. They generally work as a recording artist in a company, radio, or TV commercial. Musicians also perform LIVE in musical shows within the country or abroad.
They also get opportunities to lend their vocals and demonstrate instrument-playing skills in various settings, including orchestras, music theatres, operas, cabarets, clubs, and lounges.
A few musicians even choose to become music teachers by setting up their training school or as an employee in a private/public, academic institution.
A musician can also work in radio and television stations, music journalism, musicological research, music and equipment sales, music and record publishing, and music direction.
13. How Much Does A Musician Earn In Australia?
The average hourly musician salary is AU$66.57, or an equivalent to AU$45,000 per year in Australia.
An early career Musician with 1 to 4 years of experience draws an average hourly compensation of AU$63.43. On the other hand, an experienced musician with 5 to 9 years of experience earns an average hourly wage of AU$67.94.
A Musician's career has stable future growth in Australia. The top hiring industries are Arts and Recreation Services, Accommodation and Food Services, and Education and Training.
14. FAQs On Becoming A Musician In Australia
How To Choose The Right Musical Instrument?
The musical instrument you use on stage as a punk band differs from what you need to perform in a classical concert.
Based on what type of musician you want to become, you can find different types of musical instruments to meet your objective.
Selecting the right musical instrument that matches your interests is the first step to becoming a musician. Choose a category of an instrument that matches your ambitions to become a musician.
Piano, guitar, and violin could be the perfect instruments if you are at the beginning of playing an instrument. You can easily find coaches to help you learn these instruments in your area.

If you want to prepare for a classical, jazz, or art music concert, string-based instruments such as violin, violas, brass, percussion, or a woodwind would be appropriate.

Suppose you wish to work as an independent artist who plays pop music and composes his songs. In that case, a keyboard, piano, drum, guitar, and bass guitar, saxophone, are good options to choose from. Learn to play the woodwinds to produce a distinguishing warm and woody sound.
What Is The Ideal Musical Instrument For Starters?
If you are a beginner and want to make a solid base in playing instruments, then start with a piano. As all the notes are displayed right before your eyes, this is an excellent instrument for beginners and young children.
Considering its use in pop, classical, and several other music styles, the piano makes a highly versatile and multi-purpose instrument.
If you are a learner, you should opt for an electric piano as they are more affordable than a concert piano. Any piano can teach you the fundamentals and fingerings knowledge irrespective of its quality and appearance.
What Subjects Are Needed To Become A Musician?
You don't need any formal education to pursue a musical career. However, getting a basic knowledge of the fundamentals of music, musical composition, and standard musical instruments is beneficial. A diploma, certification, or degree in music will give you an overview of these essential components of music.
Besides knowledge of music, employers look for candidates with a good command of English with average exposure to Fine arts, visual media, and media production.
What Equipment Can Boost Your Singing?
Are you looking for equipment to improvise your singing skills and monitor your improvement?
Here is a list of handy instruments that make you a good singer:
Tape Recorder and Player for voice recording and play it back during practice sessions.

Keyboard Piano to find the perfect note and pitch to sing and record melodies.

A metronome is another helpful device while practising singing. It helps you to monitor the speed and rhythm at which you sing.

Pitch Pipe: A good substitute for a tape recorder or a piano. It can help you with the correct starting pitch to stay on target from the time you begin singing.
What Are The Best Aussie Record Labels?
Following are the best record labels based on the quality and uniqueness of the music they produce in Australia:
Modular Recordings

Rice is Nice

Future Classic

Ivy League

Elefant Traks
What Careers Do Musicians Involve In?
Having qualified as a musician, you can pursue any of the following careers based on your qualifications, experience, and interests.
Performing Artist

Record Producer

Artist Manager

Tour Manager

Music Programmer

Music Publicist

Booking Agent

Songwriter

Commercial Composer

Music Arranger
How Good Is A Music Career In Australia?
Music is a hugely varied industry with numerous employment opportunities for talented and qualified musicians. From composing and mixing music to onstage presentation and orchestration, there is always a niche to suit the interest of a musician.
It is a great field to build a solo career or get associated and work with a famous music band/record label. Getting paid while pursuing your passion, travel opportunities, diversity of work, and global recognition makes it a highly fulfilling and exciting profession.
However, the downsides of this profession are intense competition, hard work, and job insecurity, which make it a difficult road compared to traditional 9 to 5 jobs. Furthermore, it can be daunting for a beginner to earn their place amongst established music artists in the industry.
What High School Classes Are Relevant To Becoming A Musician?
Completing your high school with music-related electives can help you prepare for this occupation. Most music programs and training schools come with the following specialisations:
Music History and Appreciation

Music Theory and Composition

Music Performance And Composition

Orchestra for Strings
What Are The Relevant Degrees To Become A Musician In Australia?
A Bachelor of Music is a highly sought degree for aspiring musicians to make a solid foundation in music and the different aspects of this profession.
You can study for this degree at various reputable and nationally-accredited universities in Australia, including RMIT University, Newcastle University, Monash University, Adelaide University, QUT University, Australian Institute of Music, Collarts University, and UNSW Sydney.
In addition, there are a few more music degree courses to gain advanced-level knowledge or specialisation in music. To become a musician, you can undertake any of the following degrees that have music as their focus:
Bachelor of Arts in Music

Bachelor of Arts in Music With A Concentration (Music Theory, Musicology, and Composition)

Bachelor of Fine Arts in Music (Music Performance, Music Composition, and Music Theory)

Bachelor of Science in Music (Sound Recording Technology and Sound Design)
After gaining a fundamental education in music, you can choose to undergo the following post-graduate degree courses in music.
Is it Beneficial To Attend Music College To Become A Musician?
Attending a music school and getting qualified can improve your job prospects in the music industry. It can benefit you in the following ways:
You build a strong network with like-minded people who share your passion and aspirations. These high-potential musicians can become your future music bandmates, mentors, clients, or advisors to help you progress in this industry.

Talking with colleagues and professors at music school help you access mixers, clubs, ensembles, and industry event. Attending these events can provide unique opportunities for students to get a break in an entry-level position in the industry.

Attending music classes at training schools helps the students learn music and business in a less competitive and low-risk environment. This way, they become confident and mentally prepared to face the real music business.

Another benefit of attending a music school is honing your skills and knowledge in music and gaining expertise in a musical instrument.

Personal development is another commendable advantage of attending a music college. You learn life skills, such as writing skills, oral and written communication skills, maturity, and independent thinking skills, that help you grow as a person beyond music.
How To Become A Famous Musician In Australia?
Start by gaining music literacy by completing a Bachelor's Degree in music or music technology. The qualification will also help you better understand the music industry.

Attend short courses and music workshops and do regular practice and training to progress and grow as a music artist.

Spend a lot of time marketing your talent. The music industry is no less than a business. To get yourself known within the vast industry, you need to spend plenty of time networking and marketing yourself. Adopting the right marketing ways will help you develop a decent fan following and progress in your career.
Here Are Some of The Best Ways To Sell Your Talent:
Audition: Find auditions that suit your interests and talents. Attending auditions helps budding musicians showcase their musical talents and skills in front of employers.

Playing at local shows lets, you get practical onstage experience and create a following small base.

Participate in music concerts and industry events to build new contacts and widen your network. This will, in turn, help in publicising your musical composition and reach a maximum number of people.

You must recognise the importance of a digital presence to promote your music talent and creation. Music platforms such as Spotify, SoundCloud, Amazon Music, and YouTube are ideal for promoting aspiring artists. Register on these platforms and upload your music samples to get your music to the vast online population of music fans.

In the initial phase, upload samples, press coverage, a press release, and your contact information to make it easier for interested music artists and companies to contact you.

Try to gain as much experience as you can. The more experienced you become, the greater your chances of associating with a band and performing in national or international LIVE music events and shows. This can go a long way to getting recognition for your music.
I Want To Become A Musician, But Where Do I Start?
Have you decided to make a career as a musician but need more direction to pursue your goal? The following steps will help materialise your career objective:
Get Literate in Music
The journey to becoming a musician starts in high school. Focus on gaining a better understanding of music and musical instruments. Study a degree that has music in focus.
Completing a bachelor's degree in music performance or music theory is helpful. Along with completing a degree in music, you can also attend music schools and take music lessons in your area of interest.
Practice A lot
Spend a lot of time doing practice to hone your skills and keep up your music standards. Use the right gears to record your voice often and listen to it. It will help monitor and improvise your singing to a significant extent.
Learn a Musical Instrument
Playing musical instruments is among the critical duties of a musician. Spend time identifying a musical instrument that interests you. Join a school to get hands-on practice in learning it.
Do Networking
Connecting with professionals who belong to your field can help you grab opportunities that will, in turn, contribute to getting people to know about you. Frequent performances will make you confident, popular, and more skilled in your arena.
Create a digital footprint by uploading your music samples on popular music platforms like Spotify, YouTube, and Wix.com, home to a vast online population of music lovers worldwide.
Useful Links to Explore: