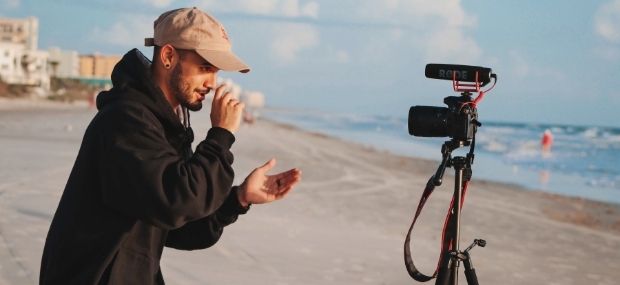 Do you recall anything remarkable that happened in February 2005? The internet had been out for a while, and the future of this technology still needed to be discovered.
This was when three former PayPal employees decided to launch YouTube.com, a video-sharing website (Hopkins, 2006).
They had no idea their online invention would take off like wildfire, gaining worldwide traction and bringing millions of people together to exchange video material.
Today, YouTube is the third most popular website, and online video entertainment has never been more popular than it is now. People worldwide use this application.
This blog will teach you how to become a successful Youtuber, tips on getting started, what you need, and much more.
1. What Is It like To Become A YouTuber?
You can upload almost anything to the YouTube application. YouTube also allows you to see almost anything.
Some fantastic films on YouTube are intriguing and entertaining; you will never see them anywhere else. People often dream about being famous by becoming YouTubers.
The job of a YouTuber is not as pleasing as it seems. Isn't it just that you make videos on topics you enjoy and profit from?
However, becoming a well-known YouTuber is a complex task. Every famous vlogger must devote a lot of time and effort to creating a video.
Thus, you need to make a lot of research and even some tiny investments and learn about the whole process before you upload your first video.
Becoming a YouTuber is pretty challenging, as you must always be careful in every step. Being organised with your content and tracking the progress is something that you have to do.
If your big dream is becoming a YouTuber, you have found the perfect article! You will get deep insights and knowledge into the topic.
2. How To Be a YouTuber For Beginners?
Nowadays, earning money with less effort is what most people want.
Furthermore, receiving fame and money is like Mcdonald's combo meal. In today's scenario, YouTube is turning this dream into reality. Some unique strategies mentioned below can transform a beginner into a pro.
Here is how to be a YouTuber for beginners:
Be Sure About Your Niche
Decide on a niche first. Know which industries you'll be concentrating on in your videos. When attempting to cover too many topics and niches, your thoughts will go all over the place.
So, pick a few relevant specialisations depending on your hobbies and experience. For example, suppose anyone wants to open a cooking channel. In that case, that person needs expertise in cooking unique dishes.
This is a terrific approach to keeping organised, getting to a good start, staying consistent, and attracting the right audience.
You can improve your expertise in those niches and become an expert if you start with a definite emphasis on specific themes.
Describe The Objective of Your Channel
What are your goals for your YouTube channel? For example, do you want to make educational films to benefit people? Accomplish you want to create tutorials and how-tos to show people how to do something?
Perhaps you want to entertain people by sharing stories. You must first determine the main goal and what kind of impact you want your videos to create on your audience. This will help you get a good and steady start rather than attempting to cover everything.
Of course, you could be interested in being a YouTuber only for fame and money. While focusing on this aim is okay, you should also give your audience valuable information.
If you do so, you will find it challenging to target a particular demographic, build your community, or monetise your channel.
Content Idea Generator
The third stage is brainstorming video ideas, which you should do before building your channel. After just a few films, this will ensure you have enough ideas.
Examine what other YouTubers in your field have already posted. Can you come up with anything comparable yet unique?
Can you come up with a better idea? Take into account your target audience's pain areas and hobbies. Come up with topic ideas that will pique their interest.
Make A Content Calendar
Maintaining consistency will be easier if you have a set timetable. It provides your subscribers with the comfort that you release new videos on the planned dates. It also provides a detailed timeline to plan your efforts and stay on track.
So, before developing a channel, figure out a publication schedule that works for you.
Daily content uploads may be a terrific way to reach new people. Still, they can quickly become overwhelming, especially for a one-person operation.
Starting with a weekly timetable is the best way to go. You may gradually increase your production as you become familiar with the timeline.
You might, for example, publish two videos every other week.
Examine Your Tools
The material quality you create depends on the tools you utilise. As a result, knowing what equipment you'll need to produce the content you want is critical. While you don't need to buy pricey equipment straight first, there are a few necessities.
You'll want a computer with sufficient processing power and specifications to suit your requirements. A good video editing program is a must-have for you. While you can spend less than hundreds of dollars on it, be sure it has essential functions.
It's a good idea to start with Windows Movie Maker and iMovie. Filmora and Corel VideoStudio are two more budget-friendly solutions.
As we're talking about software, you may also require a competent screen recorder. Debut Screen Recorder is a great, low-cost solution that allows you to caption your recordings.
Beyond screen recording, you'll need a good camera if you're going to be on camera or making videos. If your smartphone has advanced features, you can shoot your videos in good quality there.
Make And Improve Your Channel
Now that you've covered the essentials, it's time to start building your channel. If you already have one, you may still optimise it by following the steps. First, choose a channel name that is both original and memorable. If it's convenient for you, you can use your name.
Next, explain what your channel is all about in your "About" section. Finally, prioritise readability by breaking up long paragraphs into smaller ones.
Make Your First Video And Learn From It
You may start making and uploading your first video after you've set up and optimised the channel.
Then, you can create a list in which you write down the content ideas that you believe will attract your audience.
A significant thing to be mindful of is that your first video may not get the success that you have been dreaming of.
You should still give your 100% effort. Every prospective YouTuber has this difficulty when they first start. Do a quick research on how other YouTubers deal with it.
What do they enjoy, and what do they object to? Do they have any suggestions for how you may enhance your next video? Act accordingly.
3. How To Become A YouTuber as A Kid?
Young children appear to pursue internet video celebrity life instead of big-screen fame. Rather than being movie stars, kids nowadays vouch for and dream of becoming famous YouTubers.
Of course, allowing your child to use any social networking site is personal based on age, emotional development, and reasons for choosing to put themselves out there.
However, here are some aspects parents can follow before allowing their child to go down that road:
Some kids aspire to be famous and view YouTube as a means of achieving that goal. Kids hear that they can become famous and wealthy, but this is the exception rather than the rule, and it's not something your child should expect.
They could witness a kid star on their tablet screen doing incredible skateboard feats and want to be exactly like them.
Discuss the difference between getting famous in the numerical sense (likes and shares) and the joy of making friends happy with your youngster.
You may also teach your youngster that becoming a celebrity isn't a worthwhile aim for a child.
Perhaps your child aspires to be well-known in the community, whether for excelling in a specific academic topic, participating in sports, or performing community work.
Show them that doing fantastic things while being recognised by a few people may be just as fulfilling — and a lot less stressful.
The art of keeping up with a channel and creating unique content every time can feel intimidating and challenging for people of every age group.
Always talk about the content, and make sure your child understands what's appropriate to publish, what should be kept private, and other aspects of keeping safe online.
In addition, we must teach our children what to share and what not to post online, as with other social media.
The identities of family members, friends, instructors, or caretakers, as well as details about their age and daily whereabouts, are some things to be mindful of keeping a secret.
Commenting should be disabled. People with too much free time exist, and trolls who leave unpleasant comments on YouTube may make your youngster feel horrible. Your 10-year-old doesn't need any nasty remarks on his magic tricks channel.
The comments you may get on a public channel aren't helpful or authentic for elementary school-aged children. Instead, it is frequently damaging and ineffective.
Encourage your children to seek meaningful and constructive comments from friends and family instead of allowing strangers to trash them. Growing up in public glare is challenging, even in the ideal conditions of building an excellent channel with strong parental assistance.
4. How To Become A YouTube Gamer?
For many people, playing video games has become an increasingly valued hobby and interest, allowing them to take short breaks from reality while being entertained.
YouTube has also become a means for some individuals to earn money, with users creating profiles and gaming videos to gain an audience.
It is relatively simple to become a YouTuber but developing and maintaining a successful gaming channel on YouTube is quite tricky.
So, here's a list of what you'll need to establish your gaming channel and how to become a YouTuber gamer:
To play high-end games, you need a good computer that is best for gaming in high-graphic settings and where you can simultaneously record the action. It would be best if you had a more powerful machine to play demanding games like The Witcher.
The less demanding games like Overwatch, Minecraft, or CSGO do not need an incredibly pricey PC.
Aside from having the processing power to record and play games simultaneously, ensure you have enough HDD/SSD storage space to record the gameplay.
As sound is one of a video's most important aspects, decent audio quality is essential.
When a new viewer sees a video and likes the content but dislikes the audio, the odds are that he will quit the video and never return. Therefore, it's much more crucial to have decent sound than it is to have good footage.
5. Conclusion
We who work regular jobs fantasise about what it might be like to make a career doing something we genuinely enjoy. YouTube gives us a fresh perspective on success and teaches us what it's like to have it and how to get it.
Your work, though, still needs to be completed. You'll also need to increase your social media presence to reach a larger audience. Your videos will be promoted and distributed through social media to those who aren't subscribers to your channel.
Useful Links to Explore:
How useful was this post?
Click on a star to rate it!