We all know it can be tough to manage expenses in Australia, especially when you are a student who must purchase books, pay rent, and fulfil other living expenses. Luckily, there are plenty of student discounts available in Australia.
Here is a list of retailers, stores, online shops, food chains, and other organisations that offer uni-student discounts in Australia. We have on our list over 40+ discounts listed and are adding more regularly.
Let's get started; here is a list of the best student discounts available in Australia:
Electronics:

Apple student discounts are super popular among university students in Australia. They give you excellent deals on all their stuff, like Macbooks, iPads, iPhones, and more. Plus, if you do some digging, you can find many websites with cheap deals on Apple products.

But here's a tip: keep an eye on the Apple student education store. They often have early offers that you want to take advantage of. So check it regularly and snag those deals!
If you're a student studying at a university or college in Australia, here's some excellent news! You can easily snag Dell student discounts on laptops in Australia. Dell has a bunch of super cool and innovative laptops that are perfect for all your uni assignments.
You can also grab monitors and accessories like laptop bags and other stuff you need for commuting between uni and home. When you check out the Dell student laptop section (link below), they'll even hook you up with a 10% discount coupon.
How awesome is that? Grab your discounted laptop now!
If you're a student looking for incredible deals on computers and electronics, you must check out this company. They give instant access to student discounts on various devices like tablets, laptops, and computers.
All you have to do is sign up on their official website using your student ID or email, and you'll unlock some incredible student discounts.

HP is where it's at! They offer up to 30% off laptops and gaming PCs, 25% off desktops, and even up to 31% off on monitors. Plus, you can score a whopping 54% off on accessories. That's some serious savings right there!
Sign up on the HP student deal store to ensure you don't miss out. You can click above to visit their website directly.
if you're on the hunt for excellent deals on laptops, desktops, tablets, and cool accessories, you must check out Lenovo. They're all about hooking students up with generous laptop discounts in Australia. So, go to their online store and discover the best deals on your favourite gadgets.
Here's the deal: Lenovo has this special place called the Lenovo Education Store. It's where students can directly buy Lenovo PCs, laptops, accessories, and more at discounted prices. Just sign up with the Lenovo Education Store, and you can score up to 57% off on study-friendly PCs. Now, that's a steal!
So, don't wait around. Head over to Lenovo and start saving big on your tech gear today!
You can access the Samsung education store online and easily create your account using a valid email. Once you're in, you'll score some sweet educational discounts and offers on cool stuff like tablets, mobile phones, monitors, and more.
Samsung's got all the latest tech and a bunch of products perfect for school or uni. Need a tablet to jot down those lecture notes? They've got some top-notch options. Are you looking for awesome accessories? They have the best-in-class gear.
They even have laptops and smartphones if you're in the market for one. So, take your chance! Hop over to the Samsung education store, create your account, and get ready to snag some killer deals on gadgets that'll rock your school or uni life.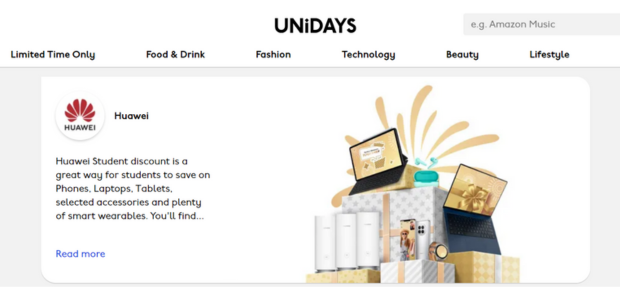 Huawei, the tech powerhouse, is known for its cutting-edge laptops, smartphones, wearables, and high-quality accessories.
Their product lineup includes stunning smartwatches, tablets, and more, offering top-notch features and performance.
The best part is that Huawei products boast superior quality and come at very reasonable prices. You'll be thrilled that UNiDAYS has partnered with this fantastic company to bring you the latest discounts and offers.
7. Harvey Norman Student Discount
Harvey Norman, a top retailer in Australia, caters to students from primary school to university by offering a wide selection of student devices such as laptops, computers, tablets, and more.
For the best student deals on devices, check out their website. Remember to regularly visit their 'back to school section below for exclusive special offers.
If you want student discounts on laptops in Australia, JB Hi-Fi is the place to go! They're the country's top home entertainment retailer and offer amazing deals on leading brands like Google, Microsoft, Samsung, Apple, and Lenovo.
JB Hi-Fi has a special section on their website just for students. You can check it out to find all the latest deals and offers designed specifically for domestic and international students in Australia.
With its wide range of laptop student discounts, JB Hi-Fi is the ultimate destination for students looking to buy laptops.
9. Officeworks Student Discount
Officeworks sells many products, including school essentials, tablets, laptops, Macbooks, headphones, monitors, hard drives and more.
Several websites online offer student discount codes and coupons for various products on Officeworks. Also, you can visit the back to uni section on their official website to get great-value products.

Whether you are just starting university or in your final year, Officeworks has you covered. You can get organised with their range of stationery and technology deals.
10. Microsoft Student Discount
Head over to the official Microsoft store online for student discounts on laptops, PCs, tablets, smartphones, gaming devices, and accessories. They have incredible deals that empower students to boost their productivity.
At the Microsoft education store, students can enjoy year-round discounts of up to 10% on select products, including Surface devices. It's worth watching their website to stay updated with the latest offers.
So don't miss out and visit the Microsoft education store for the best student deals.
Phone Plans:
Telstra, the leading telco company in Australia, has got you covered when it comes to public Wi-Fi hotspots and mobile network services across the nation.
They offer comprehensive data plans specifically designed for students, ensuring they can access the internet for their studies from anywhere.
Don't miss out on their website, where you can find incredible student deals on mobiles, tablets, internet and entertainment services, prepaid plans, and accessories. Telstra is renowned for its reliable phone reception throughout Australia.
Even in the country's most remote areas, you can count on Telstra to keep you connected, allowing you to surf the internet or make calls to your loved ones.
Optus is the telecommunication provider you need to check out if you're a student in Australia.
They have fantastic student deals that perfectly fit a busy student lifestyle. Discounts on various SIM-only and other SIM plans ensure you have plenty of data to stay connected.
To stay in the loop with their latest offers, visit Optus' education hub section regularly. They are offering a tempting 10% off on selected SIM plans.
Don't miss out on these great deals, and watch Optus for all your communication needs as a student.
Vodafone, the top telco and internet mobile service provider. They have some incredible deals that are perfect for students, offering excellent value for money on eligible SIM-only plans. With Vodafone's impressive range of deals, you can save significant money while studying in Australia.
To stay in the know about their latest offerings, make sure to visit their student deal section. Don't miss out on these fantastic deals and enjoy the benefits Vodafone offers students.
Fashion:
14. THE ICONIC Student Discount
THE ICONIC is a must-know online clothing store in Australia. They bring you a trendy and up-to-date collection of women's and men's apparel, always in style. But that's not all!
They also have fantastic weekly student discounts and coupons on famous brands such as Nike, Topshop, Adidas, Polo, Levis, and more.
Plus, you can score instant deals by signing up with Student Beans. With their creative summer clothes collection, THE ICONIC has become a favourite among students who want to stay stylish in Australia.
So, don't miss out on their incredible selection of clothing that every student needs!
If you're in Australia and looking for a department store with a wide selection, Myer is the place to be.
They have an incredible range of products catering to all genders and ages. Whether after trendy clothes, beauty products, entertaining items, home essentials, or toys, Myer has covered you.
To make the most of your shopping experience, explore their website for the best deals. For students, Myer occasionally rolls out special discounts. I recommend checking their website regularly to keep you informed about the latest offers.
Their outstanding customer service sets Myer apart, ensuring that your shopping trip is enjoyable and personalized.
ASOS is a famous fashion brand that provides you with the latest trends. Visit their online store and complete a form to obtain discount codes and great student discounts.
The online fashion retailer is currently offering 10% off. You must register with your student email address to get the discount.
ASOS will conduct a background check to see if you are a genuine student before allowing you to take advantage of this fantastic offer. They will verify your student email address. Who doesn't love shopping at ASOS?
17. Cotton: On Student Discount
If you're a student looking for incredible deals on clothing, stationery, and accessories, you're in luck! Cotton On, a renowned global retailer, offers fantastic discounts and special offers specifically for students.
To access the best student discount available at Cotton On, all you need to do is register with UNiDAYS. By signing up with UNiDAYS, you can enjoy a generous 15% discount on all of Cotton On's products.
It's an amazing opportunity to grab trendy clothing items, stylish stationery, and cool accessories while keeping some extra cash in your pocket. Don't miss out on this fantastic offer - join UNiDAYS and start saving today!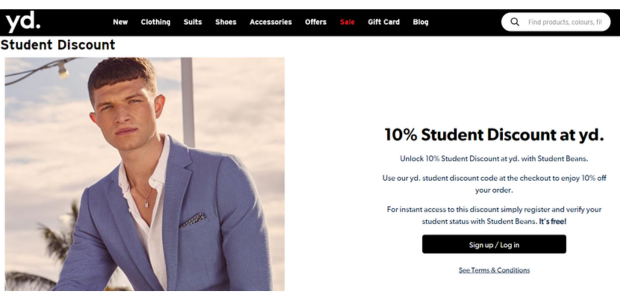 Are you looking for fashionable and budget-friendly men's clothing? Look no further than YD! This retail powerhouse has covered whether you need casual or formal office attire. You're in for a treat as a student because YD offers a fantastic 10% student discount.
To enjoy this discount, simply become a member of Student Beans. Once you've registered, you'll receive a unique student discount code that you can use at the checkout. Applying this code will instantly slash 10% off your order total.
Take advantage of this excellent opportunity to upgrade your wardrobe while saving money. Join Student Beans and start enjoying your discount at YD today!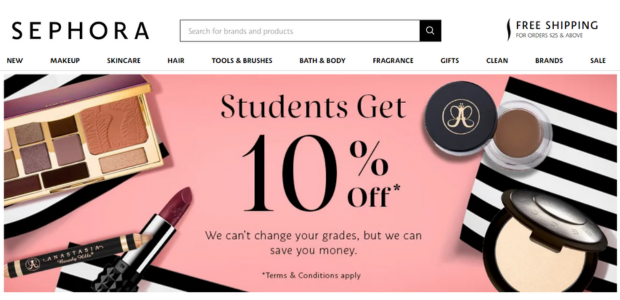 Sephora has you covered when exploring and finding the best deals on makeup, skincare, and hair products! This globally recognized brand offers a wide range of top-notch beauty products to meet your needs.
As a student, you can enjoy a special discount on Sephora cosmetics by creating an account with UNiDAYS. It's a quick and easy process that allows you to access exclusive savings on your favourite beauty items.
Take advantage of this fantastic opportunity to enhance your beauty routine while saving money. Sign up with UNiDAYS and start enjoying your student discount at Sephora today!
Boohoo is the place to be if you're a fashion-forward individual looking for trendy clothes and accessories! This renowned retailer specialises in female fashion, strongly emphasising youth fashion.
The best part? Depending on the ongoing promotions, you can enjoy discounts of up to 50% off on clothes. Keep in mind that specific terms and conditions may apply.
As a student, you're in for a treat because Boohoo offers exclusive discount codes specifically for students. To get your hands on these codes, you must register with either Student Beans or UNiDAYS.
By taking advantage of these student discount codes, you'll be able to save throughout the year at Boohoo.
21. Valleygirl Student Discount
Get ready to rock the latest trends, and fashion looks with Valleygirl! This fantastic brand brings you styles straight from the catwalks, as seen in countless fashion magazines for girls and women. The best part? You can save up to 10% on your orders at Valleygirl.
To enjoy these student discounts, make sure to register with Student Beans. Remember that these deals are only sometimes available and depend on the promotions running throughout the year.
So, staying in the loop and checking when these student discounts are up for grabs is a good idea. With Valleygirl, you can stay ahead of the fashion game while keeping your wallet happy. Take advantage of flaunting the latest styles at a discounted price.
Sign up with Student Beans and enjoy your student discounts at Valleygirl today!
Food:
The world's largest pizza chain, Domino's in Australia, provides the best deals on various pizzas. You can visit their online or physical store to get exclusive discounts.
You can also log in to your UNiDAYS or Student Edge account to obtain the latest promo codes or coupons for Domino's Pizza Australia.
That's correct; students can benefit from 40% Off Premium and Classic pizzas. It could not be any easier.
Register and verify your student status with UNiDAYS for instant access to this deal.
Grill'd is renowned for its mouthwatering burgers and delicious food options. If you're a student, you're in for a treat! From Monday to Wednesday, Grill offers a complimentary drink to students.
The catch is that you need to join their reward program, Relish, to take advantage of this offer. For more details, you can visit their website.
Here's a simple step-by-step guide to getting your free drink:
Join Relish and sign up as a student.

Visit any Grill'd restaurant from Monday to Wednesday.

Choose your favourite burger and pick any drink from their fridge.

Show your student ID and scan your Student Free Drink barcode.

You can conveniently keep your barcode in the Grill'd App for easy access.
By following these steps, you'll enjoy a refreshing drink on the house while enjoying the tastiness of Grill'd burgers. Don't miss out on this fantastic perk!
24. Betty's Burgers Student Discount
Betty's Burgers is a highly sought-after burger chain in Australia known for its popularity. To make the most of their exclusive offers and deals, you only need to download the Betty's Burgers app.
By doing so, you'll receive timely notifications regarding student discounts and complimentary offers. To get your hands on the app, click here to initiate the download process.
25. Mc Donalds Student Discount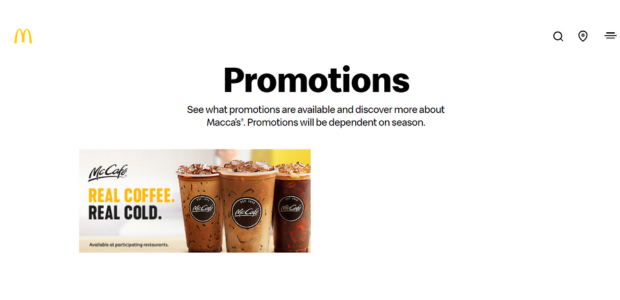 You can find the best student discounts in the McDonald's app. The app lists all special offers and promotions daily and weekly. The app shows discount codes for complimentary burgers or discounted food and drinks.
For immediate student discounts, you can join Student Edge. Members in the following states: NT, WA, QLD, SA, VIC, NSW, ACT and TAS, receive a free small soft drink, orange juice or coffee from McDonald's with any purchase over $4. (Terms and Conditions Apply)
For the latest information, visit the Student Edge website.
KFC is renowned for its mouthwatering chicken, offering a range of enticing discounts through its app.
We suggest you look at the KFC app to enjoy their delicious chicken wings and other delectable food at a more affordable price.
You'll find there discount codes and special offers that will make your KFC experience even more satisfying without breaking the bank.
27. Guzman Gomez Student Discount
Indulge in the finest Mexican cuisine at this beloved fast-food chain, featuring various mouthwatering options such as burritos, nachos, tacos, and more. Watch for their occasional special promotions, where you can score a complimentary burrito when you purchase one.
We highly recommend downloading their app to stay updated on their latest specials and take advantage of these enticing offers. By doing so, you'll receive timely notifications about their exclusive deals, ensuring you can savour their delicious food while making the most of their promotions.
Entertainment:
Spotify, the renowned music streaming service, offers a fantastic deal for students: three months of free premium access.
After that initial period, students can continue their subscription at discounted rates and gain unlimited access to an extensive collection of songs, videos, and podcasts.
Watch their student discount section if you're contemplating subscribing to Spotify's music streaming service.
This is a fantastic opportunity to enjoy the platform's vast music library and curated playlists while saving some money. Whether you want to relax and unwind or enjoy your favourite tunes during your leisure time, Spotify is an excellent platform to fulfil your music cravings.
Immerse yourself in a world of unparalleled streaming entertainment with Netflix, the ultimate destination for movies, TV shows, and documentaries. With a vast library spanning various genres and interests, Netflix offers something for every viewer.
Sign up for a free 30-day trial to discover captivating stories and unforgettable characters. After the trial period, continue your Netflix journey at budget-friendly prices, ensuring endless hours of cinematic bliss from the comfort of your home.

When enjoying a fantastic cinematic experience, HOYTS Cinemas is the go-to destination. They have a range of enticing deals tailored specifically for students, catering to diverse interests, preferences, and budgets.

To unlock the student discount offer, you must create an account with Student Edge. As a Student Edge member, you'll gain access to exclusive movie ticket discounts at HOYTS from Monday to Thursday.
Treat yourself to general session tickets for just $12.50, or elevate your movie-watching experience with HOYTS LUX tickets priced at $32.

Prepare to be captivated by the silver screen while enjoying these student-exclusive offers at HOYTS Cinemas. Whether you're a film lover or just looking for a fun night out, there's no better place to be than HOYTS.
Join Student Edge and immerse yourself in a world of cinematic wonders. Don't miss out on these incredible discounts.
31. Event Cinemas Student Discount
Experience the ultimate movie-watching adventure at Event Cinemas, where they offer a range of fantastic student deals.
If you're a member of Cinebuzz for Students, you'll receive even more exclusive student discounts. Remember to bring your valid student ID to any Event Cinema in Australia to enjoy these discounts at the Box Office.
Currently, Event Cinemas is offering $8 Student Tickets on Mondays for Cinebuzz members. Simply show your student ID at the Box Office to receive the promo code from the friendly staff. Afterward, add the promo code to your Cinebuzz account online.
Joining Cinebuzz is highly recommended as it grants you access to affordable cinema tickets, ensuring you never miss out on the big-screen experience.
32. Village Cinema Student Discount
While Village Cinemas doesn't provide direct student discounts, you can still enjoy discounted movie tickets through its rewarding loyalty program.
However, if you are an RACV member, you're in luck, as you can score standard tickets at just $10 per movie. Alternatively, consider joining their exclusive membership program, offering a fantastic 20% discount on all movie tickets.
Go to their website to explore current promotions and unlock incredible savings on your next cinema experience.

If you're searching for exciting indoor entertainment with friends, look no further than Strike! It's the ultimate destination for a memorable group outing, offering various thrilling activities such as bowling, laser tag, and even karaoke.
With over 14 locations across Australia, you'll find a Strike venue near you, brimming with endless joy and laughter.
Don't miss out on the chance to create unforgettable memories with your friends. Visit Strike's deals and promotions page today to plan an incredible night out with bowling and good times. After all, who can resist the allure of a fantastic bowling night? Get ready for an unforgettable experience at Strike!
34. Holey Moley Mini Golf Student Discount

Looking for a place that combines mini-golf, a vibrant cocktail bar, and an incredible social atmosphere?
Look no further than Holey Moley Golf Club! It's the perfect destination to blast with friends and meet new people. Check out their student discount page for all the fantastic offers for mini-golf enthusiasts.
You may need to join Student Beans to maximise the student discount. By signing up, you'll unlock exclusive benefits and enjoy even more savings at Holey Moley. So, gather your friends, grab a putter, and prepare for a memorable mini-golf adventure at Holey Moley Golf Club.
35. Apple Music Student Discount
If you're a student attending a university or college, you're in luck! Apple Music offers a special discounted monthly rate for up to 48 months, exclusively for students. But that's not all – with an Apple Music student subscription, you'll also receive Apple TV+ for a limited time, allowing you to enjoy many captivating shows and movies.

To take advantage of this incredible offer, click the provided link and follow the straightforward steps. Don't forget that you'll need a UNiDAYS account to be eligible for the student discount, so set that up as well.
With Apple Music, you can delve into a world of endless music streaming while enjoying exclusive access to Apple TV+ content. Sign up today and elevate your student experience with Apple's exceptional entertainment offerings.
Travel:
36. Flight Centre Student Discount
Are you planning your next trip? Look no further than Flight Centre for amazing discounts on selected airlines and journeys. Remember that the deals and offers vary depending on the period, so checking their website before booking any flights is essential.
You can save up to 10% off special airfares as a student from renowned airlines such as Singapore Airlines, Etihad Airways, Emirates Airways, Malaysia Airlines, United Airlines, and Delta.
Take advantage of these incredible savings, Make Flight Centre your go-to destination for affordable travel experiences.
Sport:
37. Fitness First Student Discount
Take a step towards a healthier lifestyle with Fitness First. Experience their top-notch facilities, including invigorating group training sessions, convenient extended opening hours, and a team of fitness experts ready to guide you. For an instant student discount, visit your nearest Fitness First club and present your student ID.
Please note that student concession discounts may vary depending on the club. Contact the friendly Fitness First team at your local club to get all the details about available promotions and specific discounts tailored for students.
Embrace a fitter and more active life with Fitness First, where your student journey meets fitness excellence.
General Online Retailers:
Exciting news for students in the USA! Amazon has an incredible offer specially tailored for you—a generous 6-month free trial of Amazon Prime, allowing you to enjoy all its benefits. You'll continue to receive a fantastic 50% discount on your Prime membership after your trial period ends.
Unfortunately, this specific offer is not available for students in Australia. However, rest assured that we'll inform you promptly if a similar offer becomes available.
In the meantime, you can still sign up for Prime Membership in Australia, unlocking a world of convenience and exclusive benefits that Amazon offers. Watch for updates and make the most of your Amazon experience down under!
eBay is a well-known online auction house and marketplace. They offer exclusive discount codes that allow students to save between 8% and 15% on items purchased through their platform.
To access these savings, simply register and become an eBay Plus member. It's worth mentioning that eBay was the first mover in Australia's marketplace scene, providing a convenient online shopping experience. Start browsing eBay's vast selection of products today and enjoy fantastic discounts as a student.
40. Catch.com Student Discount
Catch.com.au has gained a well-deserved reputation for its vast product range, encompassing everything from high-tech electronics to fashionable garments.
The exciting news is that now you can pocket remarkable savings of up to 15% on your purchases. But that's not all - Catch.com.au extends its offerings to include competitive student mobile plans named 'Catch Connect.'
With these pocket-friendly plans, students can stay connected without breaking the bank.
41. Specsavers Student Discount
If you're a student in need of affordable contact lenses or glasses, look no further than Specsavers. They've teamed up with Student Beans to bring exclusive offers to their student members. Whether you're searching for new contact lenses or stylish eyeglasses, you can enjoy a fantastic deal.
Save 10% on contact lenses or a whopping 25% when you select a pair from the $149 range or above, complete with single-vision lenses.
Register with Student Beans to verify your student status to unlock these fantastic student deals. Don't miss out—grab your student discounts today and see the world in style with Specsavers!
Work, Study and Productivity:
42. Microsoft Office 365 Student Discount
Here's an incredible opportunity to unlock the full power of Office 365 Education, absolutely free! By registering with your valid school email address, you can gain unlimited access to essential tools like Word, Excel, PowerPoint, OneNote, and Microsoft Teams.
That's not all - Microsoft has also included many classroom tools to support your learning journey.
Ensure your school is eligible for this offer to embark on your productivity adventure with Office 365 Education. Don't miss out on this incredible opportunity!
43. GitHub Student Developer Pack
With the student developer pack, you'll enjoy the perks of having GitHub Pro free throughout your student journey. Plus, you'll gain access to the incredible GitHub Student Developer Pack, jam-packed with valuable resources their partners offer.
If you meet the qualifications, you'll also have the opportunity to receive top-notch training as a GitHub Campus Expert. Get ready to take your coding skills to the next level with this incredible student developer pack.
When it comes to student collaboration tools, www.notion.so stands out as one of the finest options available. It provides students a complimentary Personal Pro Plan, empowering them to work together seamlessly with unlimited guests.
Register using your school email address to make the most of this offer.
45. JetBrains Student Discount
The Jet Brains license program extends its benefits to students enrolled in accredited educational institutions such as high schools, colleges, and universities.
Students must be actively enrolled in an accredited academic program that spans one or more years of full-time study to qualify.
This program grants students access to various powerful software tools and resources, empowering them to excel in their educational pursuits.

Apply now to secure your free Jet Brains license and enhance your learning journey.
Final Thoughts
Whenever you want to purchase something new, plan a trip or an evening out, browse through all the discount options available. You can sign up on popular student discount websites in Australia and save money on luxuries and essentials.
Useful Links to Explore: