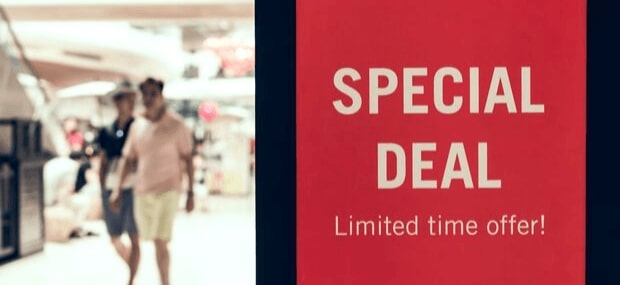 We all know that it can be really hard to manage expenses in Australia, especially when you are a student who has to purchase books, pay rent, and fulfil other living expenses. Fortunately, there are plenty of student discounts available in Australia on things like school supplies, food, clothing, activities, travel, and more.
If you sign up and get a membership with famous websites like UNiDAYS, Student Edge, and STA Travel, you can reap all the benefits and save hundreds of dollars.
Here is a list of stores that give student discounts in Australia:
Apple student discounts in Australia are very popular amongst current and newly accepted university students. They provide some great student discounts on all their products, including Macbook, iPad, iPhone, etc. Also, with a little research, you'll find many websites online that offer cheap deals on Apple products.

This telecommunication provider in Australia provides convenient Optus student deals that suits a busy student life. They offer discounts on several SIM-only plans and other SIM plans packed with data.
If you are looking for student discounts on laptops in Australia, then you should definitely check out JB Hi-Fi, which is the largest home entertainment retailer in Australia. They offer the best deals on the biggest brands such as Google, Microsoft, Samsung, Lenovo, and more.
4. THE ICONIC Student Discount
THE ICONIC is one of the most famous online clothing stores in Australia. They deliver current and stylish collection for both women and men's apparel. They also offer weekly student discounts and coupons on major brands like Nike, Topshop, Adidas, Polo, Levis, etc.
The well-known music streaming service provider, Spotify, gives students a free premium of three months. After that, they can purchase it for cheap rates and get access to several songs, videos, and podcasts of their choice.

If you want to receive a student discount on laptops, PCs, gaming devices, and accessories, then you should visit the official Microsoft store online. They enable students to become productive by offering some of the best deals.
The telecommunications and internet mobile service provider, Vodafone, has some really incredible deals on mobile phone and mobile broadband plans. All you need to do is log in to your UNiDAYS student account and enjoy their value-packed deals.

One of the best streaming services, Netflix, has a lot to offer including movies, TV shows, and documentaries. You can sign up for Netflix and get a free 30-day trial. After your trial period is over, you pay nominal prices to watch your favourite shows and movies.
9. Officeworks Student Discount

Officeworks sells a wide range of products, including school essentials, tablets, laptops, Macbooks, USB flash drive, and more. Several websites online offer student discount codes and coupons for various products on Officeworks. Also, you can visit the clearance section on their official website to get great value products.
Australian telecommunications company, Telstra, offers the best public wi-fi hotspots and mobile network services throughout the country. It also provides big data plans for students so that they can study and access the internet anywhere. Visit their website to get incredible student deals.
If you are a student at a university or college level in Australia, you easily qualify to get Dell student discounts on laptops in Australia. All you need to do is sign up for a UNiDays account and get instant dell discount vouchers.
12. Harvey Norman Student Discount

Harvey Norman is one of Australia's leading retailers that allows primary school to university level students to choose the right student devices, including laptops, computers, tablets, etc. You can visit their website to get the best student deal on devices.

If you're in the mood for an entertaining and fun cinema experience, then look no further than HOYTS Cinemas. They offer plenty of deals to students – there's something available for everyone, depending on their interest, taste, and budget.
14. Event Cinemas Student Discount

If you want to see new movies, get an ultimate experience with Event Cinemas. They offer many student deals. Plus, if you are a member of Cinebuzz for Students, you get more student discounts. All you need to do is present your student ID at the Box Office of any Event Cinemas in Australia.
15. Fitness First Student Discount

Create a healthier lifestyle by joining Fitness First. They offer world-class facilities, including group training sessions, extended opening hours, and an expert team. To get an instant student discount, visit their club and show them your student ID.

Myer is one of the largest Australian department stores. They have everything available, including men, women & kids clothing, beauty products, entertainment, homewares, toys, and a lot more. Check out their website to get the best deals.
17. Universal Traveller Student Flights Discount

If you are a full-time student in Australia who loves travelling, you can get exclusive student flights deals at Universal Traveller. They provide the cheapest airfares to some of the most popular overseas destinations like Bali, Singapore, Kuala Lumpur, and more.
ASOS is a popular fashion brand that provides you with the latest fashion trends. Visit their online store and fill out a form to obtain discount codes and great student discounts.
The world's largest pizza chain, Domino's in Australia, provides the best deals on a variety of pizzas. You can visit their online or physical store to get exclusive discounts. You can also log in to your UNiDAYS or Student Edge account to obtain the latest promo codes or coupons for Domino's Pizza Australia.
This computers and electronics company provides instant access to student discounts on a wide range of student devices such as tablets, laptops, computers, etc. To get incredible student discounts, you need to register on their official website using your student ID or your email id.
If you are looking for amazing deals on laptops, desktops, tablets, and other accessories, then look no further than Lenovo. They give ample student discounts on laptops in Australia. Visit their online store today and get the best deals on your favourite gadgets.
If you are a current or newly accepted student in a university, you can go to the Samsung education store online and sign up for their account using a valid email address. Once you signed up, you'll be eligible to receive educational discounts and several offers on tablets, mobile phones, monitors, etc.
23. Cotton: On Student Discount
This well-known global retailer of clothing, stationery, and accessories provides great student deals and offers on all their products. You can obtain the best Cotton: On student discount by registering with UNiDAYS.

If you want to discover and get the best offers on makeup, skincare, and hair products, then Sephora has got you covered. This globally renowned brand has top-notch beauty products. You can get an instant special student discount on Sephora cosmetics by creating an account with UNiDAYS.
Final Thoughts
Every time you want to purchase something new, plan a trip or an evening out, browse through all the discount options available. You can sign up on popular student discount websites in Australia and save a lot of money on both luxuries and essentials.
Useful Links to Explore:
Don't forget to share this post!