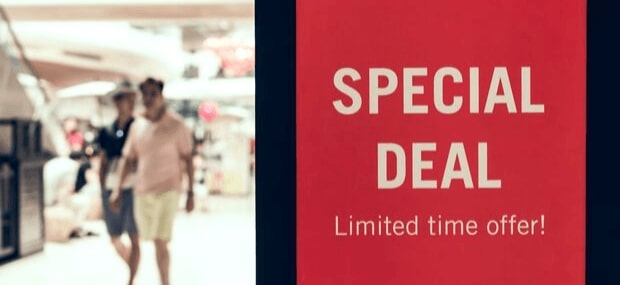 We all know that it can be tough to manage expenses in Australia, especially when you are a student who has to purchase books, pay rent, and fulfil other living expenses. Fortunately, there are plenty of student discounts available in Australia on things like school supplies, food, clothing, activities, travel, and more.
When you sign up and get a membership with famous websites like UNiDAYS, Student Edge, and STA Travel, you can reap all the benefits and save hundreds of dollars.
Another great way of saving money is to earn. Many students in Australia work for Uber Eats to deliver food to people to make money while studying. They use bicycles, scooters and cars for that.
If you want to earn money while studying in Australia, you can create an Uber Eats Driver Account HERE.
Here is a list of stores that give student discounts in Australia:
Apple student discounts in Australia are prevalent amongst current and newly accepted university students. They provide great student discounts on all their products, including Macbooks, iPad, iPhones, etc. Also, with a bit of research, you'll find many websites online that offer cheap deals on Apple products.


This telecommunication provider in Australia provides convenient Optus student deals that suit a busy student life. They offer discounts on several SIM-only and other SIM plans packed with data.
If you are looking for student discounts on laptops in Australia, you should check out JB Hi-Fi, the largest home entertainment retailer in Australia. They offer the best deals on the biggest brands, such as Google, Microsoft, Samsung, and Lenovo.
4. THE ICONIC Student Discount
THE ICONIC is one of the most famous online clothing stores in Australia. They deliver a current and stylish collection of women's and men's apparel. They also offer weekly student discounts and coupons on major brands like Nike, Topshop, Adidas, Polo, Levis, etc.
The well-known music streaming service provider, Spotify, gives students a free premium of three months. After that, they can purchase it for cheap rates and get access to several songs, videos, and podcasts of their choice.

You should visit the official Microsoft store online to receive a student discount on laptops, PCs, gaming devices, and accessories. They enable students to become productive by offering some of the best deals.
The telecommunications and internet mobile service provider, Vodafone, has some incredible deals on mobile phone and mobile broadband plans. All you need to do is log in to your UNiDAYS student account and enjoy their value-packed deals.

One of the best streaming services, Netflix, has a lot to offer including movies, TV shows, and documentaries. You can sign up for Netflix and get a free 30-day trial. After your trial period, you pay nominal prices to watch your favourite shows and movies.
9. Officeworks Student Discount

Officeworks sells many products, including school essentials, tablets, laptops, Macbooks, USB flash drives, and more. Several websites online offer student discount codes and coupons for various products on Officeworks. Also, you can visit the clearance section on their official website to get great-value products.
Australian telecommunications company, Telstra, offers the best public wi-fi hotspots and mobile network services throughout the country. It also provides extensive data plans for students to study and access the internet anywhere. Visit their website to get incredible student deals.
If you are a student at a university or college level in Australia, you quickly qualify to get Dell student discounts on laptops in Australia. All you need to do is sign up for a UNiDays account and get instant dell discount vouchers.
12. Harvey Norman Student Discount

Harvey Norman is one of Australia's leading retailers that allows a primary school to university-level students to choose suitable student devices, including laptops, computers, tablets, etc. You can visit their website to get the best student deal on devices.

If you're in the mood for an entertaining cinema experience, look no further than HOYTS Cinemas. They offer plenty of deals to students – there's something available for everyone, depending on their interests, taste, and budget.
14. Event Cinemas Student Discount

If you want to see new movies, get the ultimate experience with Event Cinemas. They offer many student deals. Plus, if you are a member of Cinebuzz for Students, you get more student discounts. You must present your student ID at the Box Office of any Event Cinema in Australia.
15. Fitness First Student Discount

Create a healthier lifestyle by joining Fitness First. They offer world-class facilities, including group training sessions, extended opening hours, and an expert team. For an instant student discount, visit their club and show them your student ID.

Myer is one of the largest Australian department stores. They have everything available, including men, women & kids' clothing, beauty products, entertainment, homewares, toys, and much more. Check out their website to get the best deals.
ASOS is a famous fashion brand that provides you with the latest trends. Visit their online store and fill out a form to obtain discount codes and great student discounts.
The world's largest pizza chain, Domino's in Australia, provides the best deals on various pizzas. You can visit their online or physical store to get exclusive discounts. You can also log in to your UNiDAYS or Student Edge account to obtain the latest promo codes or coupons for Domino's Pizza Australia.
This computers and electronics company provides instant access to student discounts on a wide range of student devices such as tablets, laptops, computers, etc. To get incredible student discounts, you must register on their official website using your student ID or email id.
If you are looking for amazing deals on laptops, desktops, tablets, and other accessories, look no further than Lenovo. They give generous student discounts on laptops in Australia. Visit their online store today and get the best deals on your favourite gadgets.
Suppose you are a current or newly accepted student in a university. In that case, you can go to the Samsung education store online and sign up for your account using a valid email address. Once you sign up, you'll be eligible to receive educational discounts and offers on tablets, mobile phones, monitors, etc.
22. Cotton: On Student Discount
This well-known global clothing, stationery, and accessories retailer provides excellent student deals and offers on all their products. You can obtain the best Cotton: On student discount by registering with UNiDAYS.

Sephora covers you if you want to discover and get the best offers on makeup, skincare, and hair products. This globally renowned brand has top-notch beauty products. You can get an instant special student discount on Sephora cosmetics by creating an account with UNiDAYS.

Amazon has a great student offer in the USA that includes a 6-month Amazon Prime free trial and a further 50% off after the trial ends. However, this discount is not available for students in Australia. You can sign up for Prime Membership in Australia here.
eBay is a famous online auction house and marketplace. It offers exclusive discount codes for students, where you can save 8% to 15% off the items purchased on its platform.
26. Catch.com Student Discount
catch.com.au is one of the largest online retailers in Australia, selling everything from electronics goods to clothing, and you can now save up to 15%.
Huawei provides the latest laptops, smartphones, wearables, and accessories at high quality. The company sometimes offers student discounts. You can check here.

Boohoo is a famous female fashion retailer focusing on youth fashion and accessories. You can get up to 50% off clothes depending on active promotions. Terms and conditions apply. Check the offer here.
29. Valleygirl Student Discount
Valleygirl offers the latest trends, fashion, and looks, which you can see on catwalks in numerous fashion magazines for girls and women. Save up to 10% on your orders at Valleygirl. You can get more information here.
30. Specsavers Student Discount
If you require some new contact lenses or glasses, then Specsavers has you covered. Get 10% off on contact lenses when you join Student Beans. You can find the student discount section here.
yd. offers stylish and affordable men's clothing. This retail giant covers you if you are after casual wear or formal clothes for work. Receive a 10% student discount when shopping at YD. You must be a Student Beans member to receive this discount.
32. Village Cinema Student Discount

Village Cinemas doesn't offer student discounts directly, but you can get cheaper movie tickets via their rewards program.
However, if you are an RACV member, you can get cheaper standard tickets starting at $10 per movie.
Are you looking for some indoor fun with friends? Strike is the perfect place to have fun with a group of buddies. It offers various fun activities from bowling to laser tag and karaoke – there's no lack of joy at Strike's, with over 14 venues across Australia.
34. Holey Moley Mini Golf Student Discount

Holey Moley Golf Club is a mini-golf course, cocktail bar and an excellent all-hub rolled into one brilliant venue. It is great for having fun with friends and also meeting new people. You can find all mini gold students' offers here.
35. Flight Centre Student Discount

Get a discount on selected airlines and journeys with Flight Centre. The deals and offers vary depending on the period. You should always check here before booking any flights.
36. Apple Music Student Discount
Students enrolled in universities and colleges can join Apple Music at a lower monthly rate for up to 48 months. You also get Apple TV+ for a limited time if you have an Apple Music student subscription.
Grill'd, famous for its fantastic-tasting burgers and other delicious food, offers a free drink for students from Monday to Wednesday. However, you must join their reward program for this. For more information, visit their website here.
38. Betty's Burgers Student Discount

It is one of the most popular burger chains in Australia. To take advantage of the special offers and deals, download the Betty's Burgers app. It will notify you when there are some discounts or complementary offers.
39. Mc Donalds Student Discount

You can find the best student discounts in the McDonald's app. The app lists all special offers and promotions daily and weekly. Sometimes, it shows a discount code that can be used to get a complimentary burger or other discounts.

Famous for its delicious-tasting chicken, KCF offers various discounts through their app. We recommend checking the app for discount codes and offers that may get you some free food.
41. Guzman Gomez Student Discount
The best Mexican food out there, this popular fast-food chain offers burritos, nachos, Tacos and other yummy food. From time to time, they offer special promotions where you might get one burrito for free if you buy one. We advise downloading their app to be informed about their latest specials.
42. Microsoft Office 365 Student Discount

Students can register to get Office 365 Education free and unlimited access to Word, Excel, PowerPoint, OneNote, and Microsoft Teams, including various classroom tools. You must use your valid school email address to be eligible here. (Your school must be suitable for this offer).
43. GitHub Student Developer Pack
This student developer pack gives you GitHub Pro free while you are a student, including access to the valuable GitHub Student Developer Pack offered by partners. It also provides GitHub Campus Expert training for qualified applicants.

It is one of the best collaboration tools out there. Notion offers a gratis Personal Pro Plan for students and lets you cooperate with unlimited guests. Reogster with your school email address here.
45. JetBrains Student Discount

Students from accredited educational institutions (high schools, colleges, and universities) can apply for the free license program. Students should be enrolled in an accredited academic program that takes one or more years of full-time study.
Final Thoughts
Whenever you want to purchase something new, plan a trip or an evening out, browse through all the discount options available. You can sign up on popular student discount websites in Australia and save money on luxuries and essentials.
Useful Links to Explore: