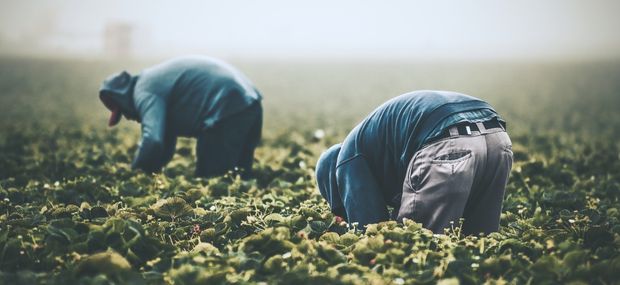 Whether you are a school pass-out, finding a working holiday opportunity, or planning a gap year, fruit picking can be a great way to earn cash to fund your trip around Australia.
The country has different weather conditions and landscapes, so you will find many possibilities for Fruit and Vegetable picking year-round!
This extensive guide discusses the fruit and vegetable picking profession, the best fruit-picking times and spots in Australia, how much they earn, pay rates, and the visa application process to help you start your adventure with a fruit-picking job in Australia.
1. What Is A Fruit And Vegetable Picker?
Fruit and vegetable pickers harvest fruit, vegetables, berries, and nuts at farms, orchards, and market gardens, including preparing and producing them for distribution. Fruit picking is the most crucial step in the fruit production process.
2. Fruit And Vegetable Picker Job Description
The term "Fruit Picking" isn't just limited to picking. It comprises many jobs/tasks ranging from planting to packing fruits and vegetables.
The following are the tasks that fruit and vegetable pickers may perform daily:
Picking
This task is carried out at the end of the harvest period. It involves:
Choose Fruit and vegetables for picking based on their size and ripeness

Remove damaged, rotten and over-ripened produce

Picking fruits and vegetables from trees or the ground under variable conditions.
Packing
It is a highly monotonous activity carried out in a noisy factory setting. It requires sorting and packaging fruits and vegetables while standing or sitting based on the fruits and vegetables.
Pruning
This activity occurs after the harvest (in late fall or winter) and before the next harvest. As a part of this activity, you will cut the branches of trees so that the tree grows best.
Thinning
This time-consuming activity involves unloading the trees before the onset of the harvest season. A fruit and vegetable picker removes the smallest fruits to allow other fruits to grow.
Planting
This activity depends on the type of fruits or vegetables you want to plant. Though it is a manual activity, it may require operating farm machinery like a shovel and pickaxe to plant young trees and tractors to plant larger trees.
The seed planting process can happen either in a shed or in the fields.
Weeding
In this job, the fruit and vegetable picker weed fields or vegetable gardens by hand or spade. Depending on the region, the task involves working under the sun, in difficult working conditions, amidst several flies, and walking long distances.
Distribution
In this activity, Fruit and vegetable pickers will:
Load picked Fruit and vegetables into containers

Drive forklifts to load fruits and vegetable containers onto trucks

Drive tractors or other vehicles to deliver products to the packing shed

Sort and pack produce
3. What Skills Do Fruit Pickers Need?
If you like the role, these are the skills needed to work in this profession:
Interest in picking fruits and vegetables

Enjoy practical work

A gentle touch

Physical fitness

Able to work at heights

Able to work in a physically demanding job

Not allergic to agricultural chemicals

Able to work fast and consistently for long periods

Comfortable working outdoors in all weather conditions

Willing to travel from one property to another for fruit and vegetable picking

Able to undertake manual and occasionally heavy work

Reliable

Motivated

Able to understand and take instructions
4. Qualifications For Fruit And Vegetable Pickers
You don't need a formal education to become a fruit and vegetable picker. However, you should be able to work in a highly labour-intensive job due to unpredictable and extreme weather patterns in Australia.
Before applying for the job, ensure you have the skills to pick, wrap, trim bushes and trees, and harvest using effective techniques.
5. How To Find The Best Time For Fruit And Vegetable Picking In Australia?
Fruit and vegetable picker jobs in Australia vary by region, but finding work at any time of the year is comparatively easy.
Being a harvest-based job, you should check the harvest calendar according to the regions to arrive during the harvesting season, pick different farms that suit your interest, and land a job fast.
Of all other seasons, summer is a perfect time to harvest fruits and vegetables and find many farm job opportunities.
Region-wise harvesting period for Fruit Picking in Australia:
New South Wales
Best Season: November to April

Main Produce: Persimmons, orchard fruits, onions, asparagus, cotton, apples, cherries, oranges, and blueberries.

Work Location (including Farms and Orchards): Glenbernie Orchard, Darkes Forest, Benning Blueberries, Woolgoolga
Victoria
Best Season - November to April

Main Produce – Orchard fruits, tomatoes, grapes, raspberries, cherries, strawberries, and soft fruits

Work Location (including Farms and Orchards): Near the Murray River and Shepparton, Blue Hills, Mildura Hill, Cherry Hill Orchards, and Swan Hill
Queensland
Best Season - December to March

Main Produce – Orchard fruits, mangoes, sugar cane, bananas, and grapes

Work Location (including Farms and Orchards): Warwick, Central Coast of Queensland near Bowen, central Southern coast around Bundaberg and Childers
Tasmania
Best Season - October to May

Main Produce – Orchard, apples, Soft fruits, grapes

Work Location (including Farms and Orchards): Reid Fruits, Warwick, Central Coast of Queensland near Bowen, central Southern coast around Bundaberg and Childers
South Australia
Best Season - February to April

Main Produce – Citrus, grapes, strawberries, and soft fruits

Work Location (including Farms and Orchards): Around the Barossa Valley, and the Riverland area, Beerenberg Farm, and Hahndorf
Western Australia
Best Season – May to October

Main Produce – Grapes, orchard fruits, apples, pears, rockmelons, and mangoes

Location for a fruit-picking job in Australia with accommodation? The farms in Western Australia, such as Bothkamp Australia Farm, Kununurra, Berry Sweet farm, and Bullsbrook, offer Caravan accommodation, so you don't need to worry about lodging while learning about sustainable melon harvesting.
Northern Territory
Best Season – May to October

Main Produce – Bananas, Mango, and Melons

Work Location (including Farms and Orchards): Darwin and Katherine
Queensland
Best Season: June to November

Main Produce: Strawberries, pears, bananas, melons

Work Location (including Farms and Orchards): SSS Strawberries, Oakwood, Pinata Farms, Stanthorpe
6. How To Find A Fruit Picking Job In Australia?
Now that you know what you need to pursue a fruit-picking job in Australia, let's find out where you can find one.
Start by finding a harvest calendar that shows you harvesting seasons in different regions in Australia. The Australian government has launched a Harvest Trail website dedicated to fruit picking.
You can download a free guide that lists the different types of fruit/vegetables to be harvested depending on the season and region. A new edition is available annually with updates on the seasons and harvests.
Step 1: Join a reliable job board to find suitable job openings such as AgriLabour, Jora, Seek, etc. When choosing an employer, ensure it is accredited and verified via a registered recruitment provider. Check their social media reviews to assess their credibility and ensure safety before working with them.
Step 4: Read local newspapers and billboards in hotels, pubs, or supermarkets, as some advertise their vacancies through this channel.
Step 5: Contact Specialised agencies or independent recruiters (contractors). It is beneficial in remote areas where there are few temporary employment agencies. Some popular agencies include Madec, Skill Hire, Jobaroo, Harvesttrail, Workstay, and Recruitflex.
Step 6: Go to farms and visit farmers in person. Door-to-door is an effective solution to finding a farm job where you may also get a reference to another farm requiring farmworkers. Choose this mode of contact only when you have your vehicle; otherwise, it may take time and incur fuel consumption costs.
Step 7: Visit backpackers and working hostels (in agricultural areas) to find work on farms. You can find a few around Bundaberg, Mildura, and Shepparton. They can help you connect with local employers.
7. Where Do Pickers Work?
Pickers work in diverse environments, including small family farms, orchards, and large-scale, high-tech farms.
8. Working Conditions For Fruit And Vegetable Pickers
Fruit and vegetable pickers work in rural and isolated regions while working on the farm under difficult weather conditions.
Often pickers prepare their food themselves. Shopping is rare and usually limited to a supermarket or a small supermarket in remote areas.
Due to no public transport, you must arrange transportation if your campsite is just a few kilometres away from the farm. Some farms may offer free or paid shuttles to transport employees from their accommodation to the farm.
9. How Much Is The Salary Of A Fruit Picker?
Fruit picking in Australia's salary varies based on the employer and the employment contract. The more complex the job, the greater the compensation should be. For example, wages are usually higher for picking larger fruits.
Fruit and vegetable pickers are paid hourly, weekly, or performance basis (basket, tree, tray, etc.) via cash, bank transfer, or check.
In the case of performance-based salary, seasonal workers earn based on the per-piece rate. The more fruits/vegetables they pick, the more they will make.
Their earnings are proportional to the number of buckets/bins you fill. Their average salary varies between $60 and 80/container based on the Fruit they pick.
According to the government's decision, from April 28, 2022, pieceworkers will get an assured minimum hourly wage. It is set out in collective agreements (awards). The minimum hourly wage for full-time and part-time harvest work (under Horticulture Award) is at least $21.38 an hour.
Casuals will be paid more than permanent employees (15 to 25% based on the collective agreement), i.e., around $29 per hour. The provision of minimum wage helps prevent abuse by some farmers.
As the government regularly reviews the pay rates, you should check the FairWork website to find minimum fruit picking in Australia pay rates.
Besides the type of employment contract, the minimum wage also depends on the worker's age and work hours. A 16-year-old worker earns less than a 20-year-old worker for the same job. Also, workers who work at night (usually after 6 p.m.) or on public holidays earn a higher hourly rate.
10. Frequently Asked Questions (FAQs)
Is There a Minimum Age Limit To Pick Fruit?
Overseas individuals who wish to work as fruit and vegetable pickers in Australia must hold a working holiday visa.
Additionally, they must have a valid passport from their country and not come along with a dependent. The age bracket to apply for this visa is between 18 to 30 years.
What Is The Easiest Fruit To Pick In Australia?
Fruits at your eye level, not very fragile, that you can pick without bending or stretching, and don't require support like a ladder are the easiest.
Cherries are the best example of the easiest fruits to pick in Australia. You can quickly pick them up without much physical effort.
Are Fruit Pickers Needed In Australia?
The fertile land and suitable climate conditions make Australia one of the world's freshest fruit produce. Apples, bananas, melons, and different varieties of berries are grown in massive amounts each year.
Being a seasonal job, Agri Labour Australia requires skilled fruit pickers throughout Australia to pick, sort, and pack fruits, clean the plantations, prune the trees, and plant new trees for the next harvest year.
It is the perfect opportunity for backpackers and travellers for the short or medium duration to experience countryside Australia while earning money.
How Many Hours Do Fruit Pickers Work?
The average working hours for a fruit picker ranges from 5 to 6 hours a day and a minimum average of 30 hours per week. However, your employer often demands high productivity when the harvest is ready. So, you may need to work 6 or 7 days a week and over 30 hours a week.
What Are The Typical Fruit Picker Jobs in Australia For Foreigners?
Job portals like SEEK regularly post fruit picker job vacancies on their sites. Listed below are the typical fruit picker roles in Australia:
Fruit and Vegetable Picker/packer (Fresh Produce)

Process Worker

Warehouse Picker and Packer

Harvest Workers -Vegetable Farm Work

Casual/Permanent Cellar Hand

Orchard Farm Hand/Caretaker

Packing Workers (Horticulture)

Orchard Supervisor (Harvest Team) and Assistants

Cropping Operations Farm Hand / Machinery operators (harvest machinery, forklifts, water trucks)

Production Horticulture: Fieldwork and Picking Manager

Irrigator (small crops)

Packing & Harvest Manager

Packing Shed Floor Manager

Picking Leading Hand

QA Staff
What Do Fruit Pickers Wear?
Appropriate clothing is required for a fruit and vegetable picker to cover his neck, forehead, and face from insects, sunburn, and tree scratches. Adequate protection helps ensure productivity and safety while on the job.
Some of the must-have clothing and accessories for harvest work include:
Rubber boots

Gloves

Pants

A long-sleeved T-shirt

A hat

A raincoat

A fly protection net

Sunglasses

Water bottles

Sunscreen
Is Fruit Picking Good Money?
Fruit picking is an excellent means to earn cash to help fund your travels around Australia. You will make a decent salary (the National Minimum Wage for harvest work) of approx. AUD21.38 per hour.
Although fruit picking isn't a well-paid career, getting paid based on performance (picking larger fruits, engaging in complex jobs, and the number of bins you fill) can be more lucrative than average remuneration.
Is It Hard To Be A Fruit Picker?
Fruit picking involves strenuous work positions that put your physical condition to the test. The work is often monotonous and can be exhausting.
The level of skill and effort you will need depends on the type of Fruit and Vegetable you pick. Picking heavy fruits from the ground can hurt your back while bending. Other fruits that are on height may require mechanical hoists or ladders to grab them.
Additionally, the job exposes you to hot, humid, dusty, or rainy weather conditions. You must wear proper clothes and accessories to protect them from thorny branches, flies, and insects. Moreover, as this is a seasonal job, workers may need to work overtime to complete the harvesting work on time.
Pickers may require travelling long distances after picking fruits to get to their next job. Though some employers offer accommodation facilities, many workers have to find their own.
However, the good side of the job is that the work is accessible to everyone and doesn't require good English, Computer literacy, or an athletic body to pursue the role.
If you have good general physical condition and knowledge and a passion for fruit picking, then getting paid for the amount of Fruit you pick while travelling the country can be an excellent option to consider.
Do I Need an Accommodation To Get A Fruit-Picking Job?
It is unnecessary to have accommodation as some farms provide their employees with caravans, rooms, tents, cooking facilities, and household appliances. However, having your vehicle and accommodation may make it easier to find a job.
Suppose your employer doesn't provide you with accommodation. In that case, stay in caravan parks, working hostels and backpacker hotels on rent, nearby, or in the van. Also, check with your employer if he allows you to stay on the farm.
How Do I Get A Fruit-Picking Visa For Australia?
You need an Australian Working Holiday Visa to do Fruit picking in Australia, as a standard tourist visa will prohibit you from earning a salary.

Visa Application Requirements For Fruit Picking Jobs In Australia:
The First Working Holiday Visa (subclass 417) allows people to engage in short-term work in Australia to fund their trips. You can stay on this visa for a maximum of 12 months.
However, to get one, you must meet the following requirements:
Have a valid passport

Between 18 to 30 years old

Have around AUD 5,000 for your initial stay and the fare to travel to another destination after leaving Australia.

Not be accompanied by dependents.

Haven't entered Australia on subclass 462 or 417 visa before
The cost to apply for a Tier 5 Temporary Worker Visa is AUD 495. The time taken to process the application varies between 3 to 7 months.
11. Conclusion
The simplicity of the Fruit picking job makes it an attractive option for many young people travelling to Australia with a Working Holiday Visa. Though the farm work could be strenuous gives you a real human experience.
You get to meet hardworking and friendly locals and travellers, which makes it a unique experience! If you are good at picking fruits, fond of countryside life, and willing to work in a physical hands-on role, you can try to find out how well it suits you.
Useful Links to Explore: