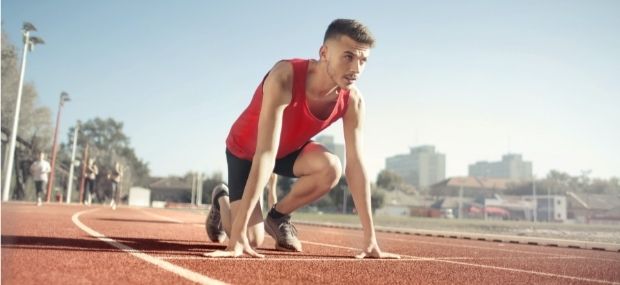 Do you have a passion for sports and an outstanding athletic ability? If yes, A career as a professional athlete might be ideal for you.
Athletes are ambitious, inspired, and competitive individuals. They compete in team and individual sports at regional, national, or international levels.
You don't need any specific education to become an athlete in Australia. However, earning sports certification and training programs like the Athletics Australia Education and Elite Athletic Program can help you learn foundational skills to start your professional journey.
From the general description of athletes to their duties, skills, specialisations, and salaries, you will learn all about getting started as a professional athlete in Australia.
1. Who Is An Athlete?
An athlete is a person who competes in one or multiple sports that require physical strength, endurance, or speed. They are identified based on the professional sport that they play. Athletes are accomplishing and upholding a high skill level in their sport.
They participate in team sports, such as football, baseball, hockey, soccer, cricket, and softball, or individual sports, such as golf, running, swimming, boxing, skiing, and tennis. They may compete on regional, national, or international levels.
Other than competing in sports, they may also represent a team or a professional sports club, or involve in activities, organised by fundraisers or sports clinics.
Whether professionals or amateurs, athletes have robust physiques that they develop through extensive physical training and a strict dietary regimen.
2. What Does An Athlete Do?
Being an athlete requires performing a lot more than competing in sports championships. They spend several hours daily practising skills and enhancing teamwork under the supervision of a sports coach.
If you dream about becoming an athlete or professional sportsperson, you must understand the general duties and tasks:
Understand the game strategies.

Attend regular practice sessions and undertake private training to maintain the required standard of fitness.

Compete in local/national/international individual or team sports events while abiding by the rules of the sport/game.

Coach individuals or groups of sportspeople and budding athletes by teaching techniques and overseeing the practice.

Attend regular practice and private training sessions to maintain the required fitness level.

Consult with coaches to discuss and decide on strategies

Engage in extensive practice to achieve excellence in their sport

Participate in sports promotional activities and TV appearances.

Attend scheduled practices and training sessions to develop their skills.

Compete in their sport while adhering to the rules of the sport.

Work regularly with strength trainers to build muscle mass and stamina.

Build, maintain, and enhance form, skill, and peak physical condition by regular training, exercising and following specific diets throughout the year.

Take directions regarding strategy and techniques from coaches, sporting staff, and teammates.

View video recordings post-completion of the event to evaluate the team or individual performances. This helps them identify the weaknesses and strengths of their opponents to gain a competitive advantage.
3. Required Skills For An Athlete
Here are the primary strengths that you must have or cultivate to become a successful athlete:
Superior athletic talent

Extensive knowledge of a chosen sport

Good physical stamina and strength

Dedication

High level of endurance

Good communication abilities for promotional work

Willingness to travel

Focused mind

Good decision-making skills

Knowledge of the rules and regulations of the sport

Better eye-hand coordination

Team playing skills

Self-motivated

An unwavering passion for Sports

Determination

Work well under pressure and challenging conditions

Fighting spirit

Thick skin and unaffected by public criticism

Confidence

Commitment to continual strength building

Consistency

Constant learner

High Pain Tolerance

Strong mind

Emotional Control

Energetic

Ambitious
4. Qualifications For An Athlete In Australia
There are no formal education requirements to work as an athlete in Australia. However, the intense competition in the sports industry makes it necessary to develop expertise in the chosen sport.
Many states require athletes to undergo professional sports training courses and certification programs to qualify for this role.
Take sports training courses such as Athletics Australia Education Scheme (Australian Sports Commission), Elite Athlete Program (Victoria University), and Elite Student-Athlete Pathway (UniSport Australia). They cover various sports to help students make a high-performance-sporting career in their chosen field.
5. Steps To Become An Athlete In Australia
Follow these steps to pursue an athletic career in Australian sports:
Step 1: Participate In Sporting Events
Do you want to know how to become an athlete in your 20s? You should start participating in sports in high school, college-level, club teams, sports camps, and undertaking traineeships at sporting organisations. They are great ways to develop and refine sports skills.
Step 2: Attend Specialist Sports High Schools
Sportspeople who are at school can consider attending a specialist sports high school. They offer a combination of specialist sports coaching, traditional school subjects and competition in a broad array of sports.
Specialist sports high schools provide specialised training facilities to help students achieve sporting and academic excellence. Their flexible educational programs support students in their training and competition commitments.
Top sports specialist high schools in Australia are:
Endeavour Sports High School

Illawarra Sports High School

Hunter Sports High School

Narrabeen Sports High School

Matraville Sports High School

The Hills Sports High School

Westfields Sports High School
Step 3: Undertake Sports Training Certifications And Courses
It takes several years of experience and continued practice to become an athlete. To know how to become an athlete, you must focus on getting the requisite training in your preferred sport. Training courses provide in-depth learning of the rules and essential skills of the sport.
To become an elite athlete, you must undergo consistent training for a long time. The objective is to build stamina and strength and avoid exhaustion and deterioration with age.
Elite athletes must train hard to strengthen their overall body, specifically the back, forearms, glutes, hamstrings, and core. They should prepare mentally for challenging training to perform at the highest level for several years.
Here are a few official resources on Australian Sports for reference:
Step 4: Find A Coach
An experienced mentor and sports coach can help you reach an elite level. By taking one-on-one private lessons or group sessions, you will learn the intricacies of the sport and develop expertise. The feeling you derive by becoming the best in the sport you love is great.
Step 5: Look For Jobs
With the required qualifications and practical experience, you are ready to seek work as a professional athlete. The Australian Institute of Sports supports elite athletes in Australia in making lifetime careers and academic decisions during and off the sport.
The Australian Institute Of Sports Jobs and Career Practitioner Referral Network program helps students access career information, seek advice and build professional networks.
6. Athlete Relevant Courses In Australia
The combination of sports and higher education leads to better opportunities. The Elite Athlete Education Network supports elite athletes of Australia to obtain educational excellence and pursue a sporting career at a time.
EAEN comprises 41 Australian universities providing academic assistance and flexibility to recognised elite student-athletes who perform nationally and globally.
Athletics Australia Education Scheme
Athletics Australia and Coles Little Athletics Australia have designed the education program: "The Australian Athletics Officials' Education Scheme".
It intends to provide a transparent learning framework for Australian Athletics Officials to become experts at athletic competitions. The Australian Sports Commission endorses the scheme and delivers it through a combination mode (online and face-to-face sessions) at the following three levels:
AAOES Level 1 for Centre/Club/School Official

AAOES Level 2 for State-Level Official

AAOES Level 3 for National Level Official
Click here for more information about the scheme, eligibility, and application mode.
Open Universities Education Program
It offers university partners' degree qualifications to help athletes accomplish their sporting aspirations in various sports, including tennis, football, athletics, diving, and much more.
Being a member of the Elite Athlete Education Network, OUA aims to deliver athlete-friendly and flexible study options for aspiring athletes all over Australia.
Students can study online distance degree courses through OUA as a whole or a few subjects based on their requirements.
UniSport's Elite Student-Athlete Pathway Program
UniSport has so far assisted approx. 5000 elite and evolving student-athletes. This organisation has a faculty of over 60 learned university staff and a repository of best practice resources.
Their Elite Student-Athlete Pathway identifies, supervises, and supports elite athletes and staff through academic support, personal development, and sports performance assistance.
Victoria University's Elite Athlete Program
Do you want to know how to be an athlete at the Olympics?
Victoria University is the only Australian university that offers the maximum number of sport-related courses in all areas of sport, active living, and exercise science.
Their elite athlete program assists students in becoming more successful in and out of the sporting arena. It offers course flexibility and special study arrangements to enable student-athletes to complete their studies while training and competing as Elite athletes.
They also provide financial support of $68 million to all eligible elite student-athletes. Other benefits include:
Free access to fitness centres to help students balance sport and study.

Complimentary access to health clinics

Travel grants for major global-level competitions.

Subsidy to represent Victoria University at UniSport Nationals.

Elite, Emerging Elite, And Aspiring Elite Sport Scholarships
Most of their student-athletes have successfully competed in prestigious sporting championships such as the Olympics, World University Games, the Commonwealth Games, and national-level sports leagues.
Click here for more information.
7. Scholarship Programs For Athletes In Australia
AIS Education Scholarship Program
The AIS Athlete Education Scholarship program is to support Australian Elite athletes with their academic costs.

Through their Athlete Education Scholarship Program, they offer financial aid of $200,000 to athletes in all categories.

The total amount that an individual can receive is capped at $5,000. Click here to find out more about the scholarship criteria and program features.
Sports AUS Scholarship Program
In association with the Australian Sports Commission, National Sporting Organisations offer scholarships to facilitate elite sportspeople to live and train in Canberra.
The Australian Sports Commission and Sport Australia are responsible for driving greater participation in sports and supporting activities for the growth of the sports industry.
They offer a broad range of sports programs in different sports, including the ones related to athletes with disabilities.
The Local Sporting Champions Program Offers Financial Support To:
12 to 18 years old

Coaches, competitors, and officials

Participating in regional, national or global championships
The Compensation Grant program Offers Financial Assistance To:
Paralympians whose Disability Support Pension payments are affected by travelling abroad for competitions /training and

Surpasses the 28 days travel allowance in a financial year.
Click here for more information about grants and funding.
8. Work Environment for Athletes
Public appearances, dietary restrictions, regular exercise schedules, rigorous physical training, and continued learning are essential aspects of the life of a professional athlete. More than 50% of professional athletes work in the sports industry.
They train throughout the year, practising skills and enhancing teamwork with the guidance of sports instructors, coaches, and athletic trainers.
When playing outdoor competitions, it is common for athletes to get exposed to harsh weather conditions, mental and physical stress, and the possibility of injuries, especially in contact sports.
Furthermore, an athlete may also require travelling worldwide to attend sporting events, including road and overseas air travel.
Being an athlete is not a fixed 9-to-5 office job. When preparing for a sporting event, they work more than 40 hours per week for many months, practising, training, travelling and participating in competitions.
Based on the event requirements, they may require working irregular hours, including weekends, public holidays, and evenings.
9. Employment Opportunities For An Athlete In Australia
Besides being a sportsman, an accomplished sportsperson can become a fitness instructor or media personality or run a business related to the marketing of sporting equipment and clothes.
Areas of Specialisation
Experienced sportspeople can gain specialised knowledge and skills in a specific sport, such as cricket, football, soccer, boxing, netball, basketball, rugby league, golf, swimming, tennis, etc., and improve their job prospects.
As athletes age and gain more experience, they can continue contributing to the sports industry in a few more ways.
Sports Coaches: They direct, instruct and train a sports individual or team.
Sports Commentators: They describe the technicalities, strategies, and progress of the match to the viewers during live broadcasts of sporting events.
Sports Development Officers usually work for state-level or territory-level sporting bodies, associations, or clubs. They organise sports activities to demonstrate their sports skills and advertise their sport. Some officers even visit schools to educate students on the advantages of playing a specific sport.
Several Australian training institutions, including TAFE, offer courses in related areas such as coaching, umpiring, sport development, and sports administration.
10. How Much Does An Athlete Earn In Australia?
An athlete's salary varies based on experience, position (captain, vice-captain), type and popularity of the sport, level of the championship (Indian Premier League), and more. Professional athletes generally progress in their sport and earn higher salaries by displaying outstanding performance and gaining recognition.
A professional sportsperson's primary earning source is participating in sporting events as an individual or as part of a sports team. Besides this, they also earn by endorsing products/services of brands or companies.
According to Salary Expert, the average professional athlete's salary in Australia is $68,040 or an equivalent hourly rate of $33. Besides it, they also earn an average annual bonus of $1,633.
According to Glassdoor, the average salary for an Athlete in Sydney, Australia, is $22,500.
When looking at the athlete's salary based on experience level:
Entry-level professional athlete (1-3 years of experience): $50,681.

Senior-level professional athlete (8+ years of experience): $82,712.
With the increasing focus of the Australian Sports Commission on supporting and investing in sports, the future job growth and demand of athletes look highly promising. An athlete's salary will rise by 5% to $81,201 (AUD) by 2027.
11. Conclusion
Countless people aim to follow in their sporting heroes' footsteps to become pro or elite athletes.
Being an athlete, you get the lifetime opportunity to compete and earn recognition for your country worldwide.
We hope this article has given valuable insights about the role and ways to pursue a career as an athlete in Australia.
Useful Links to Explore: