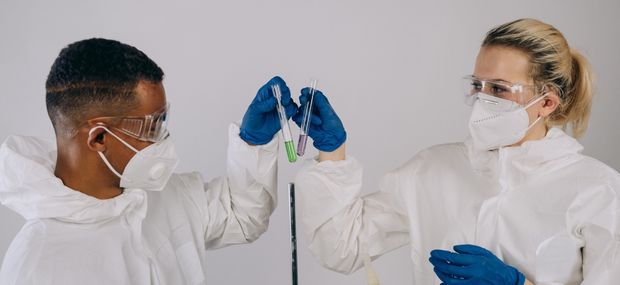 Do you like science, possess good mathematical, research, and analytical skills, and like working with chemicals? If yes, a career as a Chemical Engineer could be ideal for you.
Chemical engineers are vital to new industrial processes, plants, and equipment developments and alterations.
To become a chemical engineer in Australia, you must complete a formal qualification in Chemical Engineering, like a Bachelor of Chemical Engineering.
Follow it up with a master's degree in Chemical Engineering. Further, join professional bodies like Engineers Australia and register with National Engineering.
In this blog, you will learn the chemical engineers' work profile – duties, requisite skills, engineering jobs, career opportunities, qualifications, courses, work conditions, average salary, and pathway to becoming one.
1. What Is Chemical Engineering?
Chemical Engineering is a vast field that encompasses all stages of product manufacturing, from chemistry to economics. It is concerned with developing efficient processes to produce, use, transport, and convert raw materials and energy.
Chemical engineers in Australia work in large-scale industries such as energy generation, mineral processing and manufacturing of consumer products such as cosmetics, medicines, and food.
2. What Are Chemical Engineers?
Chemical engineers have a strong knowledge of the properties and behaviours of chemical compounds and substances.
They use it to design the best ways to transform raw matter - like oils or minerals into finished consumer goods and commercial products such as petrol, chemical plants, toothpaste, pharmaceuticals, plastics, cosmetics, and food factories.
They apply their knowledge in mathematics, chemistry, and other scientific fields to research, design, and develop technical specifications of materials to create products or examine chemical interactions.
They also oversee the construction and operation of manufacturing facilities and industrial processes to improve efficiencies and lessen production costs.
3. What Do Chemical Engineers Do?
The duties and tasks of Chemical engineers vary by sector. The key day-to-day responsibilities within chemical engineering are mentioned below:
Form specifications and plans for new production plants by considering available technology, transport methods, equipment cost and size, storage space, market demand, and disposal of substances.

Identify the best combinations and materials for specific product uses

Design chemical process systems

Ensure eco-friendly, efficient, and safe operation of industrial process facilities

Monitor and review processes and materials

Test products at varying production stages to check their quality

Plan and control processes that transform raw materials into finished products

Prepare reports and feasibility statements to present to stakeholders and clients.

Fabricate new designs to make efficient, affordable, and safe products that are in line with the company's needs

Monitor industrial conditions, operations, and material reactions

Diagnose and resolve malfunctions or faults in chemical plants or material or chemical processes

Design experiments to test the chemical process of a mixture of different components

Ensure that products adhere to legal and quality standards

Recommend safety, maintenance, and inspection procedures

Supervise the operation and upkeep of equipment to obtain maximum efficiency under safe working conditions

Study resource utilization and pollution control issues

Direct and manage the work of construction and maintenance process plant operators or tradespeople

Assess production methods based on cost efficiency, eco-friendliness, optimum product quality, and maximum output

Test and research materials in processing plants or labs

Adhere to strict safety, hygiene, and health protocols by using sanitation procedures and protective clothing

Work with process chemical engineers and control engineers to ensure the proper operation of the process plant.

Safely process gaseous and liquid chemicals while applying electrical rules.

Educate the production teams about the latest safety protocols and regulations while working with hazardous chemicals
4. What Tools And Technologies Do Chemical Engineers Use?
Chemical engineers use computers, automated machine equipment, and complex software to:
Test and measure materials and processes

Solve issues in energy, fluid mechanics, unit operations, reactor engineering, mass and heat transfer, and design and control.
Some of the popularly used Chemical Engineering software include:
Specialized computer programs to draw construction designs

Software for Mathematical Modeling - MS Excel, Matlab, and Mathworks Simulink

Process Simulation Software: Aspen HYSUS, Aspen PLUS, CHEMCAD

Computational Fluid Dynamics Software: COMSOL Multiphysics and ANSYS Fluent
5. Chemical Engineer Skills And Personal requirements
Chemical engineers use interpersonal and technical skills to perform their daily tasks. Some of them are below:
Thorough understanding of chemical components, complex materials, and industrial manufacturing

Enjoy technical work

Safety-conscious

Able to identify, evaluate and resolve issues

Good communication skills

Aptitude for design and computing

Creative

Practical

Innovation

Able to accept responsibility

Able to work autonomously

Teamwork

Mathematical and statistics skills

Attention to detail

Analytical skills

Critical thinking
6. Chemical Engineer Qualifications In Australia
To work as a Chemical Engineer in Australia, you usually need a bachelor's degree in engineering, majoring in chemical engineering, and some work experience.
Here are the steps to qualify for this role:
Complete your Australian Senior Secondary Certificate of Education or equivalent in pre-requisite subjects such as English, biology, chemistry, physics, and mathematics

Complete a university qualification in Chemical Engineering, such as a 4-year full-time Bachelor of Engineering (Honours) (Chemical)

Continue your education and specialize in a niche by completing a 2 or 3-year full-time Master's qualification such as the Master of Engineering (Chemical)

Join the Institution of Chemical Engineers and Engineers Australia to get access to industry updates, developments, and opportunities

Seek internship/ placement opportunities with established firms while studying to gain valuable industry experience. Experienced Graduates should fulfill Continuing Professional Development requirements and register with the National Engineering Register.
7. Steps To Become A Chemical Engineer In Australia
Considering the complex nature of material compounds, potentially hazardous work environment, and demanding health and safety needs, chemical engineers must undergo thorough training and education.
Here are the required steps to follow to get started in this profession:
Step 1: Complete Your Bachelor's Degree
Though there are different pathways, a graduate degree is a minimum requirement to pursue this career. Consider completing a four-year full-time bachelor's degree in Engineering with a major in chemical engineering.
The modules taught under this qualification prepare you to undertake master-level and professional certifications. However, to be eligible for a bachelor's program, you should complete your high school in chemistry, maths, and engineering.
Step 2: Complete A Postgraduate Degree
You can become a chemical engineer with a bachelor's degree, but several employers look for candidates with postgraduate degrees.
A master's degree usually takes around 2-3 years to complete full-time. It helps develop your technical skills and industry knowledge.
You can undertake a master's degree in chemical engineering or related fields such as biomedical engineering or molecular thermodynamics.
This advanced qualification is the route to specializing in a niche, getting promoted to senior roles, and earning a higher salary.
Step 3: Join Professional Institutions
Once you have an undergraduate and postgraduate degree, you may gain membership at a professional institution such as Engineers Australia and the Institution of Chemical Engineers and join the National Engineering register.
Membership in professional bodies will help you build a professional network, find new jobs, boost your CV, and demonstrate your competencies to prospective employers.
Industry bodies:
8. How To Become A Chemical Engineer With A Chemistry Degree?
Obtaining a Chemistry degree is the first step to pursuing a Chemical Engineer role. Many reputed Australian universities offer a bachelor's degree course in Chemical Engineering to train engineers to solve extreme global challenges.
Undertaking a Chemistry degree course, a student learns how to:
Apply the fundamental principles of chemistry and physics

Analyze and design plants, control systems, and processes for safety, sustainability, and productivity
Graduates from these courses can use their skills and knowledge of engineering, chemistry, mathematics, and biology to produce fuel, drugs, chemicals, and food.
Moreover, the course helps them develop necessary workplace skills in project management, finance, communication, sustainability, and entrepreneurship.
These transferable skills prove to be helpful in various careers within the chemical engineering sector.
Bachelor of Chemical Engineering (Honours) - The University of New Castle
Duration: 4 years full-time or part-time equivalent up to 10 years maximum.

Mode of delivery: Face to Face
Bachelor of Engineering (Honours)(Chemical)- The University of Adelaide
Duration: 4 years full-time or part-time equivalent.

Location: North Terrace Campus
Chemical Engineering Requirements For University:
Guaranteed Entry Score - Chemical engineering ATAR 80

Guaranteed Entry Score - IB 29

Must not have completed over 2 years of full-time equivalent university study (48 units)

Deferment Yes - 2 year

VET Study: Must have completed an AQF Certificate IV or above from an RTO
9. Where Do Chemical Engineers Work?
Chemical engineers work in various manufacturing industries related to paints, plastics, consumables, iron, steel products, fertilizers, organic industrial chemicals, petroleum refineries, and pharmaceuticals.
Opportunities are also available in government departments and companies in environmental control, mining, recycling, renewable energy, resource utilization, waste management, gas, and electricity industries.
Typical job roles for Chemical Engineers include:
Biotechnology engineer

Chemical safety manager

Nuclear engineer

Mineral processing engineer

Environmental remediation engineer

Water treatment designer
After working for some years, chemical engineers can move into other related areas, including food engineering, mineral engineering, and biotechnology.
Some government agencies also employ these professionals to examine and monitor the impact of chemical processes on air and water.
Highly experienced Chemical Engineers may work as consultants with engineering companies or on a self-employed basis. Major public-sector companies that regularly hire these professionals are:
Commonwealth Scientific and Industrial Research Organisation (CSIRO)

The Australian Nuclear Science and Technology Organisation

State authorities are concerned with water supply, gas, environmental protection, and electricity.
10. Areas Of Specializations
Chemical engineers who have accumulated several years of experience can further undertake training to gain expertise to pursue senior roles such as managers, personnel directors, or managing directors of large firms.
Following are the options available for specialization:
Bioprocess

Combustion

Process Control

Environmental

Chemical Process

Minerals

Petroleum

Petrochemicals

Project Delivery
11. Working Conditions For A Chemical Engineer
Chemical engineers usually work standard hours but occasionally work shifts on-site, during the commissioning of new manufacturing plants or work overtime to meet demanding design deadlines.
They work in diverse work settings, including engineering design companies, laboratories, factories, research institutions, and universities to conduct chemical process research or on-site at process plants.
Those involved in the design may require occasional travel to visit construction and processing plants to supervise continuous production process facilities.
Due to the hazardous work environment on-site, they must wear personal protective equipment such as hard hats, goggles, face masks, reflective and bright safety clothing, enclosed steel-capped boots, gloves, and more.
12. Job Prospects Of Chemical Engineers In Australia
Industries
Chemical Engineers are primarily employed in the following:
Electricity, Gas, Water, Waste Services

Manufacturing

Mining

Professional, Scientific, Technical Services
The profession projects moderate future demand in the coming years.
Working arrangements
Around 89% of Chemical Engineers work full-time hours.
This is 23 percentage points more than the average of all other jobs (66%). Full-time workers work an average of 44 hours per week at work.
Percentage Employment throughout Australia
Around 74% of professionals live in capital cities. Western Australia is the top state with a large share of employment compared to its population size.
Employee's profile
The average age of Chemical Engineers is 38 years, nearly the same as the average of all jobs, 40 years. Most of the workers are between 25 and 34 years.
Females constitute 20% of the workforce which is 28 percentage points below the average of all jobs of 48%.
13. How Much Is A Chemical Engineer's Salary In AUS?
A chemical engineer's salary depends on several factors such as qualifications, work experience, specialization, work location, and industry.
Chemical engineering is a well-paid profession. According to PayScale, the average chemical engineering salary is AU$71,338 per year or an hourly equivalent to AU$34.49 per hour.
Salary estimates for Chemical Engineers based on their relevant work experience:
Graduate chemical engineer salary in Australia (< 1-year experience): AU$65,232

Early career Chemical Engineer (1-4 years of experience): AU$70,219 per year

Mid-career Chemical Engineer (5-9 years of experience): AU$89,824 per year

Experienced Chemical Engineer (10-19 years of experience): AU$122,115 per year
Based on job openings, Chemical Engineers have higher earning potential in the following cities:
Joondalup, Western Australia: $111,149 per year

Pullenvale, Queensland: $97,516 per year

Brisbane, Queensland: $96,254 per year

Melbourne, Victoria: $88,755 per year

Perth, Western Australia: $88,503 per year

Clayton, Victoria: $84,381 per year

Sydney, New South Wales: $81,518 per year
14. Conclusion
Chemical Engineering is vast and diverse. From consumer goods and medicines to industrial chemicals and products, Chemical Engineers play a vital role in fulfilling our daily needs and making our life easier.
Since these professionals are in-demand across diverse industries, the future job prospects seem strong and stable in Australia.
If you are passionate about working in the chemical industry and possess good troubleshooting and analytical skills, a career in Chemical Engineering could be an exciting, lucrative, and fulfilling way to pursue your passion.
Useful Links to Explore: