Australia is a vast country blessed with an unusually high number of scenic attractions. Pink lakes are an incredible natural phenomenon that draws tourists from all around the globe.
With beautifully tinted waters, from dusky lilac to bright flamingo pink, they are spectacular sights and offer excellent holiday photo opportunities. From South Australia's outback to Western Australia's coast, this bog explores the must-see pink lakes in Australia.
1. Why Are Pink Lakes Pink?
Pink lakes have a high salt content that develops a vibrant pink tinge when interacting with pink bacteria called halobacteria and green algae called Dunaliella salina. Lakes with less water have a higher salt concentration, making them bright in colour.
The lake's colour changes throughout the day, based on the water conditions and sunlight outside, creating mesmerizing visual effects for visitors.
Most pink lakes turn pink during the warmer months of the year and are likely to revert to their typical lake colour after the summer months.
2. Top 17 Pink Lakes In Australia
Australia has a high concentration of pink lakes in South or Western Australia. Though there are some remarkable examples near Melbourne, below are some stunning favourites that will leave you spellbound.
Pink Lakes In Western Australia
1. Lake Hillier
Lake Hillier Lake Hillier is undoubtedly the world-famous pink lake. A peculiar fact about it is that it stays pink all-round year. So, you can visit this lake anytime in the year.
2. Hutt Lagoon Pink Lake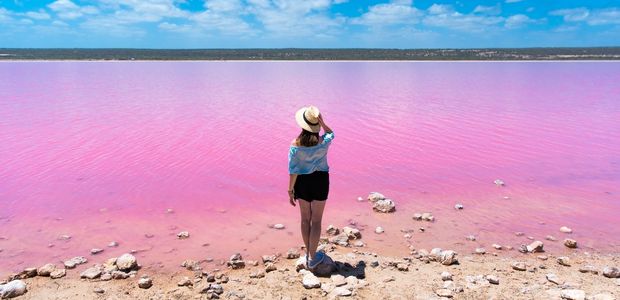 Location - Hutt Lagoon is a marine Salt Lake located near the Indian Ocean coast, 2 km north of the mouth of the Hutt River, in the Mid-West region of Western Australia. This vibrant pink lake in Kalbarri stretches over a massive 70 km. It is also a famous set location for prominent fashion brands like Lancôme and Myer.
How To Reach - Hutt Lagoon pink lake is a 5h30m drive from Perth near the central hub of Geraldton, almost middle way up the Western Australia coast. Being highly accessible, you can almost access the entire coast of the lake by walking without a long trek. The 'Pink Lake Lookout' on Port Gregory Road is the best point to view the lake.
3. Pink Lake - Rottnest Island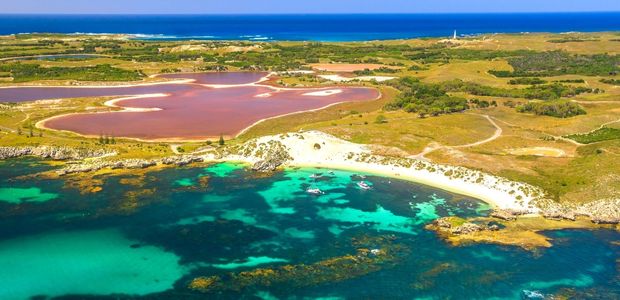 Pink Lake lies on Rottnest Island, off the coast of Perth, and in the centre of the island, close to the Oliver Hill Battery. It is not as vibrant as other pink lakes, but its pink hue looks dazzling, especially at sunrise and sunset. Unlike other pink lakes, you can get up close and personal with this one.
4. Quairading Pink Lake
5. Lake Warden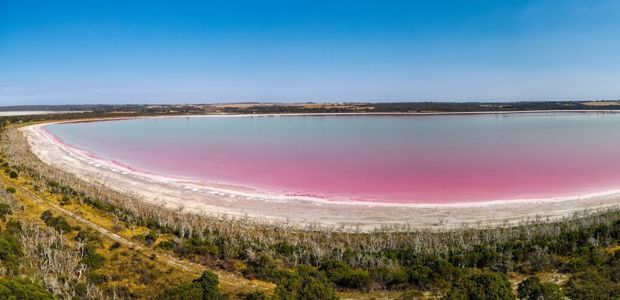 How To Reach - From Perth, it takes 7-8 hours to get to Esperance, and then 10 mins drive from Esperance's town centre. Alternatively, reach Esperance via a 40mins drive from Perth Airport.
Pink Lake In South Australia
6. Lake Albert
Location - Lake Albert, named after Prince Albert, is southeast of Adelaide. The lake sits as the entryway to the Coorong National Park, which stretches over 150km.
7. Lake Eyre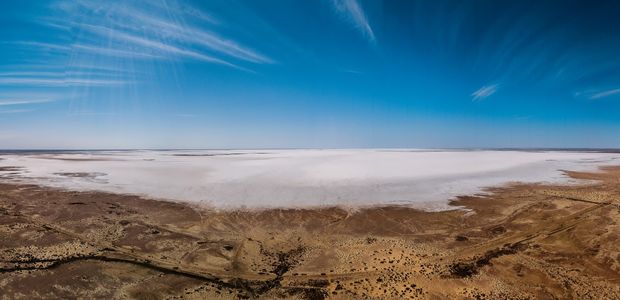 Location - Lake Eyre, also called Ngarrindjeri, Yarli, lies 700km from Adelaide amid the South Australian desert. This freshwater lake is unique because it only fills up with water each decade. During the remaining time, a dazzling salt crust envelops the area, which still looks stunning from a plane. Lake Albert lies near the entry of the Murray River. It is a perfect destination if you plan to discover the Coorong National Park to relish the country's best coastal scenery and enjoy many outdoor attractions.
Best Time To Reach - April to October. However, visiting Lake Eyre might be difficult as it only sees water every 3-10 years. But when the lake fills up, the fantastic wildlife enlivens it, becoming a sight to behold.
8. Lake Bumbunga
Location - Lake Bumunga lies 130 km northwest of Adelaide, near the famous wine region of Clare Valley or Lochiel town. The lake is renowned for its unique changing colour from pink to white throughout the year.
9. Lake MacDonnell
Location - MacDonnel Lake is more than 850km from Adelaide, near Penong, Eyre Peninsula. It is not fast and easy to visit, but worth making an effort for if you are on a road trip in the area. The lake looks interesting as one side of its causeway is pink, and the other is green. Being the largest gypsum mine in the southern hemisphere, MacDonnel lake can produce over 1 million tonnes of gypsum a year.
Pink Lake In Victoria
10. Westgate Lake
11. The Pink Lakes, Dimboola
12. Lake Hart, Woomera
Location - The lake lies at the core of the South Australian outback. The incredible peaceful atmosphere, isolation in the outback, sparkling salt crystals in the sun, and charming pink colour make it an unforgettable sight. The lake is usually shallow, with extremely high salt content. Though no camping services are available, the area is free to park in.
How To Reach - The lake lies around a 6-hour drive from Adelaide and a 4-hour drive from Port Pirie. You can view amazing views of Lake Hart from the Indian Pacific Railway, which runs past the lake between Perth and Sydney. Given its remote location, one must visit the lake with camping gear.
13. Lake Tyrell
Lake Tyrrell is the largest Salt Lake in Victoria, covering an extensive 20,860 hectares standing at approx. 120,000 years old. The rosy-hued lake provides fabulous opportunities to witness magnificent sunrise or sunset show offering fascinating reflections of the sky.
How To Get There - Lake Tyrrell is around a 5-hour drive northwest of Melbourne. The lake is ancient and stays dry most of the year. Visitors are advised against driving on the lakebed, wading in the water, and enjoying the views from a distance. You can find a few accommodations near the lake and camping options at the Green Lakes campsite.
Best Time To Reach - At sunrise and sunset, though any time of day is fine, mainly when a few clouds are dotted around the sky for scenic water reflections.
14 - 17. Murray-Sunset National Park, Victoria
The Murray-Sunset National Park is home to a handful of vibrant pink lakes as"
Lake Becking

Lake Crosbie

Lake Kenyon

Lake Hardy
With spectacular camping facilities, hiking trails, and a network of incredible pink lakes, it is a complete outdoor experience and a perfect spot to watch pink lakes in Australia.
3. Frequently Asked Questions (FAQs)
Are There Any Pink Lakes In Australia?
Yes. Australia boasts several beautiful and famous pink lakes, such as Lake Hillier in Western Australia, Hutt Lagoon, and Lake Bumbunga in South Australia.
The pink pigments in these lakes are formed by bacteria, algae, or other microorganisms in response to high salt levels, temperature, and sunlight.
What Is The Best Time To visit pink lakes?
The best time to visit pink lakes depends on the reaction of salt in the water and algae. It is generally best to see them in hotter and drier months, from November to April, as the lake's colour is the most vibrant. However, some pink lakes stay pink year-round.
If you plan to visit these lakes, choose to attend from 10 am-2 pm when the sun is at its peak. Moreover, avoid visiting pink lakes on an overcast day. Checking with local tourism websites will help you learn about any weather issues so that you plan your visit accordingly.
What Time of Year Is The Pink Lake Pink?
The intensity and duration of the lake's pink colour vary based on water levels, weather conditions, and the extent of algae concentration.
Some lakes remain pink throughout the year; others may only be pink for weeks or months. It is best to get local advice when planning to get there.
Can You Swim In The Pink Lake in Adelaide?
No. You should not swim in the pink lake due to the high salinity in the water than seawater.
The high levels of salt in the lakes and the deep mud underneath could make them dangerous to swim in. You could walk around the edges; however, if you have skin abrasions or open wounds, you must avoid stepping in the lake water.
Why Can't You Swim In The Pink Lake in Australia?
Though swimming in a pink lake is not prohibited, most of these lakes are not suitable for swimming. Few lakes are very shallow and have sharp salt crystals at the bottom.
Furthermore, they are distinctive landmarks that should be conserved. It is advised to conduct local research to determine whether swimming in a pink lake is allowed.
Why Does Australia Have So Many Pink Lakes?
Pink water bodies in Australia contain Halobacteria and a type of algae called Dunaliella salina that thrive in salty environments. The algae and carotenoid red pigments produced by Halobacteria are responsible for the vibrant pink colour of pink lakes.
Is There A pink Lake in Queensland?
There are various pink lakes in Australia, but none in Queensland.
Is There A Pink Lake In Tasmania?
Though there is no shortage of beautiful lakes and water bodies in Tasmania, none exhibit the characteristic pink colouration of pink lakes in Australia.
What Is The Biggest Pink Lake in Australia?
Lake Hillier is the biggest pink lake in Australia that is situated on Middle Island in Western Australia. The lake is approx. Two hundred fifty meters wide and 600 meters long with vivid pink colouration due to the presence of Dunaliella salina algae and other microorganisms.
Where Is The Biggest Pink Lake?
The biggest Australian pink lake, Lake Hillier, is on Middle Island in Western Australia.
How Many Pink Lakes Are in Australia?
There are 17 worth exploring pink lakes in Australia known for their true natural beauty:
Western Australia
Lake Hillier, Middle Island

Quairading Pink Lake, near Quairading,

Hutt Lagoon Pink Lake, Port Gregory

Lake Warden, Esperance

Pink Lake, Rottnest Island
South Australia
Lake Albert, Fleurieu Peninsula

Lake Bumbunga, Clare Valley

Lake MacDonnell, near Penong, Eyre Peninsula

Lake Eyre, Outback

Lake Hart, Woomera, Outback
Victoria
Westgate Lake, Westgate Park, Port Melbourne

The Pink Lakes, Dimboola

Lake Tyrell

Lake Crosbie, Lake Kenyon, Lake Becking, and Lake Hardy at Murray-Sunset National Park's Pink Lakes
Is Lake Hillier safe to swim in?
As any Aussie will attest, Lake Hillier, a naturally occurring pink lake, is salty but non-toxic and perfectly safe to swim. While the water is not harmful to humans, its extremely salty nature can cause skin irritation and other health issues if ingested.
Visitors can access the lake by boat or boarding a scenic flight from Esperance, Western Australia. Consulting a reputable operator to learn about Lake Hillier's history, conservation efforts, and ecology can help you better plan your visit to this lake.
Can You Drink Lake Hillier Water?
Pink water looks enticing, but can you drink the pink lake in Australia? No. Drinking water from Lake Hillier is not recommended as it is highly salty that can leave you dehydrated. Also, the presence of microorganisms can cause health troubles when drunk in large amounts.
Why Can't You Visit The Pink Lake in Australia?
The reasons why you cannot access some of the pink lakes in Australia are:
lie in remote areas or on private property.

Lack of proper permits or transportation.

It may be restricted due to environmental efforts or conservation factors.

May not have access to hygienic drinking water sources.
However, many pink lakes in Australia are open to visitors and can be visited with proper permits and access at certain times of the year. Bringing your supply of clean drinking water while visiting natural sites, including pink lakes, is a good idea.
Is Esperance Pink Lake Still Pink?
Esperance's Pink Lake, also called Lake Spencer, has lost its pink colour due to various factors:
The construction of the railway line and South Coast Highway,

The easter lakes and Lake Warden no longer flush into Pink Lake during heavy rains

Environmental changes
As the right salt concentration is essential for the growth of the alga Dunaliella salina and the Halobacterium cutirubrum, the lake can again turn pink if the salt concentrations increase and the right balance is achieved that boosts growth.
Is There A Pink Lake on Kangaroo Island?
Yes. Salt Lagoon is a beautiful and less-explored pink lake on Kangaroo Island. Not as popular as other pink lakes in South Australia, it is a hidden gem of the North Coast Road, just a 10-minute drive from Kingscote.
Is There A Pink Lake on Rottnest?
Yes. You can see a pink lake on Rottnest Island, but it is not as vivid as other famous ones in Western Australia, like Lake Hillier near Esperance or Hutt Lagoon near Kalbarri.
Unlike the lurid pink colour that most pink lakes have, the Rottnest Island pink lake has more of a vague hue most of the time.
Close to the Oliver Hill Battery in the middle of Rottnest Island, the ideal time to visit the lake is in the peak of summer when it is at its hottest and driest.
Is Pink Lake South Australia Always Pink?
The colour of the pink lake changes based on the time of year and the day you visit. Where in the summer months, the colour of the lakes is usually strong pink; it can be much more muted if you visit on a cloudy day.
Is The Pink Lake in Australia Man-Made?
No. Most pink lakes in Australia are natural water bodies that get a distinctive pink colour due to the interaction between certain algae, bacteria, or other microorganisms in response to high salt levels, temperature, and light.
However, some pink lakes in Australia, like Lake MacLeod in Western Australia, may have been impacted by human activities, such as salt mining or other industrial processes. Such actions have changed the lake's colouration, the water's natural chemistry, and other lake attributes.
Does The PinkLlake Have Fish?
Most pink lakes in Australia do not have fish or other aquatic animals. The high salt levels and unique water chemistry make it hard for most fish species to survive in these lakes.
Can You Swim In The Pink Lake Kalbarri?
While it is possible to swim in the lake, it is not suggested due to potentially harmful bacteria and high salt content.
Before visiting, check with local authorities or a reputable tour operator to ensure you have the required permits and knowledge of potential hazards or environmental concerns.
What Is The Pink Lake Between Melbourne and Adelaide?
Lake Coragulac is the pink lake located between Melbourne and Adelaide. It is a shallow, saltwater lake near Coragulac, Victoria.
The lake's colour may not always appear pink and changes depending on the time of day, the season, and the weather. It sometimes takes on a pinkish hue due to the green-coloured Dunaliella salina algae.
Note that Lake Coragulac is not a tourist spot, and swimming or any other activities are not allowed due to ecological sensitivity and the potential hazards of the area.
4. Conclusion
Pink lakes are one of nature's most eye-catching wonders worth making a part of your tour list.
Great for solo travellers and perfect for family trips, you must visit them at least once in your lifetime. Do not miss carrying a camera and going creative with your shooting while out on the pink lakes.
Useful Links to Explore:
How useful was this post?
Click on a star to rate it!