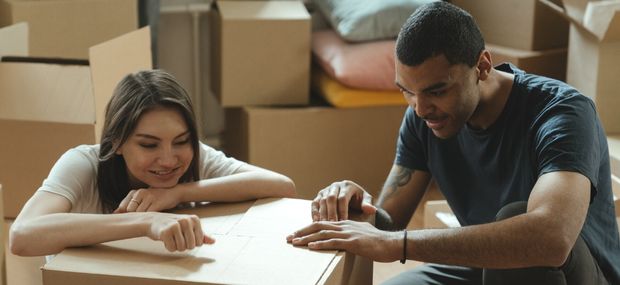 Whether you are upsizing or downsizing, moving a house in Australia can be hard work and require a lot of careful planning.
There are multiple steps in any successful move, from hiring a removalist and packing items in cartons to relocating to a new house.
In this ultimate guide, we share a moving house checklist that lists the most common things you need to do to make your house relocation effortless.
1. What Does Moving Houses Mean?
It is a process of moving oneself, possessions, and furniture from one house to another. One can carry out this process by themselves or take the assistance of packers and movers to make the job hassle-free and convenient.
2. What Do I Need To Organise Before Moving House?
Proper organisation is essential when moving a house as it can significantly reduce the stress associated with packing and save energy and time.
Here is what you need to organise before and after your house move:
2 Weeks - Before Your Moving Day:
Organise your car, home, and contents insurance to cover your new home from the first day.

Keep your passports, visas, tickets, currency, credit cards, and accommodation documents in one place.
1 Week - Before Your Moving Day:
Organise your utility services. You need to contact your utility services provider a minimum of 4 days in advance to get your electricity, gas, and other services connected at the new address.

Also, talk to your utility providers to make arrangements for connection and disconnection services (Phone, water, internet, TV etc.).
1 Day - Before Your Moving Day:
Organise access to the new home: Collect all keys for the household, such as the gates, garage, and padlocks.

You may also schedule cleaning in the new house to effortlessly arrange your house items in the right places when moving in.

Organise pest control, so you don't have to worry about moving furniture later.
On the Moving Day (Big Day!)
Organise the move: Contact the removalists to confirm their availability, cancel any regular deliveries, and assign tasks to family members and helpers.

You can consider organising your removal truck hire. When doing this, you will save money, stay on schedule and enjoy control over the entire moving process.

Europcar's one-way truck hire can be a good option for house relocations as it allows you to drop the hired truck off at the nearest Europcar station to your new home.
3. Moving House Checklist
Here is a printable moving house checklist for Australia:
4-6 Weeks - Before Moving Day
Find and book a Removalist. Fix your budget, and get a quotation in writing. Also, get moving transit insurance.

Create a list of all your moving items, along with a note of delicate ones that need special care to move

Discard all unnecessary objects that you may not require in future

Use all opened eatables and food packets and discard products past their use-by date.

Get school records and arrange for preschool/school transfers.

Cancel or redirect running subscriptions like newspapers, groceries, etc.

Return rented or borrowed items.

Call the local cleaning service for a rubbish pickup.

Schedule any necessary repairs

Get family and pet medical records.

Transfer and set up utilities at the new address

Review your car, home, and contents insurance

Prepare a list of items you will load last. These include a kettle, tea, coffee, breakfast, toys, school needs, pet essentials, bathroom necessities, medicines, snacks, telephone handsets, gloves, etc.

Make a list of the items you will carry with you at the time of relocation. These include bed linens, towels, phone and charger, laptop, keys and locks, food items, water bottle, any related legal document, cash, car, and new house keys.
2-3 Weeks - Before Moving Day
Arrange final meter readings of electricity and gas meters, and remove batteries.

Return all DVDs, books, etc., that you have taken on rent

Arrange transfer of internet, telephone, bank accounts, gas, electricity connections, landline/broadband, etc.

Ask your family and friends to assist you with children and pets on moving day.

Talk to your employer to get a day off from work on moving day.

Arrange the disconnection of utilities at the house you are moving out of, and get them connected before you arrive in the new home.
1 Week - Before Moving Day
Make a plan about what to keep in each room and where to keep it.

Arrange for services such as a babysitter, gardener, etc.

Back up your computer hard drive

Confirm your moving details with Real Estate Agent, Removalist, and Lawyer. Make sure that the mover has the new address and detailed instructions regarding relocation.

Arrange parking for the removalist's truck.

Make payments for all utility bills to avoid accruing late fees.

Discontinue delivery services such as newspapers, local subscriptions, and automated payment plans.

Get your car serviced.

Book a locksmith to install your locks at your new home on moving day.
1 Day - Before The Move
If you are Packing Yourself, arrange carton and packing materials delivery such as labels, tape, markers, bubble wrap, and paper from a storage company.

Use larger moving house containers to pack lighter items and vice versa and place heavier items on the bottom. Label every carton clearly, about its contents and location in the new house. If you are moving delicate items like crockeries, mark those cartons as "FRAGILE" while moving them across places.

Dismantle furniture and place them in a carton with the reassembly instructions provided by the manufacturer.

If you have indoor plants, water them and pack them into plastic-lined boxes.

Empty and defrost your refrigerator.

Clean the oven.

Use a vacuum for last-minute cleaning.

Pack personal items in a bag that you will carry with you.

Unplug appliances and tie up loose cords.

Meet your old neighbours and say Good-Bye. You may share your new address with them to stay in touch.

Contact a cleaning service to ensure your new home is clean before moving.

Plan for moving day.
Moving Day
Fill a bag with all the personal items (per the list) to carry with you.

Have all pet needs at hand.

Ask the removalist to load kitchen cartons last so they are unloaded first from the truck.

Try to stand where the removalist's truck is parked. Further, supervise the loading of items into the moving truck, and provide the removalist with the new address and floor plan information.

Lock all windows and doors, tighten all taps and switch off the hot water system and main power supply switch.

Check the tops of cupboards, garages, garden areas, and sheds to ensure nothing important is left.

Return keys to the Property Agent, house owner, or new tenant. If you have been renting in the old house, document the property's condition for the agent.

As the truck reaches the new house, supervise the unloading of your house items and give them clear directions on furniture placement in the new home.

After unloading all items, check that all cartons are in the correct places in your new home.

Check that all utilities are connected, including locks, are changed.

Assemble the beds

Settle children and pets in a comfortable place

Contact your new local council for rubbish pickup information a

Say hello and introduce yourself to your new neighbours.

Update your mailing address with the following service providers:
Banks and any other financial institutions, The Australian Taxation Office, Medical practitioners, Australian Electoral Commission, Tax and legal advisors, Superannuation funds, Subscription services/clubs/associations, Your kid's school, State-level roads authority to update your address on your driver's licence, and Friends and family members.
Once this is complete, contact government departments and services to update your address details. For example, if you are moving house in NSW, refer to Moving House Service in NSW to easily change address details.
4. How To Find The Right Moving House Services In Australia?
You must decide if you need a removalist service to move your belongings or want to do it yourself.
If you choose to hire a professional service, then here are a few considerations that will assist you in finding a suitable Removalist service:
The first thing you need to consider is that the company you hire is an Australian Furniture Removers Association (AFRA) accredited removal company.
AFRA is an official body that helps regulate the removals industry. Government departments consult this organisation before making decisions concerning the relocation of their industry. AFRA accredits specific furniture removalists for having the equipment, premises, vehicles, and staff training required to make a professional move.
To find a reputable removalist in Australia, visit the Australian Furniture Removers Association and search for local accredited ones.
Dawson Moving & Storage is a reputable removalist and AFRA member in Melbourne and Canberra. It has a vast network of agents facilitating house moves locally, interstate, and overseas.
There are a few more parameters to finding the right removalist. Make sure they are organised and have experience. Word of mouth can be effective in finding one with a good track record.
You can take inputs from your family and friends to suggest reliable and expert removalists. Check online reviews to know more about service quality, customer satisfaction, and reputation in the market.
Make a list of 4-5 removalists that fits the above criteria. Contact them to get price quotations in writing along with their services offered. Conduct a thorough comparison to find the one that meets your needs.
5. What Are The Home And Content Insurers In Australia?
Whether renting or buying a house, organising insurance to protect your belongings can be beneficial.
Here we have compiled a list of top insurers in Australia offering various features and coverage to their users:
4 Star Rating

Property repair or replacement

Contents repair or replacement

Guaranteed repairs

Temporary accommodation

Legal liability (Up to $20 million cover)

Debris removal and extra rebuilding costs
4 Star Rating

95% Claims Satisfaction Rating

Dedicated Claims Team

Counselling Services

Flexible Excess

Legal Liability cover

Temporary Accommodation cover
3-Star Rating

Legal liability cover (Up to $20m)

Alternative accommodation

Rebuilding costs

Moving House cover

Emergency contents storage

Debris removal

Replacement of locks or cylinders

Making your home building eco friendly
6. How to Move House With Energy Australia?
Energy Australia provides affordable energy plans to assist people in getting their electricity and gas connected in no time.
Just follow the three simple steps and forget about the hassle of transferring and setting up utility connections each time you relocate:
Step 1: Create an account and log in to your account
Step 2: Choose your Energy plan (Flexi Plan or Solar and Flexi Plan)
Step 2: Provide information related to the time and place of relocation
The following details are common to both plans:
No Exit Fees

Variable Rates

Residential flat tariff
Plan Name

Estimated Monthly Cost

Guaranteed Discount

Solar Buy Back Rates


Flexi Plan

$117 for an estimated annual cost of $1391

8% on both electricity and gas bill (may vary)

7.6c/kWh

Solar and Flexi Plan

$123 for an estimated annual cost of $1512

8% on both gas bill (may vary)
High solar feed-in tariff
10 cents per kWh exported (may vary)


10c/kWh
For more details, refer to their fees and charges section
7. What Is Centrelink Moving House Assistance?
Centrelink assists people who are planning to relocate to a new residence. It helps them with rent and moving costs based on their situation. They also assist if they live in a remote or rural area.
They offer the below assistance services:
Changing your address

Accommodation and renting

Transitioning out of care

Moving for work or study

Living in a rural or remote area
8. Moving House Tips In Australia
Here are a few handy packing and moving tips to save time and frustration while moving and uncomplicate the entire process.
Call the removalist to check the house contents so they can decide on the truck size.

Purchase used boxes for packing to save money. The best places to find them are on gumtree or local Facebook pages.

Moving is an excellent opportunity to declutter your home. Sell, donate or discard items you no longer use in the new house. Not only does it reduce clutter, but it saves money and time involved in packing and moving items.

Colour code the boxes or label their sides. It makes it easier to identify which room they belong to (especially when they are stacked)

Rate each box based on the priority and unpack accordingly.

When packing jewellery, lay them on a bath towel, fold them over each edge, and then roll up the towel to prevent them from getting entangled.

Keep the cartons light. Don't make them too heavy to avoid the bottom breaking away.

When packing items, put heavy items first in the boxes and load lighter ones.

Always wrap breakables like plates and cutlery using clothes, tea towels, and tablecloths to prevent collisions. Use socks to wrap around glasses, blankets, artwork and other items. Use cushions and pillows to pad items to keep them safe throughout the moving.

Take photos of the kitchen and display cabinets to make organising them at the new house more manageable. Similarly, pictures of the cable connection of electronic appliances to reconnect them. Keep all loose screws in a zip lock bag and stick it to the furniture using the tape to which it corresponds.

Check that the lights are working in the new house. Sometimes people take them when moving. At the same time, ensure that the lights and fan in your old home are working perfectly. If they do not work, get them repaired or replaced.

Keep the most valuable items like jewellery, passports, and cash during the moving process.

Create an essentials box that you will need when you move. These would include clean bed linen, bin liners, toilet paper, hand soap, paper towels, snacks, water, paper plates and cups, coffee, medicines, all-purpose cleaner, scissors, a first aid kit, paper tissues, pet supplies, dustpan, kitchen sponge, detergent for dishes and bottle opener.

Move pot plants yourself, as they can take the removalist's time.

Leave a paper note at your old residence with your new address to allow people to contact you.
9. Conclusion
Moving is undoubtedly a cumbersome task. During this overwhelming emotional and stressful time, the chances of missing out on something significant can be high.
We are sure this moving checklist and tips will help you make your house move convenient and less stressful.
Useful Links to Explore: