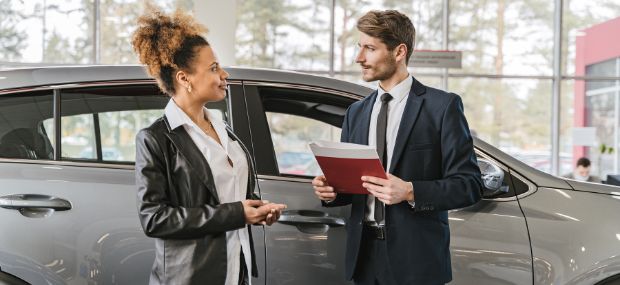 Despite an efficient public transportation system, most Australians want to own a car. It saves time and gives freedom and convenience to travel between regions.
Read this comprehensive guide on how to buy a car in Australia, including what to look for, where to buy it, compare car loan options, and a lot more.
Step 1: Identify Your Driving Needs
Start your car hunt by identifying why you need a car. Answering the following questions will clarify the type of car you need and narrow down your choices.
Do you want a car for short or long journeys and drive with comfort? A smaller car or hatchback is appropriate if you use the vehicle in the city. Still, for off-road trips, you should consider an All-Wheel-Drive/ AWD vehicle.
Do you want it for yourself or your family? It will help you decide how much storage space you will need. Where a smaller car is ideal for your driving needs, you may need an SUV for family trips.
How much is your budget? Consider the car's price, insurance, petrol and maintenance costs to decide how much you can afford. In case of a limited budget, you should consider a demo or a second-hand car.
Is fuel economy a priority for you? If yes, go for smaller, hybrid or electric cars, as they are more fuel-efficient and help keep driving costs down. When considering electric vehicles, ensure there are charging stations in your location.
What features do you need? Most new cars have aircon, power windows, Bluetooth, in-car screens, and parking cameras that may be worth considering. Note that the number of these features will increase with the price of the car. So, consider only the ones that you need.
Step 2: Carry Out Research
Finding the right car from various options can take time and effort. Start by shortlisting based on your driving requirements.
When you have a set of cars that fits your criteria, do a lot of research across various car manufacturers. You may request a brochure from a dealer or refer to the details available on the manufacturer's website.
Here are a few pointers to compare and shortlist your options:
For how long has the car been on the market

The reputation of the car manufacturer

Demand for the model in the market

Availability of other features in addition to your list

Car specifications

Which is better for safety rating, fuel economy, and mileage?

Price

Customer service

Warranty

Discounts and Offers

Reviews and comments online
If you want to buy a car from a private seller: Find out how long they have owned the vehicle, their reason for sale, the car's service history, repairs or replacements of its parts, and whether the odometer reading matches with the advertisement.
Reputed car comparing websites like CarsGuide, and CarShowroom can assist you in instant comparison of the same or different car models.
Step 3: Understand The Type Of Taxes You Need To Pay
The state governments levy different taxes on car buyers or car owners:
Stamp Duty
Car buyers must pay stamp duty when purchasing a new or used car.
Though the amount of Stamp duty charges vary based on the car price and location, it is generally around 3% of the car's buying price for a typical used car.
Motor Vehicle Tax
It is another tax levied on all brands and models of cars. You have to pay for it every year.
The amount of Motor Vehicle tax differs depending on the location and the type of car you own, like a small or a large vehicle.
Luxury Car Tax
This tax applies when buying a car from a car dealer. There is a price criterion deciding how much luxury car tax you pay.
Suppose the car buying price is over $64,132 (luxury car tax threshold), including the Stamp Duty charges. In that case, it attracts a Luxury Car Tax rate of 33%.
This threshold limit is $75,526 for fuel-efficient vehicles.
Step 4: Get A Pre-Approval
Only a few car buyers have adequate cash to make an up-front payment. Most rely on getting an auto loan to finance their car. Having a pre-approved loan implies that a loan lender has approved your auto loan, subject to providing further required information.
With a clear idea of your spending limit, you can shop around and negotiate confidently to buy your next car. However, the pre-approval has limited validity, and you must apply for it again after it expires.
Step 5: Find Your Ideal Car
When you know the car type you want to buy and in which condition (new or used), you can visit Australian dealerships selling your vehicle. You can even ask the opinion of other car owners who you trust.
Here are a few websites that can help you launch your search:
Those interested in buying a used car can refer to online sites such as carsale.com.au or gumtree.com.au to find a good deal.
Step 6: Test Drive A Car
Regardless of where you buy a car (a dealership or a private seller), you must take the car for a test drive on different roads and at varying speeds.
Pay attention to the following things when test driving a car and make notes of any likes and dislikes:
How comfortable are the passenger seat and the rear seats?

How is the interior look and feel of the car?

Do you find adequate seating space?

How convenient is it to find the buttons and levers?

Do you get a clear view through the mirrors and rear and front windows?

How do the music system and other in-car navigation accessories and gadgets work?

Does it have sufficient legroom if you are tall?

Inspect the interior features of the car to find any issues or suspicious noises while driving
Step 7: Check The Car's Registration
The car registration depends on a specific state or territory in Australia. So, the laws prescribed for buying cars can differ in states/territories in Australia.
When buying a car in NSW, make sure it is registered. You can do it in the following ways:
Check the number plate of the vehicle. It will tell you instantly the registration state.

Next, check the windscreen sticker to find out how long the registration has left to run.

Ask the seller to provide the car registration papers to confirm the year, including the registration area and the owner's name.
Step 9: Negotiate On The Price
Make a lower offer. You may save a few bucks on the initial asking price. If you are not comfortable negotiating, take the help of brokers who negotiate the price with the dealer/ private seller to get you the best deal.
Some car dealers also provide optional extras, such as a tow bar or carpets, either for free or at a reduced price.
Stay within your pre-defined budget if you don't get an affordable deal at a dealership. It is wise to compare offers from different dealers and select the one best matches your budget and other requirements.
Step 10: Get The Required Paperwork
When buying from a private seller, make sure you have the relevant paperwork when purchasing a car privately:
Original vehicle registration papers

PSPR notice (if applicable)

Car service history and logbook

Insurance papers

Safety certificate
Ask the seller to provide a written receipt for each payment you make.
When buying from a dealership, verify the car details and read the contract document and terms and conditions thoroughly before you sign it. At the time of finalizing a car buying deal, get all the relevant paperwork ready such as:
Contract papers

Car warranty details

Car manual

Registration documents

Insurance papers

Safety certificate
Ensure that all the details match the car you are buying.
Useful websites
Refer to the below websites of state and territory motoring organizations to learn more about how to buy a new car in Australia:
Frequently Asked Questions On Buying A Car In Australia
How old do you have to be to buy a car in Australia? You must be 18 years old to buy a car in Australia. You will also need to provide evidence of identity, like your current driver's licence to register a motor vehicle in your name.
Moreover, auto loan lenders approve car loans to only those 18 or above because they want to see an established credit history before finalizing the legally binding contract.
1. How To Register A Car In Australia?
Each Australian state has its laws concerning vehicle registration. It is necessary to visit the transportation department website of their respective state/territory for complete details.
The following documents are compulsory for vehicle registration in any state:
Some form of proof of purchase

Forms of identification like a Passport

A valid driver's license
In addition to the above, some territories also require a roadworthiness certificate for vehicle registration.
Refer to the below list of motor registry agencies around Australia to get accurate information on vehicle registration requirements and procedures.
2. What Are The Different Ways To Pay For A Car In Australia?
Almost all Australian dealerships accept cash and credit cards for payments. Overseas car buyers can use Wise when making foreign transfers.
Here is the complete list of finance options with their pros and cons:
Cash
You do not pay any interest when using savings to pay for your car. However, since cars are expensive, it is challenging for everyone to pay the total amount in cash.
Traditional Auto Loan
Apply for a car loan with banks, non-bank lenders, and credit unions. Here you have to repay the borrowed amount after a specified term with interest.
The good thing about this option is that suitable credit applicants may get more competitive rates. Also, unlike dealership financing, here you can consider the loan terms and conditions at your own pace.
The downside of this approach is that you have to fulfil age, citizenship, income proof, and other eligibility requirements to get the loan approved.
Finance From an Auto Loan Broker
Auto loan brokers help you find a car loan through their lenders. This option is suitable for those with bad credit and unable to secure a loan from other lenders. Auto loan brokers charge extra fees for their services.
Finance From a Dealership
The next option is to fund your car through a dealer, where you must make regular repayments to cover the car purchase price.
It might be convenient to obtain financing and buy a car from a dealership. However, this may not be an affordable option as the interest rates charged by the dealership are comparatively higher than the other car financing options.
Pre-Approved Car Loan
In this type, you get a certain amount of loan approved from a lender before you start your car hunt. Knowing how much you can borrow before you find your perfect car has its pros and cons. In one way, it can help in narrowing down your options.
On the downside, you might lend little or more than the actual car price. If the loan amount doesn't cover the car price, you need to arrange for additional funding, and if it exceeds the car price, you will lose interest.
3. How To Apply For A Car Loan?
Meet the following eligibility criteria for car loan approval:
18 years and above

Must be a citizen of Australia

You need to provide your government-issued proof of identity and residence proof when applying for an auto loan.

Auto loan lenders also consider your creditworthiness to approve or reject your loan application. Better scores translate to competitive rates and borrowing terms.

You may also need to provide the past six months' bank statements as proof of steady income.
Note that your lender may ask to fulfil additional requirements based on your loan requirements.
Once you have all the documents ready, you can submit your loan application documents by visiting the loan lender branch or the lender's website. When receiving your application and documents, they will review them and arrive at a loan approval decision.
4. What Are The Different Costs Associated With Buying A New Car In NSW?
According to the Australian Automobile Association, the rules and costs involved with a car purchase vary from state to territory. It is required to check with your state/territory government and local motoring organization to get a better idea.
Here are the different components that make up the cost of owning a car in Australia:
Car buying price/Sticker price of the car

Stamp duty fee

Registration fee and its renewal charges

Vehicle inspection fee

Ongoing maintenance fee

Compulsory third-party insurance and additional insurances premiums

Fuel/Gas and other Operational costs

Licence plate transfer fees

Charges for transfer of car registration/ownership

Motor Vehicle tax

Luxury car tax
The expenses and insurance premiums vary based on geographical location, driver's age, gender, car model, and other factors. Sydney is the most expensive city in Australia to own a car.
5. How To Buy A Car Privately In Australia?
Are you planning to buy a car from a private sale and want to know how to buy a car privately in NSW?
The first thing is that you won't get a warranty when you choose to buy a car through this route. However, there are good chances to negotiate a competitive deal that could save a good amount of money.
Follow these steps to learn how to buy a used car in Australia through a private seller:
Get the car inspected on priority.

Check about its registration and legal status. Ask the private seller to provide the original registration papers with the car servicing/repair logbook.

Check the validity of its safety certificate.

Check whether the car you intend to buy has any history of being stolen or written off by an insurance company.

Is there any existing loan running on it? It is necessary to know as it could present a complex financial situation for you later. Check the Personal Property Securities Register to ensure there is no outstanding debt.

Ensure that the address on the registration certificate matches the seller's residential address. Verify that the odometer reading matches the advertisement.

Ask the seller about their reason for the sale.
After you get the car checked by a mechanic, the steps are as follows:
Transfer ownership and get it registered in your name

Have proper insurance

Get it serviced by a mechanic and get a safety check
Once done, the car seller will inform the state road authority about the transfer of ownership and vehicle registration, and the buyer will need to accept the transfer. The entire procedure can be done online via the state motor authority.
6. What Are The Different Places To Buy A Car?
Dealership (New Car)
It is considered the most preferred way to buy a new car. Choosing this method enables you to explore a wide range of car models in one place, take a test drive of each of them, and get an expert opinion.
All you need is to walk into a car lot and shop to find your perfect car.
Used Car Dealer
Suppose you are looking for inexpensive used car options and are not interested in buying through a private seller. In that case, buying a used car from a dealer could be the best option.
Moreover, you get some form of warranty when you buy a new/used car from a licensed dealer. It is not the case when you purchase it through a private seller.
Private Seller
Buying a car through a dealership may not provide you with the most competitive price. However, when you choose to go through a private seller, you can negotiate the price and get a competitive deal.
Nonetheless, conduct your due diligence when buying it via this mode. Make sure the car is registered with the same specs as advertised. Check its service history, and take it to an independent mechanic for visual inspection to find any appearance or operational flaws.
Demonstrator Vehicles at Car Dealerships
You can choose this option when you need more money to afford a brand-new car.
You get nearly a new car at the price of a second-hand one. The dealership used these cars for light purposes, such as test drives and demonstrations. Besides the price benefit, you can also choose from a range of recent brands and models.
Car Auctions
Do you want to know how to buy a cheap car? Car auctions are an affordable way to buy a car, as most car dealers use this option to buy their stock. However, there are a few drawbacks to this method.
Firstly, you don't get to take a test drive of a car you intend to buy. Secondly, the quality and price of the auctioned vehicle vary, so you need to have a good idea of the car's worth and how to examine it to get a reasonable price.
7. What Things To Include In Visual Inspection When Buying A Used Car In NSW?
You must conduct proper internal and external inspections to find any red flags when buying a used car. Check with the seller whether the vehicle is modified. It is necessary as it could impact your car insurance premiums and the potential resale value.
Here is a list of things that you should consider during the inspection:
Signs of damage, hail, mismatched paintwork, chips, or scratches that could be due to major repairs from a crash

Test all the windows and doors to ensure their smooth and uniform operation.

As glass replacement is costly, pay attention to any cracks or chips in the windows, mirrors, and indicator lights.

Check for any irregularities in body panels.

Verify that air conditioning, audio, Bluetooth, speedometer, electrics, dials, temperature dials, and other electric and electronic gadgets are functioning properly

Check all the taillights, headlights, and interior lights.

Check the condition of the upholstery.

Lift the carpets and look for any signs of corrosion, damage, or repairs

Inspect tires for any cracks and ensure they are inflated
Once you have inspected the car, take the test drive and check for any operational issues. But before you do this, check the car's CTP insurance certificate to know whether it is insured. You can't test drive an uninsured or unregistered vehicle on public roads.
Once checked, follow the below steps to inspect a car while you test drive:
Start the engine and test it properly.

Keep it idle for some time to let the engine get warm. Push the accelerator and check for any release of smoke. It could be a valve stem or piston issue if it does smoke.

Check for any irregular engine noise.

If you see oil drips or fluid leakage on the engine's surface, it may indicate poor maintenance.

Examine the oil filter caps. If you find any white substance, it could be a sign of leakage in gaskets or a crack in the cylinder head.

Try changing gears and find out how quick and convenient it is

Check whether the engine power is appropriate.

Check the brakes and how effectively they respond.
If the car passes the visual inspection and test drive, check its history using its 17-digit unique VIN code inside the driver's door.
With the help of this number, you can check any outstanding debt on the car, its service history, and whether it has ever been reported, written off, or stolen.
You can even take the assistance of car service centres providing you with a PPSR and service history check at a nominal price.
8. What Are Cooling-Off Periods?
Licensed car dealers generally offer you a cooling-off period within which you can withdraw from a contract without penalty.
You may choose this facility under various circumstances, such as if you can't afford the financing or have a better deal elsewhere. You will get a full refund from the dealer when cancelling the contract.
Note that the "cooling off period" differs from one state to another, so you must check your state-level regulation regarding this to make an informed decision. Check the following links to learn more about the rules of the cooling-off period in your state:
9. What Are The Best Places To Get Car Insurance?
10. Conclusion
Car buying can be daunting at times. Conducting good research and proceeding with awareness can make the process uncomplicated and less demanding. We hope the above information and tips will help you make a satisfying new investment.
Useful Links to Explore: