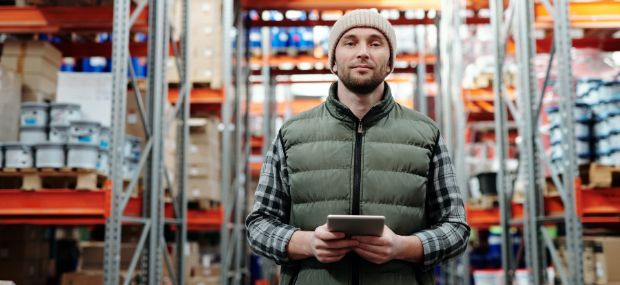 Are you good at customer service, interested in warehousing and looking to work in a diverse setting? If so, a career as a warehouse worker is worth exploring.
Warehouse workers perform the following tasks:
Checking inventory for damage in stocks

Updating stock levels

Receiving raw materials and goods

Storing, handling and transporting them
To work in this profession, you must complete a Certificate III in warehousing operations course. A forklift or driver's licence may be required depending on your warehouse job type.
This blog takes you through all you need to know about becoming a warehouse worker in Australia. Read on to discover their duties, personal traits and skills, work environments, average salary, job outlook, and the steps to make a career in the warehouse industry.
1. What Is Warehousing?
Warehousing is a crucial element in the overall supply chain mechanism.
It is an intermediary step that involves storing materials and goods before sending them for production or sale. Warehouses are spaces where these goods and materials are safely and precisely stored and managed.
2. What Is A Warehouse Worker?
Warehouse workers, also called warehouse operatives, perform warehousing, material handling, and storage activities in a warehouse/ distribution centre under the instructions of a warehouse supervisor or manager.
They use barcode scanners, RFID readers, warehouse management software, and similar technology to record product information.
3. What Technologies Do Warehouses Use?
Warehouse workers use various technology to streamline several processes and enhance operational efficiency. Some of the key technologies used in warehousing spaces are:
Radio-frequency identification tags for tracking inventory and higher stock visibility to prevent its loss.

Order fulfilment optimization technology transforms order fulfilment from legacy to computerized systems. It improves the speed and accuracy of order completion and ensures customer satisfaction.

Warehousing management systems to manage the daily ware
4. Warehouse Store Person Job Description
Most entry-level warehouse jobs involve goods storage, movement, loading and unloading vehicles, packing, and unpacking goods, recording stock levels, and distributing packages. Here is the general warehouse assistant job description:
Check-in merchandise

Count and record inventory data

Process order requests

Prepare packages and parcels

Place orders in delivery regions

Process shipments

Verify shipping documents

Prepare and check shipment documents

Organize purchase receipts and orders

Pack goods and prepare them for transport

Transport goods

Operate forklift and lift systems

Unload and load trucks

Receive goods

Oversee warehouse employees and operations

Sort items on shelves

Open containers

Maintain a safe and tidy workplace

Wear safety equipment

Keep accurate and updated inventory reports

Coordinate with delivery drivers, couriers, and hauliers

Ensure log books are up to date

Perform inventory controls in synchronization with the purchasing office
5. Warehouse Worker Skills
Warehouse workers need technical competency and soft skills to perform in this role. Some of the fundamental skills that help warehouse employees perform their responsibilities effectively:

Technical Knowledge
Knowledge of administrative, organizational, and financial aspects of warehouse management

Knowledge of logistics, storage, and handling of warehouse procedures

Efficient at processing warehouse documentation
Soft Skills
Effective communication

Able to operate forklift trucks

Good Organizational skills

Dependable

Precise

Comfortable working flexible hours and shifts

Good spatial awareness

Good physical stamina

Customer service Skills

Active listening

Good concentration

Strong teamwork skills

Outgoing

Basic computer skills

Energetic

Willing to work in a team environment

Strong work ethic

Ability to identify potential risks and hazards
6. Qualifications For Warehouse Worker In Australia
Do you want to know how to get a warehouse job? You do not need formal training and qualifications. Still, higher-level positions may require a relevant course and specific licenses to enter this field.
Complete your high school education

Consider a Certificate III in warehousing operations.

Earn a forklift licence

As the job involves high risks, obtaining a high-risk work licence via safe work Australia is a mandatory requirement for warehouse workers.

You may also require the following licences: Driver's licence, order picker licence, and medium rigid class heavy vehicle licence.
7. Steps To Become A Warehouse Worker In Australia
Follow these five steps to get employment in the warehousing industry:
Step 1: Earn The Relevant Qualifications And Certifications
You don't need formal qualifications to work in this profession. However, completing some study in the field could make you eligible for diverse roles in the industry.

Attending a related training course will help aspiring warehouse workers learn effective and efficient warehouse management.
Undertaking a Certificate in Logistics and a Certificate III in Warehouse Operations teaches the following:
Efficient operating warehouse technology

Using automated warehouse management and goods identification software

The safe use of material-handling vehicles

Creating documentation for receipt and deliveries of goods
Step 2: Get Trained
More than gaining theoretical training is required to get a warehouse worker job. You need to know the warehousing operations and processes to become skilled, efficient, and confident.
So, how to get used to warehouse work? Consider practical on-the-job training, such as a school-based traineeship or an apprenticeship in plumbing or a related field.
It will help you become proficient in in-house warehouse management procedures. The more skilled you are, the better your chances of job success.
Step 3: Get The Necessary Licenses
To become a forklift operator, warehouse workers must hold a valid forklift operator license through safe work Australia. It shows their ability to drive a forklift truck efficiently and safely.
You may require a driving license to drive vans and other goods vehicles to work as a delivery driver. Lastly, warehouse personnel may need to store and handle chemical products and hazardous substances, so they should submit a permit to work with specific goods.
As licensing requirements may vary in each state in Australia, it is good to check regulations concerning licensing and workplace health and safety in your state.
Step 4: Consider Earning a Warehousing Degree
Those interested in further education can consider completing a university degree or TAFE course in business focusing on logistics and supply chain management.
Completing a tertiary qualification will help you access more professional opportunities, such as pursuing a warehouse role in supervision or management.
Step 5: Apply for Jobs
There are umpteen jobs available in the warehouse industry. Apply only to those warehouse job that matches your skills and interests. If you like to work in a challenging and fast-paced environment, choose to manage a warehouse as a career option.
On the other hand, a delivery driver position could be perfect if you prefer working independently and on the road. Once you identify the right warehouse job, search for it online using the Indeed job board or your professional network to find a suitable job vacancy.
When finding an opening that suits your requirements and academic record, apply for it by visiting the employer in person or posting your resume on the company website. Try other ways, such as online job portals, related social media groups, etc.
8. Working Conditions For Warehouse Workers
Warehouse workers work in a variety of settings, both indoors and outdoors. They engage in extensive manual labour daily and must be physically fit, healthy and energetic to move, displace, and lift heavy lifting properly.
Additionally, warehouse workers working in logistics work under pressure to deliver quality service in less time and at low costs. Based on production requirements, they may require following a two or three-shift pattern.
Warehouse jobs pose a risk to health and safety. Thus, workers arm themselves with protective gear, clothing, and equipment when operating heavy vehicles such as transport trucks, forklifts, and scissors.
9. Where Does A Warehouse Worker Work?
Warehouse workers work in different types of indoor and outdoor environments. They are in logistics departments of almost all types of industries.
Some of their most common workplaces include:
Small retail shops

Large retail and wholesale companies related to food, clothing, footwear, consumer goods, electronics, and furniture

Distribution centres for storing goods

Large warehouses where they store the raw materials for production, such as metalworking and engineering companies, pharma and chemical companies, and food and beverage businesses.

Companies that offer third-party transportation and logistics services.
10. Types Of Warehouse Assistant Jobs In Australia
There are plenty of career opportunities available for workers within the warehouse industry.
The salary of different warehouse jobs varies based on the qualifications and duties of the role. Suppose you are interested in working as a warehouse worker. In that case, you must explore the available jobs to determine the right one.
Here are the 12 warehouse worker jobs with their average salary in Australia:
Forklift operator: $59,524 per year

Warehouse worker: $57,891 per year

Warehouse picker: $57,239 per year

Warehouse driver: $56,989 per year

Labourer: $58,291 per year

Material handler: $51,963 per year

Shipping and receiving clerk: $35,166 per year

Warehouse manager: $75,113 per year

Logistics manager: $96,563 per year

Inventory manager: $81,030 per year

Warehouse supervisor: $69,734 per year

Warehouse lead: $96,666 per year
11. Job Prospects Of Warehousing
Australia has a $5.3 billion warehousing industry. The use of technology in warehousing has led to a reduction in expensive operational inefficiencies and an increase in inventory volumes, and the outsourcing of logistic functions from the private sector.
The increasing popularity of online retailing, merchandise exports and imports, and the growing inclination for outsourcing warehousing activities to third-party storage services have resulted in rising demand for warehousing.
As online retailing doesn't require physical stores for product sales, there is a need for large warehouses and many workers to execute warehouse operations. The government projects a stable demand for this profession for five years.
Warehouse workers are in high demand in New South Wales and Victoria locations. The industries to recruit these workers are the transport, postal, and warehousing industry. Only 15% of workers work in a warehouse as a woman, which shows fewer opportunities for aspiring female workers.
12. Warehouse Worker Career Path
Warehouse workers generally begin their careers as logistics workers and receive on-the-job training. They become used to the most common warehousing tasks and practices during this time.
Once they gain experience, they may advance to more supervisory or managerial roles, such as team leader or shift supervisor. The profession presents several professional growth opportunities where they may become a warehouse inventory manager or warehouse manager.
Those who wish to upskill in logistics can become logistics managers to coordinate the transportation of goods worldwide.
13. How Much Is Warehouse Worker Salary In Australia?
By gaining experience and knowledge, you may progress to a management or supervisor role and earn a higher pay package. Also, completing certificates in management can improve your credentials and get you a high-paying job.
The average warehouse worker's salary in Australia is $28.49 per hour or $57,903 annually. Where Entry-level warehouse workers earn a starting salary of $49,423 per year, experienced workers make up to $77,123 per year.
The area you work in also influences a warehouse store person's salary. Based on job openings, the top-paying cities for warehouse workers in Australia are:
Perth: $30.69 per hour

Sydney: $29.23 per hour

Dandenong: $29.10 per hour

Brisbane: $28.69 per hour

Melbourne: $28.52 per hour

Adelaide: $27.55 per hour
14. Warehouse Job In The Army
There are vacancies for warehouse workers in the Australian Army. You can work as a warehouse coordinator to supply and distribute essential military items wherever required, such as in barracks, in the field, or during exercise. Some army supplies include body armour, medical equipment, and night vision goggles.
The Australian Army provides fully paid training, where you learn sought-after logistics skills in material, financial management, and personnel to thrive and succeed.
When you become a warehouse coordinator, you also gain membership in the Royal Australian Army Ordnance Corps, the largest logistic organization in Australia. This organization performs various tasks to support the Army, the air force, and the Navy.
15. Conclusion
A job as a warehouse worker is the first step toward a profession in logistics, supply chain, and warehousing management. However, the competitive sector offers immense career growth and progression opportunities.
Minimal entry requirements, high demand, and widespread job opportunities make it a profession worth pursuing.
Job vacancies for warehouse workers are numerous and widespread. In addition, warehouse management skills are in high demand in a wide range of sectors and industries.
Useful Links to Explore: