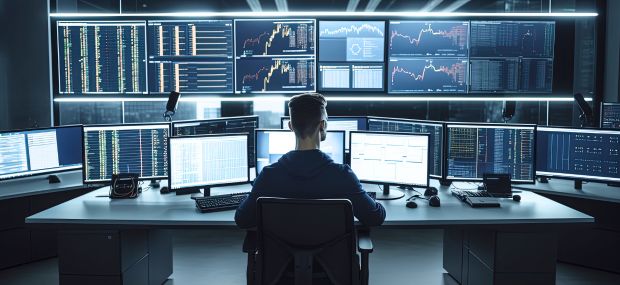 Digital currency and Crypto investments are becoming increasingly popular worldwide.
People are drawn to cryptocurrencies because they can make great profits, but the market can also be unpredictable. Another advantage is that it provides anonymity and no government control. Plus, you can trade it 24/7.
This blog teaches you how to buy and trade cryptocurrencies in Australia. You will learn about popular trading platforms, step-by-step instructions on purchasing your first Crypto in Australia, and more.
If you don't have a crypto trading account yet, consider eToro, which is used by many investors in Australia and worldwide. You can create an eToro trading account HERE.
The trading platform lets you buy Australian & international shares with unlimited commission-free trades. (No brokerage). Other fees may apply.
It offers extensive trading features, social trading tools, and copy trading to imitate the trades of other famous traders.
(Crypto assets are unregulated & highly speculative. No consumer protection. Capital at risk.)
1. What Is Crypto?
Crypto is a digital currency with a decentralised system to record trade transactions. This digital asset can be a cryptocurrency, token, or coin that doesn't have a physical form.
Crypto depends on cryptography and blockchain technology to offer security and protect users from fraudulent transactions and counterfeiting.
2. What Types of Crypto Are Available To Trade In Australia?
Crypto in Australia is categorised based on its capabilities. We have listed some of the most common types below:
Bitcoin: This native crypto-asset works on the decentralized Bitcoin network system that records trade transactions in a blockchain. 'Bitcoin miners' use computer-intensive software to verify transactions moving through the Bitcoin network.
Ether: This is another native crypto-asset used on the open-source platform called "Ethereum", which works using blockchain technology.
Litecoin: Litecoin is a network and crypto-asset based on a global 'payment' network, and it was created by altering Bitcoin's open-source code. The network processes transactions at a quicker rate than the Bitcoin network.
Ripple: It is a database users use to store and transfer value in any crypto-assets or currency on a protected network. It is a network that enables real-time transfers of currencies between users.
Stablecoin: It has low (or no) price volatility. They track the value of a government-issued currency and try to stabilize its market value using algorithms.
3. How Is Crypto Used?
The founders created cryptocurrency as a digital asset so people could use it for money. Later, businesses started accepting crypto as a payment method for services and goods. A few ATMs also allow people to withdraw it as cash.
Crypto is a hypothetical longer-term investment in Australia.
4. How Does Crypto Work?

In Australia, individuals can buy or sell cryptocurrencies using money on a crypto trading platform. Once purchased, cryptocurrencies can be stored in either a hardware or a digital wallet.

The security of the user's wallet is ensured through encryption using a set of unique codes or private keys. These keys serve as authorisation for all outgoing transactions within the blockchain network.

A hardware wallet, an offline device, provides an added layer of protection against hackers as it is not connected to the internet.

Numerous brokers and crypto exchanges are available for those interested in selling or buying Bitcoin or other cryptocurrencies. These platforms allow users to exchange their cryptocurrencies for Australian Dollars (AUD) or various other digital assets.
However, it's essential to remember that any profits from selling cryptocurrencies should be reported as investment income when filing tax returns.
5. Steps To Buy Crypto In Australia
With so many cryptocurrencies to trade in, and numerous online exchanges, it is easy to get confused. Buying a cryptocurrency can take a lot of work for first-timers.
Te steps below will help you start your crypto journey:
Step 1: Choose The Right Trading/ Exchange Platform
Crypto Trading Platforms Are Classified Into Three Main Categories:
Cryptocurrency Exchanges
It is the simplest way to buy crypto in Australia.
Cryptocurrency exchanges offer better exchange rates and lower fees than brokers. They offer access to a wide range of coins and let users actively trade cryptocurrencies.
The only downside is that they could be simpler to use. Traders need a basic understanding of trading to execute trades using this mode.
Bitcoin Brokers
They are retailers that sell digital currencies, including Bitcoins. Choose this option if you want the simplest and quickest way to buy Bitcoin. Bitcoin brokers provide user-friendly platforms to help traders execute trades.
Brokers allow users to pay with fiat currencies using the most common payment methods but charge higher fees than the other two categories. Popular cryptocurrency brokers in Australia are eToro, CoinSpot and CoinJar.
Peer-to-Peer Exchanges
Peer-to-peer exchanges look like noticeboards on which people post notices related to purchasing and selling crypto with their prices. These exchanges let crypto buyers and sellers contact each other and make arrangements.
The ability to trade with different payment methods and increased privacy attract traders to this platform. However, higher prices than the market exchange rate and the presence of scammers on this platform make it less appealing.
Even though the method uses escrow services to safeguard buyers and sellers from scams, you must do your due diligence before entering a trade. Paxful and LocalBitcoins are the best examples of peer-to-peer exchanges to trade crypto in Australia.
Regardless of your chosen method, you should research and read customer reviews. Look for the established, reputable and transparent one in its working, policies, and pricing.
Step 2: Open A Crypto Trading Account
The second step is to decide where and how to buy crypto.
After choosing a platform, you must register with them to start trading in crypto. The process to create an account is nearly the same on all trading platforms.
If you don't have a crypto trading account yet, consider eToro, which is used by many investors in Australia and worldwide. You can create an eToro trading account HERE. (Crypto assets are unregulated & highly speculative. No consumer protection. Capital at risk.)
The trading platform lets you buy Australian & international shares with unlimited commission-free trades. (No brokerage). Other fees may apply.
It offers extensive trading features, social trading tools, and copy trading to imitate the trades of other famous traders.
To verify your identity, you must sign in by providing your full name, email address, residential address, and proof of ID (passport/driver's license). Upon successful ID verification, you can start buying and selling cryptocurrencies.
Step 3: Set Up Your Bank Account
Before you start:
Set up two-factor authentication.

Add your bank account.

Choose a preferred payment method.
The most common payment modes include Poli and PayID. Osko doesn't charge a fee for local fund transfers (in AUD).
Step 4: Fund Your Trading Account
To buy cryptocurrency, you must have enough funds in your trading account.
So, the next step is to deposit funds into your trading account via acceptable deposit methods, such as bank transfers. After a successful transaction, you will see funds under the Accounts section.
Step 5: Buy Your First Crypto
With a verified account and adequate funds to trade, let's start with the crypto-buying process:
When Using A CryptoBroker
The trading interface differs from many brokers, but the crypto-buying steps are generally the same. To initiate a buy trade with Bitcoin, users have to enter the amount they want to buy.
The broker will show you the cost and the available payment methods available. You need to select a suitable payment option and initiate the buy trade.
A successful transaction will get you Bitcoins in your account. You can either send it to someone or withdraw it from your wallet.
When Using A Trading Platform
Deposit funds into your account. Next, search on the exchange website for the currency pair you wish to trade, such as BTC/AUD (to buy Bitcoins using Australian dollars). You can place a market or limit order to buy crypto at the current or specific prices.
When Using A Peer-To-Peer Exchange
To buy crypto:
Consider the seller's offer to pay you an acceptable price and allow a suitable payment method.

Make sure the seller has a good reputation score before making the deal.

Contact the seller and work your way to execute the transaction.
6. How To Choose A Crypto Exchange In Australia?
The presence of hundreds of trading platforms can easily overwhelm everyone. Choosing the best Crypto exchange can be confusing and challenging for a newbie.
Here are 12 pointers to help simplify your decision-making process:
Reputation: Read user reviews to get a better idea of the reputation, efficiency, and credibility of an exchange
Location: Go for local exchanges as they accept the local currency, such as AUD, and local payment methods, like BPAY and POLi Payments. It saves paying expensive international transfer fees associated with overseas exchange.
Check Its Regulatory Status: The exchange you choose should comply with financial services regulations and applicable Australian consumer rights laws. Most Australian exchanges are regulated and conform with AUSTRAC's AML/CTF reporting obligations that guard against terrorism financing and money laundering.
Security Features: Choose the trading platform that implements better consumer protection and robust security features such as PGP-encrypted emails and 2-factor authentication to protect you from online fraud,
Brokerage Charges: Most platforms charge different trading fees, transaction fees, and deposit and withdrawal charges. It is best to compare various crypto platforms on this parameter to find the right one.
Transaction Limits: Find out if there are any limitations on the minimum or maximum amount of bitcoins you can purchase. Is there a single transaction limit for funds to withdraw from the account within a 24-hour duration?
Supported Currencies: Do you want to buy other cryptocurrencies along with Bitcoin? Choose the exchange that allows you to buy and sell Bitcoins on various platforms.
Customer Support: Find out the type of customer support the exchange has. Check the different ways to contact the customer support team to resolve queries like live chat, call, email, etc.
Liquidity: Look for larger platforms that offer higher liquidity to users.
Make sure the platform offers an Easy-to-use and User-friendly interface and Page Navigation.

It should accept a wide range of Payment Methods to buy Bitcoins easily

Check the types of trading features, including educational content offered
7. Comparison Of Crypto Trading Platforms In Australia
Do you need help with where to buy Crypto in Australia? Refer to the below comparison list that shows the different trading features of Australian exchanges to help you make an informed decision.
Crypto assets are unregulated & highly speculative. No consumer protection. Capital at risk.
| Exchange Name | Deposit Methods | Fiat Currencies | Cryptocurrencies |
| --- | --- | --- | --- |
| eToro | Bank transfer, Debit card, Neteller, Skrill, Credit card, PayPal, Online banking | | 19 currencies |
| Digital Surge | Bank transfer, POLi, Cryptocurrency, Osko, PayID | AUD | 302 cryptocurrencies |
| Swyftx | Bank transfer, Cryptocurrency, Credit card, Osko, Debit card, PayID | AUD, NZD | 313 cryptocurrencies |
| CoinSpot | Bank transfer, Cash, BPAY, Cryptocurrency, PayID, and POLi | AUD | 358 cryptocurrencies |
| Independent Reserve | Cryptocurrency, PayID, Osko, EFT, and SWIFT | AUD, USD and NZD | 27 cryptocurrencies |
| CoinBase | Bank transfer, PayPal, Debit card, Wire transfer, Apple Pay | AUD, USD, EUR, GBP, MXN, HRK, CZK, CAD, DKK, CLP, BGN and 9 more | 161 cryptocurrencies |
8. How To Buy Cryptocurrency (Crypto) on Etoro?
eToro offers the facility to buy crypto and non-crypto assets, meaning you can trade several commodities and stocks using the same platform. You can also trade CFDs and advanced trade types.
eToro AUS Capital Ltd ACN 612 791 803 AFSL 491139. OTC Derivatives are speculative and leveraged. Not suitable for all investors. Capital at risk. See PDS and TMD
The platform is for both beginners and advanced traders. With its copy trade feature, you can imitate the trade strategies of other traders and execute your trades quickly and effortlessly.
Features of eToro:
Seamless investment portfolio management

Swift account setup process

Ease of use

Low trading fees

Secured operational licenses from regulatory bodies such as FCA and ASIC

No deposit fees and account opening charges
Step-by-step process to buying Bitcoin Using eToro:
Visit eToro.com, and click the 'Join Now' button to Open an account.

Submit your ID and address proofs as part of the KYC process

Make a minimum deposit of $50 via credit card, bank transfer, debit card, Skrill, Neteller, or e-wallet

Search for Bitcoin by typing "BTC" in the search bar.

Next, type the number of Bitcoins you want to buy

Click on 'Open Trade'
(eToro AUS Capital Limited ACN 612 791 803 AFSL 491139. Crypto assets are unregulated and highly speculative. There is no consumer protection. You risk losing all of your capital. Refer to our Terms and Conditions. See full disclaimer.)
9. What Are The Risks Associated With Buying Bitcoins?
Before investing in bitcoins, you should understand the risk factors associated with them:
It's highly volatile, and its value can rise and fall sharply quickly. Bitcoins are highly unpredictable and risky investments, a very new asset class.

As there is no intermediary involved in Bitcoin transactions, those who trade in Bitcoins are solely responsible for the security of their Bitcoins. It implies if your account gets hacked or you lose your private keys.

Once you initiate a transaction to the Bitcoin network, you cannot cancel it. Due to this reason, you need to double-check the recipient's address before you make a Bitcoin payment to them.

The financial bodies and regulators for Bitcoin keep changing. Even if your country has a supportive Bitcoin regulatory environment, it is vital to understand how events in other countries impact this digital currency positively and negatively.

Due to being a highly speculative investment, its value depends on investor opinion, media hype, etc.

Unlike conventional financial products, there is no official prospectus or product disclosure statement about the crypto-assets operation. Due to this, people need to familiarize themselves with the processes of crypto-asset networks.
Looking at the increasing Crypto scams and unregulated nature of Bitcoins, it is necessary to do your research before you buy, sells and hold Bitcoin.
10. What Are The Common Crypto Tools That Experts Use?
Today, various crypto trading tools are used with AI to predict future trends. These advisory tools help save a lot of time when researching crypto. Some of them are:
Price Prediction Tools

Block Explorers

Mining Tools

Exchanges

Portfolio Trackers

Analytics Tool

Research Report Tools

Trading Bots
11. What Are The Top Platforms To Buy Crypto in Australia?
The safest way to buy virtual currencies in Australia is through a reputable broker.
Here are the most popular crypto investment and trading platforms:

eToro: Best Overall Platform

Coinbase and CoinSpot: Best Platform for Newbies

Capital.com - Best CFD Platform

Binance: Low Fees Platform

Capital.com: Most Technologically Advanced platform
12. What Are The Ways Available To Pay For Bitcoin?
The acceptable payment method to buy Bitcoin depends on your chosen Australian cryptocurrency exchange. Not all exchanges accept many payment methods. It is essential to visit the exchange site to learn about acceptable payment methods.
Here we have listed the most common payment methods to buy Bitcoin:
Fund Transfer From Your Bank Account
Domestic bank transfers are free, near-instant, and widely accepted by Australian exchanges such as CoinSpot, BTC Markets, Swyftx, Independent Reserve, and more.
In the case of an overseas cryptocurrency exchange, bank transfer payment options may appear as SWIFT payment or wire transfer. Such payments can take up to a week to transfer and attract higher currency exchange fees.
An excellent way to use a specific overseas exchange is to buy cryptocurrency with local currency and later deposit it onto the exchange.
Credit Card or Debit Card
Several Bitcoin trading platforms, such as Coinmama, Binance, and Coinbase, allow one to buy Bitcoin using credit cards. However, credit card transactions are a quick and convenient mode of purchase but attract relatively high fees (1.5% to 3%) and cash advance fees.
Due to the associated risk of chargeback fraud, this payment mode is not accepted on peer-to-peer exchanges.
Credit cards are more commonly accepted than debit cards, but some Bitcoin brokers allow people to buy cryptocurrency using this payment method. If you need to make payment only through a credit/debit card, you need to look for an exchange that accepts this payment mode to purchase Bitcoins.
Cash
Here are the three ways to buy Bitcoin with cash:
Using a peer-to-peer exchange

Arranging cash with someone who lives in your area

Find a local Bitcoin ATM, deposit cash, and get it converted to BTC

Via Newsagent. You cash to the newsagent, who will scan the QR code and credit Bitcoins to your exchange account
PayPal
Just like credit cards, buying bitcoins via Paypal is seen to carry the risk of chargeback fraud. It also could have a better security track record. It is the payment method least accepted by cryptocurrency exchanges to buy Bitcoin.
eToro and xCoins are a few options that offer the facility to buy Bitcoins with PayPal.
Alternatively, you can link your PayPal account with a credit card and buy this digital currency with that credit card. You must note that buying via PayPal can incur additional fees that depend on the exchange.
Using Crypto
Many crypto exchanges list Bitcoins or BTC in various trading pairs. You should find crypto exchanges that give you the best features at nominal costs.
Find a crypto exchange that lists the trading pair you want and compares the advantages and drawbacks of each platform.
13. What Are Decentralised And Centralised Exchanges?
In centralised exchanges like Swyftx, a central authority governs all investment and trading transactions.
They are licensed and comply with KYC and AML regulations. Centralised exchanges offer heightened security, and escrow services, match crypto buyers and sellers, and even provide coins.
On the other hand, decentralised exchanges are peer-to-peer platforms that allow crypto traders to buy, exchange and sell cryptocurrencies anonymously.
As such exchanges are unregulated, banks do not process crypto transactions. Each transaction on the platform happens mutually between the parties involved.
Do you need help deciding which exchange to choose? If you don't mind identity disclosure but want to use a safe and trusted exchange, go with a centralised one.
However, if you want to make anonymous transactions, and are okay with the risks of keeping funds online, choose a decentralised platform.
14. Frequently Asked Question (FAQ's):
Is It Legal To Buy Crypto In Australia?
Yes. As per Australian regulations, anyone can buy, sell, and trade cryptocurrencies.
Is It Safe To Buy Crypto In Australia?
Buying, selling, and trading crypto in Australia is only safe using a trusted and reputable crypto exchange. The built-in multi-layered security of Australian exchanges gives peace of mind to traders.
How Much Time Does It Take To Buy Crypto?
The time needed to buy a Crypto (specifically Bitcoin) depends on the trading platform and payment method. Where credit card purchases are processed immediately, it may take 1 to 2 business days in the case of local bank transfers.
However, it could take up to a week to clear if it is an overseas bank transfer/wire transfer.
What Are The Best Places To Store Cryptocurrency After Buying?
After you buy a Bitcoin, it goes to your account on the exchange. Keeping Bitcoins in exchange accounts isn't the safest option.
The reason is that your account may get hacked, or you lose access to your exchange account, thereby losing Bitcoins.
Due to this, it is usually safer to transfer Bitcoin to your wallet and keep it there. To do this, You need to create a personal Bitcoin wallet address and transfer your crypto there. However, you should note that you must pay fees that may apply based on the exchange.
If your exchange doesn't provide a wallet, you can register for a free 3rd -party wallet online. However, due to the associated risk with storing funds online, you should consider online wallets only as a short-term solution.
A relatively safer option is to invest in a hardware wallet. This wallet looks like a USB and locks your money with a private key known only to you. It implies that only you can access this wallet. Since it remains disconnected from the Internet, it can't be hacked or affected by malware.
What Are Bitcoins?
Bitcoin is the oldest and biggest virtual currency (by market cap). It is a decentralized digital crypto-asset offering a feasible alternative to conventional fiat currency.
In 2008, Satoshi Nakamoto published the Bitcoin technical specs and objectives. He open-sourced its underlying blockchain technology in the following year.
Bitcoin holders can directly transfer their coins to other Bitcoin holders present on a peer-to-peer network. All transactions are tracked on a public ledger called a blockchain. Bitcoin miners validate each transaction and update the ledger constantly.
Bitcoin has a limited supply restricted to 21 million coins. Each Bitcoin is divisible by 0.00000001 BTC, making purchasing less than one Bitcoin coin possible.
Why Buy Bitcoin?
The steep fall in stock markets, the decline in asset values, corporate losses, and rising inflation are some factors that have driven investors to look for the best store of value to safeguard their wealth.
Hard-cap limit of Bitcoins and a maximum supply of 21 million coins have made it an attractive investment option leading investors to add this digital asset to their balance books.
What Is Bitcoin Mining?
Bitcoin mining refers to creating bitcoins using high-powered computers. Such computers can solve complex mathematical puzzles to verify transactions and form new blocks.

A person who uses specialized computers to solve a problem is called a Bitcoin miner. Every successful solution gets him a block reward that comprises a predetermined number of Bitcoins.
How To Get Bitcoins Without Buying It?
Do you want to know ways to get Bitcoins without buying them? Try the below options:
Request payment for goods and services in Bitcoin instead of AUD. Nowadays, many stores offer this facility to Bitcoin holders in Australia.

Mine existing Bitcoin to earn money and buy more Bitcoins.

Legitimate online games and Bitcoin faucets may earn you a few free Bitcoins.
Is It Possible To Buy Bitcoins Anonymously?
Yes. Here are the ways that will let you disguise your identity when buying a Bitcoin:
Use a peer-to-peer platform to trade directly with a Bitcoin seller

Use a Bitcoin ATM to deposit cash (anonymously), get it converted to Bitcoin, and transfer it to your Bitcoin wallet.

Use a prepaid credit card mode to buy Bitcoins on the trading platform without providing your ID proof.

Trade altcoins for Bitcoin on an Australian exchange that does not need proof of ID.
Do You Need To Pay Tax On Bitcoin Investments?
Yes. Bitcoin earnings are taxable. Bitcoin holders must pay tax on any capital gains on selling them for AUD or any other currency. Tax obligations are also applicable to Bitcoin miners.
What Is The Quickest Way To Purchase Bitcoin?
Buying Bitcoin using a Bitcoin ATM is the fastest way to earn Bitcoins. Find a nearby Bitcoin ATM, deposit cash, and convert it to BTC fast.

What Is The Simplest Way To Purchase Bitcoin?
Find a trusted Bitcoin broker that provides a convenient platform to invest in Bitcoins. It is an easy way to pay with AUD and buy Bitcoins. Choose a bank transfer or credit card payment mode for quick processing of transactions.
Can I Purchase Bitcoin With Leverage?
Yes. Some crypto brokers in Australia offer the facility to buy Bitcoins with leverage. Check the trading features of individual brokers to find those that provide this facility.
What Factors Determine The Bitcoin Price?
The price of a Bitcoin depends on several factors that, include:

Supply and demand

Its current popularity (the number of people who use it at that instant)

Ease of trade

The supposed value of the currency

Its underlying blockchain technology
Can You Buy Bitcoin In The Form Of A Stock?
No. Since Bitcoin is not a company, you can not buy/store/sell Bitcoins like a stock on the exchange. However, a few Bitcoin-related businesses or mining companies' shares are publicly traded.
The price of such shares rises and falls with the fluctuation of Bitcoin prices. You can consider trading in such stocks.
15. Conclusion
We hope this guide gave you a better insight into crypto trading.

Proper research, comparison of trading platforms, designing an investment strategy, and choosing the correct crypto that aligns with your goal will give you a head start over other crypto players in the market.
If you don't have a crypto trading account yet, consider eToro, which is used by many investors in Australia and worldwide. You can create an eToro trading account HERE.
(Crypto assets are unregulated & highly speculative. No consumer protection. Capital at risk.)
The advice and information on OzStudies.com is in general nature and should not be seen as a replacement for independent financial advice. We strongly encourage readers to consult with financial experts regarding their own financial decisions and investments.
Please note that the information presented on OzStudies.com is solely for educational purposes. Every individual's financial situation is unique, and the products and services we mention may not suit everyone. We do not provide financial advice, advisory, or brokerage services nor endorse buying or selling specific stocks or securities. It's essential to know that information might have changed since publication and past performance does not guarantee future results.
Useful Links to Explore